What to do To Do When You're Bored – 100 Things!
Even the most uplifting people can get bored sometimes. And when this is the case, then we have to ask the question – what to do when you're bored?
Being bored and being lazy are two things that are both different and similar at the same time. One leads to another, and the other way as well. But both boredom and laziness fuel our ability to procrastinate and lie in bed all day.
So, this means that you should always try and overcome boredom. But how? Well, the obvious answer would be to get up and do stuff.
Luckily, there are tons of stuff to do to beat the boredom, and all it takes is simply looking for it. But, seeing as we tend to be quite busy all the time, we have compiled a list of 100 things to do when you're bored.
We will be dividing things into different categories so that everyone can enjoy this article. Without further ado, let's start.
Our List of What to do When You're Bored
Being bored has nothing to do with what type of person we are, but more with how lazy we can be. Laziness stems directly from our inability to raise our energy levels. So, we end up lying in bed all day without any motivation to get up and do something. Luckily for you, here are 15 fun activities that will help you cope with it.
Go on a mountain bike ride
Polish up your dating profiles and meet new people
Adopt a pet
Order takeout
Learn the vegan lifestyle
Get together with a friend
Fix your finances
Create a family tree
Learn a new dance
Learn how to do origami
Create a "to-do" list and start doing it
Play "Just Dance" on the Wii
Write a poem
Head to the mall
Try to lick your elbow
When You're Bored at Home – Happens to Everyone
The question of what to do when you're bored at home is quite possibly the most annoying thing ever. Not only are we stuck between four walls, but the bedroom is the most appealing place in the entire house. So, if you want to get up and do stuff, maybe try one of these.
Bake a cake
Clean the house
Do a DIY project
Make cocktails
Rearrange your wardrobe
Set up a home gym and start exercising
Invite your neighbor over for coffee
Play the lottery
Learn to play pool, plenty of cheap pool tables out there
Watch the James Bond movies (all of them)
Clean the basement
Listen to a new album
Water the plants
Do yoga
When You're Bored at Night – The Worst
If being bored at home was terrible, wait until you see how dreadful it can be at night. Sometimes we don't want to go out or see our friends, but rather enjoy the comfort of our home. However, we have to make sure that this doesn't turn into a nasty habit of self-isolation.
But other times our friends simply don't want to go out, and that can be quite boring. So, here are 15 things to do at night that will help you cope with the boredom.
Print pictures of your friends and host an imaginary dinner date
Start a journal
Catch up on your favorite book
Sip a glass of wine or whiskey
Clean your bedroom
Meditate before bed
Watch the night sky
Play Solitaire Bliss
Buy some clay and learn sculpting
Invite your friends over and play board games
Solve a puzzle game
Get in touch with family members
Make a delicious pepperoni pizza
Take a nice bath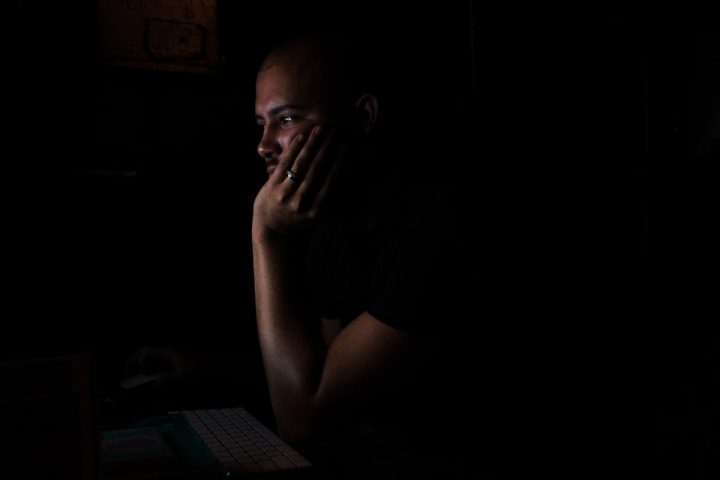 When You're Bored Online – Lots of Options!
The online world is probably the best when it comes to keeping us entertained. But sometimes we waste the entire day browsing Facebook and Instagram. This is a clear sign of boredom and luckily for you, here are 15 things to do while bored online.
Play online Pictionary with your friends
Look for destinations and plan your next vacations
Take an online marketing class
Play multiplayer video games
Listen to a podcast
Stream a Netflix show
Take an online writing class
Go online shopping
Go on Google Maps and find all the lakes in Norway ( there are nearly half a million of them!)
Stream Honeyland on Hulu
Play games online (big list)
Explore the best chat rooms online
Watch free documentaries
Try to beat the Akinator; it's really hard
Things to do When Bored For Guys
Now, let's look at some things to do if you're a guy. Guys don't have it easy at all. Being a guy and being bored is a recipe for a disastrous day. However, there is a way to cope with boredom, and that's why we have a list of the best activities to do so.
Go fishing
Grab a beer with your buddy
Head the highway
Try rock climbing
Wash the car
Watch the Lakers
Try surfing
Look for a change of hairstyles
Hit the golf court
Play Call of Duty with the guys
Watch the most iconic MLB World Series Wins
Master your barbecue skills
Start supporting a soccer team from the Premier League
Get into Bitcoin
Find a new hobby
For When the Kids Get Bored
And finally, who could forget the kids? Kids are quite energetic meaning they rarely get bored. Kids look at the world through a lens that doesn't allow them to experience it. But once they grow a bit, then things can get messy. If your kids happened to be bored, then here are 15 things you could try.
Play sports together
Go on a bike ride together
Play hide-and-seek
Call friends over for a play date
Create an obstacle course
Piece together the Lego Millennium Falcon
Watch cartoons
Go on a treasure hunt
Make a treehouse
Arts & Crafts
Paint rocks
Play video games
Write a letter to grandpa and grandma
Do a puzzle
Closing Thoughts on What to do if You Are Bored
There are tons of ways to beat the boredom. All that it takes is the determination to find the right activity for you but it's worth it. Boredom is the bottom, once you start finding interest in anything, it leads to other things.
Next thing you know, you're back on track and a long way from saying to yourself "I am bored" – trust us!