Last Updated on

Greetings,
The time is 6:24am here in downtown Anchorage, Alaska and I've realized that after being awake the last two hours and 4 minutes that it's time to get this show on the road, whatever that means… I feel like a zombie only I'm hungry for breakfast and not brains unless they were well seasoned and scrambled into my eggs. Yesterday I decided to walk from the hotel to downtown and just see what's happening aka one of my favorite activities to do anywhere in the world. Walking downtown in your hometown is a chore but doing it somewhere you've never been is an experience.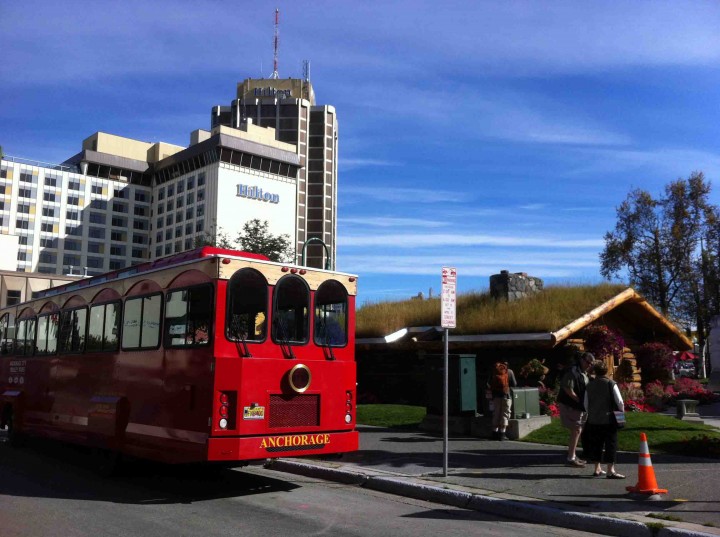 The Hilton Garden Inn where I'm staying is about 3 miles to the downtown core and they offer complimentary shuttles whenever you wish between sometime in the morning and 10PM. I decided to walk it as I'm a huge fan of long walks on the beach, city streets or between the sheets and the sun was shining while the birds sang and some tricked out Lexus at the stoplight blared Gucci Mane. Along the way I tipped my hat at random people and everyone was friendly, it was a warm day with a cold wind that acted as foreshadowing for the winter to come.

One footstep lead to another and next thing you know I was at some window looking at fine leather while enjoying the splendid end of summer Alaskan weather. They have this massive mural called the "whale wall" as it's these different whales on it and it's pretty cool. At this point it turned into a photo walking tour where you basically have no plan but go from one cool looking photo possibility to the other. That lead me to the Quyana Park where they were having this market of sorts selling sensational smelling delicacies from halibut to Korean BBQ, seriously.

They sold all sorts of gold, hand crafted goods and even had those wooden frogs. This Asian lady asked if I wanted to try and I replied "I've been to Thailand" and she smiled and walked away. The place was busy to say the least, one of those situations where you walk into a city and there isn't a lot of foot traffic until you hit the epicenter of the madness and you're like "so this is where everyone is". Stumbling into gatherings of the like is part of what makes travel fun, you'll never know unless you go…

From there I asked a gent smoking a cigar the size of Cincinnati where Ship Creek was as I've been told it's the only place to go fishing directly in Anchorage. It's a pretty happening little place and there were countless fishermen trying their luck. There is even a small bait and tackle shop where you can get setup with gear and a license for the day. Somehow started talking to this gent from India who was there on vacation with his family, we formed a mini-crew and checked out the creek while chatting about guy stuff.

We met this older gent who lives in Anchorage and said he hadn't even seen a fish all day so I decided to skip renting a rod and just roam back to the market. A reason for the lack of fish could be this family of seals downstream scaring the salmon away, makes sense right? Supposedly people do pull fish from this creek and the gent said the largest he's heard of is a 25lbs salmon but it's not everyday and on weekend when it's packed, the odds are stacked against you. That said, if you want action you simply drive 1.5+ hours outside the city.

At this point I said goodbye to my new found friend and was back on the streets with a serious hunger starting to protest inside my stomach. I was in the mood for crab as we're in Alaska, right? I found this joint called Phyllis's Cafe and ordered their crab salad which was reasonably priced and straight up sensational. If you're really hungry, look into their snow crab plate as it looked unreal.
There is more to the story, naturally but I've said enough for this update I believe.
So far so good and big thanks to Hilton Garden Inn for their hospitality, having a terrific time up here.
Tips hat,