Where to Stay in Vancouver – Complete Accommodation Guide
Planning a trip to British Colombia? Then it's time to start researching the best neighborhoods to stay in Vancouver. As one of the top tourist destinations in Canada, a trip to Vancouver is a must for any travelers heading to Canada's west coast. Some of the planning processes will focus on what to do in Vancouver. But a major chunk should focus on areas to stay, and places to stay within those areas.
Many travelers stay in Vancouver before a cruise with the family, while others spend their entire vacation exploring the seaport city. Whether you're visiting with your family, traveling on a budget, or just staying one night before a cruise, this guide has everything you need to know about where to stay in Vancouver.
Top Choices on Where to Stay in Vancouver
Looking for some quick answers on where to stay in Vancouver? Read about these 3 top choices for places to stay in the city. If you've got your sights set on a specific neighborhood, then continue on. After these top choices, you'll find an in-depth guide on the most-visited neighborhoods of Vancouver. Not only that, but the guide provides you with the best places to stay within each Vancouver neighborhood.
Best Luxury Hotel in Vancouver: Four Seasons
We all know that the Four Seasons hotel chain is known for luxury, but this luxuriousness is taken to a whole new level at the Four Seasons Hotel Vancouver. Guests have access to the onsite pool and hot tub, restaurant and bar, and fitness center equipped with a sauna. The best part of all is the hotel's stellar location. It's possible to walk to Stanley Park and BC Place in just 15 minutes, and Granville Island is a 5-minute drive.
A contemporary hotel on Robison Street, Blue Horizon is a great choice if you're not trying to spend hundreds of dollars per night. The rooms come with everything a guest could need, including WiFi, flatscreen TV, refrigerator, and coffee and tea station. The name "Blue Horizon" is fitting since each room offers stunning views of the Vancouver city skyline and waterscape. It's located in Vancouver's West End neighborhood, which we'll talk more about later.
Another great choice in the West End area of the city, West End Guest House is as charming as it gets. The hotel was built over a century ago, and each room is different from the next. Antique furniture and artwork can be found all throughout the guest house with modern additions here and there to make guests more comfortable.
Getting Around in Vancouver
Similar to most major Canadian cities, making your way around Vancouver is easy enough. The majority of the main attractions within the city limits are within walking distance of each other. If you're not keen on walking, there are plenty of bike paths that weave throughout Vancouver. Just keep in mind that biking on the sidewalks meant for pedestrians is illegal, and wearing a helmet is a must.
The city's public transportation is another great option. Vancouver's Translink system includes all the main forms of public transportation, including the SkyTrain light rail, the SeaBus ferry, and normal buses. Day passes for adults cost around $10CAD, and for kids it's just $7.75CAD. Purchasing these passes is easy since tons of retailers around the city sell them, even 7-Eleven.
About the Best Neighborhoods in Vancouver for Visitors
A city nestled between mountains and sea, there is no place on Earth that compares to Vancouver. Visitors get to experience expansive cityscapes surrounded by both mountain peaks and calm waters. The contrast between skyscrapers, mountains, and ocean is why Vancouver is known for its natural beauty.
But that's not all Vancouver is known for. The city is also known for the fact that each unique neighborhood offers a unique cultural experience. No matter what you're looking for, Vancouver can cater to it.
There are reasons to stay on the outskirts of the city or in the downtown sector of Vancouver. Downtown is where most of the action happens and where most of the city's main attractions are found. Here's a quick rundown of the most popular neighborhoods of Vancouver and what each is known for.
Gastown: Coolest Neighborhood in Downtown Vancouver
Gastown is the oldest part of the city, so it comes as a surprise that this is also the coolest place to visit in Vancouver. This historic neighborhood is located in Downtown's Northeast sector and comprised of classic architecture among cobblestone streets. Throughout the years, locals have stayed true to the history of the area but revamped it entirely.
While meandering around Gastown, you'll come across new microbreweries, cool coffee shops, trendy boutiques, and lively bars. It's easy just to walk down the street to find a place to grab a few drinks and listen to live music. There's no doubt about the fact that Gastown is the coolest neighborhood in all of Vancouver. If you're looking for a historical experience mixed with a modern twist, this is the neighborhood for you.
Best Hotels in Gastown
The places to stay in Gastown follow the trends of the neighborhood by providing guests with cool, comfortable, and historically-inspired accommodations. Here are some of the top picks in the neighborhood, ranging from luxury to budget.
The Marriott Pinnacle in the heart of Downtown's Gastown neighborhood is 31 stories of pure luxury. If you're lucky enough to book one of the higher floors, you'll wake up to views of the North Shore Mountains. Walking to Vancouver Harbour takes about 5 minutes, but you may never want to leave the 52-foot heated indoor pool.
Best Mid-Range Hotel in Gastown: Victorian Hotel
The Victorian Hotel is just a 5-minute walk to all of the sights and sounds of Gastown. Before you head out to explore the neighborhood, you'll be treated with a healthy breakfast to start the day off right. The name "Victorian" is fitting since the hotel was built in the late 1800s. It still holds the charm of the Victorian era but doesn't skimp on modern-day comforts.
Cambie is technically a hostel, but you won't be subjected to staying in a dorm bed if you don't want to. The hostel offers a range of dorm and private rooms, all at an affordable price. It's an amazing place if you're looking to stay in Gastown on a budget. Guests of Cambie have easy access to popular Vancouver attractions like the Gastown Clock, Vancouver Lookout Harbour, and Vancouver Playhouse.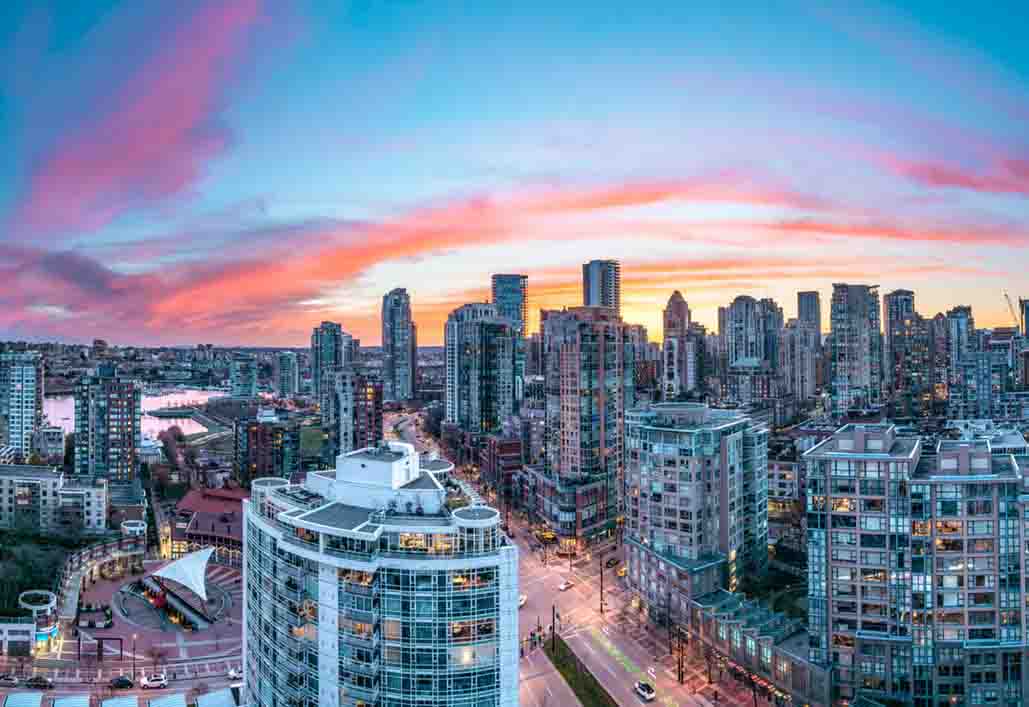 Yaletown: Best Neighborhood for First-Time Visitors to Vancouver
Visiting Vancouver for the first time? Be sure to check out Yaletown, the best neighborhood for first-time visitors to the city. Yaletown is located directly on the waterfront and is considered to be one of the hottest areas of Vancouver. Similar to Gastown, you'll feel the influences of old-time Vancouver as you walk the cobblestone streets. This neighborhood used to be a major industrial zone, but it has been 100% revitalized.
Yaletown is appreciated by visitors for many reasons, one of the main ones being that it offers easy access to other parts of the city. You might never want to leave the confines of Yaletown, though, since it is within walking distance of Robson Street. Robson is the most popular shopping street in BC, but you'll also find a good amount of restaurants, bars, and coffee shops here.
Other than strolling along Robson Street, there is plenty to keep visitors of Yaletown busy. Family travelers love spending time at the TELUS World of Science or catching a sports game at BC Place. If it's warm enough, be sure to walk through the Yaletown Farmers Market or go for a stroll along the Vancouver Seawall.
Best Hotels in Yaletown
Yaletown is a happening place with warehouses converted to bars and restaurants. Yaletown is a hipsters paradise which has a big open park in the middle and close to all the major sporting events and rock concerts at Rogers Arena and BC Place.
Best Luxury Hotel in Yaletown: Opus Hotel
Located in the Yaletown neighborhood, Opus Hotel is the perfect choice if you're working with an unlimited budget. The rooms are bright, colorful, and contemporary with a funky twist. During wintertime visits to Vancouver, guests love the luxury comforts like heated bathroom floors and in-room Nespresso rooms.
The best part of all is the location in the center of the Yaletown district. The Yaletown-Roundhouse Canada Line Station is less than 40 meters from the Opus lobby. This means that guests not only have access to Yaletown sights but complete access to the rest of Vancouver as well.
Holiday Inn is a reputable name in the hotel industry, especially if you're looking for a middle-of-the-road price. This 3-star hotel will give you a 5-star experience when it comes to comfort and hospitality. Staying here means you can walk to most of the Downtown main attractions, including Robson Street. You can also walk to the Hornby Street Aquabus that hauls people to Granville Island multiple times per day.
As a 2-star hotel, the YWCA Hotel Vancouver is pretty basic. But that doesn't mean it won't get the job done. The rooms are clean and comfortable, all while remaining budget-friendly. When you stay here, you'll be on the outskirts of Yaletown, but still close enough to the main attractions of the neighborhood.
Granville Street: Best Neighborhood for Nightlife
If you're just looking for a good time in Vancouver, check out Granville Street. This neighborhood is home to the most vibrant nightlife scene in Vancouver. It is often referred to as the Entertainment District of Vancouver, and you can probably guess why. The neighborhood is entertaining, to say the least.
For things to do in Granville, head to the Granville Island Public Market, the perfect family outings. Brewery tours are insanely popular in this area, and the same goes for bar hopping. If you don't do a full-on tour, be sure to at least check out Granville Island Brewing. If the weather is cooperating, you can hire a boat and spend the day on the water.
Best Hotels in Granville
Nightlife rules above all else in Granville, so if you aren't interested in hitting up some bars you might want to consider Gastown or Yaletown instead. But if you're hoping for a wild night (or several nights) out in the city, look nowhere else than Granville. Not only will you have your wild night, but you'll also have a comfy place to rest once it's over.
Look nowhere else than the Granville Island Hotel if you've got luxury on the mind. Guests rate this property as one of the best locations in the entire city, partly because the Granville Public Market is less than half a kilometer away. Each room is designed to the nines, stocked with a minibar, coffeemaker, fridge, and 42" flatscreen TV.
For the best mid-range hotel in Granville, Howard Johnson by Wyndham takes the cake. Stanley Park is three minutes on foot, and there are hundreds of nearby restaurants, bars, and clubs to choose from. This hotel doesn't go overboard on the amenities – there's no onsite pool or fitness center – but you'll have everything you need.
The Samesun Vancouver hotel is where you'll get the best bang for your buck if you're wanting to enjoy Granville Street. The majority of the rooms here are dorm-style, but if you book early enough you should be able to get your own private room. There is a restaurant on-site, but you probably won't ever use this since there are plenty of restaurants and bars within walking distance.
North Vancouver: Best Neighborhood for Outdoor Adventures
One of the main reasons to visit BC is to experience the great outdoors. Although Vancouver is a major city, it is still a great place to take in the natural surroundings. When it comes to nature, you have everything right at your fingertips. Especially true if you stay in the North Vancouver neighborhood.
This area is commonly referred to as the North Shore and many people stay here to explore Lynn Canyon Park. Lynn Canyon is just one of the many outdoor adventures to choose from in North Vancouver. This is the ultimate spot to embrace both the mountains and the ocean. You can explore Deep Cove by hiking a rock quarry or renting a kayak.
Whatever you do, try not to miss out on Capilano Suspension Bridge Park. The lengthy treetop bridge offers some amazing views of the forest below. If you want to see some crazy views of the city, take a ski lift up to Grouse Mountain. You might even catch a glimpse of some wild grizzly bears.
Best Hotels in North Vancouver
Since North Vancouver is popular among nature lovers, their is a wide variety of accommodations for all budgets. From luxury hotels for more affluent nature lovers to budget oriented hostels for younger people looking to experience some of the wonderful wildness at Vancouver's doorstep.
For views of both the water and mountains, Pinnacle Hotel Harbourfront is the perfect place to stay. The hotel overlooks Coal Harbour and is within walking distance of the Vancouver Convention and Exhibition Centre. This is an amazing place for couples traveling to Vancouver who want to experience the great outdoors together.
The 3-star SureStay Hotel by Best Western has middle-of-the-road nightly rates, but that doesn't mean you'll go without any modern-day comforts. Guests have access to a seasonal outdoor pool, an onsite restaurant, and free parking. All in all, you're sure to have a great stay at SureStay.
The rooms at North Vancouver Hotel are basic but perfect for sticking to a budget. The property only a 10-minute drive from Grouse Mountain and the Vancouver city centre is a 20-minute drive. For natural surroundings that are close enough to downtown Vancouver, the North Vancouver Hotel will do just fine.
Kitsilano: Best Neighborhood for Families
Family travelers love spending time in Vancouver's Kitsilano neighborhood. Located just south of the downtown area, the locals refer to this area simply as "Kits". Young families of Vancouver gravitate towards Kits, as do traveling families. There are tons of kid-friendly activities here, like riding bikes in the summer to exploring museums in the winter.
Best Hotels in Kitsilano
Since the Kitsilano neighborhood is so family-friendly, most of the accommodations here have decided to follow suit. There are tons of family-oriented accommodations to choose from in Kits, ranging from luxury hotels to budget-friendly hostels.
This 3-bedroom vacation home sleeps up to 8 guests. Even though the nightly rate is fairly high, you'll be able to fit the entire family in one home with no problems. The property comes with tons of living space, a garden equipped with a barbecue, and a large dining area for the whole family to eat together. Even though this is a house and not a hotel, guests still have access to 24-hour reception.
Best Mid-Range Hotel in Kitsilano: Maple Beach B&B
If you're hoping for hotel-like amenities and services, Maple Beach B&B won't be your cup of tea. But if you want a family-friendly homey stay close to the beach, this is a top pick. Yes, you can walk to the beach in about 5 minutes. Downtown Vancouver is about 10 minutes away with the nearest public transit stop, which is less than 50 meters from Maple Beach.
More and more families are choosing to stay in hostels these days, especially families on a budget. The double room at HI Vancouver Downtown Hostel is perfect for families, but book it early before it's gone. If the kids are old enough, they can even stay in the dormitory rooms, which separates males and females. Booking here means you'll get free breakfast, access to a rooftop patio, and shared kitchen facilities.
West End: Best Neighborhood for Budget Travelers
The West End is just west of Vancouver's downtown centre. There are a few perks to staying in this neighborhood, one being that it's so close to the Downtown attractions. The other is that it's home to the best beaches in the city. Lastly, staying in this laid-back neighborhood is the best way to stick to your travel budget.
The most popular activity in West End is lounging on the neighborhood's English Bay Beach, and not just because it's free. This is one of the best beaches in all of Vancouver because it's clean, safe, and breathtakingly stunning. Another free thing to do in West End is to visit Morton Park. This isn't your average park; throughout the greenery, you'll get to see some of the most intriguing statues you've ever seen.
West End is also home to Davie Village also known as the Gay Village. Davie Street which runs through the West End is the capital of the gay scene in Vancouver. You'll find lots of LGBT friendly restaurants and some nightlife.
Best Hotels in West End
This is the perfect neighborhood for those looking for something a little more laidback yet close to everything. West End is close to downtown, some great beaches, lots of amazing restaurants and the price is right.
The Listel Hotel is primely located on West End's Robson Street. The staff is friendly and helpful, the rooms are bright and comfortable, and the location couldn't be any better. This is a top choice for business travelers, but families, couples, and solo travelers are loving this luxury stay as well.
Best Mid-Range Hotel in West End: Greenbrier Hotel
Greenbrier Hotel is another great stay on Robson Street. The Executive suite is large enough for a family – it comes with a large double bed, sofa bed, and you can request an extra sleeping cot if need be. The Superior suite is even larger, with 2 doubles beds as well as a sofa bed. Couples enjoy the Deluxe room since it offers plenty of space for two.
The Buchan Hotel is a great budget choice, especially if you plan on exploring the city. It's located in a residential West End neighborhood, about 3 minutes to Stanley Park on foot. English Bay Beach is less than a kilometer away. All in all, Buchan is great choice if you love to walk, eat good food, and chill out on the beach.
Looking for Something Special?
Deciding on a place to stay based on popular Vancouver neighborhoods is a great start, but for some travelers it isn't enough. Once you've narrowed it down to West End or Gastown, it's time to start thinking about the specifics of what you need from your stay.
Pet Friendly Hotels
Your pet is sure to love the range of outdoor activities that are possible in Vancouver. Luckily, finding a dog-friendly (and cat-friendly) place to stay is fairly easy. For luxury with your pet, book a room at the Fairmont Hotel Vancouver. Just be sure to select that you'll be bringing your pet during the booking process.
If you're looking for a mid-range hotel that allows pets, TravelLodge by Wyndham (Lions Gate) has affordable nightly rates. This pet-friendly hotel is located in the foothills of Grouse Mountain, so there are plenty of walking and hiking trails nearby. Another great pet-friendly feature is that rooms are accessed from the outside. Whenever you need to let the dog out, you won't have to go through the hotel lobby – or even take an elevator.
Airport Hotels
If you're looking for hotels near YVR (Vancouver's International Airport), you have tons of options. If luxury is the name of the game for you, check out the Fairmont Vancouver Airport In-Terminal Hotel. Just like the downtown Fairmont, this one is all about providing guests with a luxurious stay. And the best part of all is that this hotel is inside the airport, making things easy on you if you have an overnight layover.
For hotels near the airport that are a bit cheaper, Accent Inns Vancouver Airport is the next best place to stay. This 3-star hotel is casual yet comfortable and offers free airport shuttle service. Families can book a large suite that comes with a separate living room with a pull-out sofa.
Best Boutique Hotels
Opus Hotel has already been mentioned once on this guide as the best luxury place to stay in Yaletown, but it deserves to be mentioned again. Opus is one of the best boutique hotels in Vancouver; it's charming, colourful, and laid-back vibes make for an amazing stay.
For a boutique hotel that won't break the bank as much as Opus, try the West End Guest House. As the name suggests, this boutique stay is located in the heart of West End. WEGH was restored from a home built in 1906 and transformed into a homey getaway for Vancouver visitors.
Hotels with Pools
Of course you probably don't plan on spending your entire Vancouver trip lounging by the pool. However, it's still nice to have the option to spend some time at the hotel swimming pool. Most of the luxury hotels in Vancouver come with at least an indoor pool. Some of them even offer a seasonal outdoor pool as well.
For swimming in luxury, book a room at the Fairmont Waterfront. It's just a 4-minute walk from Waterfront Station, but the best part is the heated outdoor pool. While you take a dip, you'll be surrounded by Vancouver's stunning harbour and mountain views. If you're looking for a Vancouver hotel with a pool that stays within budget, the Auberge Vancouver Hotel is a great choice.
Hotels Near Port
It's no surprise that the majority of travelers to Vancouver hope to stay on, or at least near, the water. If your budget allows you a waterfront view, Coal Harbour is where you should be looking for a place to stay. For luxury in Coal Harbour Port, book a room at Coast Coal Harbour Vancouver Hotel by APA. It's right on the water, super close to Stanley Park, and even has an outdoor pool.
For a waterfront Vancouver hotel that won't break the bank, try the Auberge Vancouver Hotel. This 4-star stay gives you the most bang for your buck, especially if you're wanting to stay in ritzy Coal Harbour. It isn't directly on the water, but for the fair price you can't beat the 30-second walk to the harbour.
Five Star Hotels Near Convention Center
Vancouver is one of the largest hubs for business travelers in Canada. Many of the businessmen and women coming to Vancouver have meetings and events to attend at the Convention Center. Coal Harbour is right next to the convention center, so either of the last hotels mentioned will work well.
For something even more luxurious and even closer to the Vancouver Convention Center, the 5-star Fairmont Pacific Rim is a 3-minute walk. A more budget-friendly option is the Days Inn by Wyndham Vancouver Downtown, which is still within easy walking distance. This is a straight-forward hotel that gets the job done and won't break the bank.
Best Stanley Park Hotels
You won't actually find any hotels located within the Stanley Park grounds, but there are plenty of hotels within a few steps of this famous public park bordering downtown Vancouver. For luxury that overlooks Stanley Park, The Westin Bayshore is the place for you. Walking to the park takes less than 10 minutes and the hotel is right on the water.
Rosellen Suites at Stanley Park is another great choice, and it's even closer to the park than The Westin. Just 150 meters from the park, staying at Rosellen is perfect for group travelers and families especially when you choose the Deluxe 2-Bedroom Suite. English Bay Beach is another popular attraction within walking distance.
Closing Thoughts on Where to Stay in Vancouver, BC
Vancouver is a city for all, catering to budget travelers, business travelers, families, couples, backpackers, you name it. There's a solid chance you're visiting the city to experience the nature that surrounds it, or many you're more into the idea of getting wild at Granville bars. Whatever you're intentions are for visiting Vancouver, just be sure to plan ahead.
This is one of the most-visited places in Canada, and even the world, so thinking about where to stay in Vancouver ahead of time is a must. If you're a spur-of-the-moment kind of traveler, you might have trouble finding a decent place to stay. This is especially true in terms of the best places to stay in Vancouver that we've covered in this guide.
Try to book 3 to 6 months in advance, not just to make sure you have a place to stay, but also to get the best price. If you choose to book a week or two in advance, even the budget-friendly Vancouver hotels on this list might not be so budget-friendly. Always keep in mind that Vancouver is one of the worlds most expensive cities.
All photo credits to Unsplash.com.