The Shore Club, Toronto – A Delectable Dinner Experience
Greetings,
The sun is shining and Toronto is alive and well with weather that is starting to feel somewhat like summer. If you're a frequent reader of this blog, you may remember that I visited The Shore Club in Ottawa earlier this year and absolutely loved it. When I realized I'd be spending some more time in Toronto and the opportunity to revisit one of my favorite restaurants in another city surfaced, I jumped at it. Today we'll discuss dinner at The Shore Club in Toronto, Canada.
The Shore Club is conveniently situated near the lake, Metro Toronto Convention Centre and busy Bay Street. The atmosphere was similar to that in Ottawa which was a formal yet at the same time intimate and inviting. It's the kind of place you could bring your mom, the one you love or the ones you do business with and have the same result; a sophisticated time with splendid food and stellar service.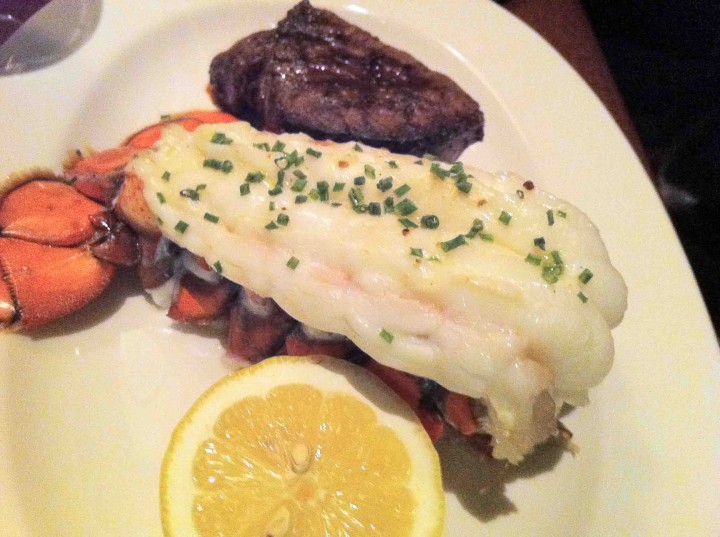 Before we go any further, The Shore Club is known for three things that it does exceptionally well and that is steak, seafood and desserts. Last time I had the steak and lobster which was so divine it took a lot of will power to stay spontaneous and delve from a dish that could only be described as delectable. They have quite an interesting menu which had several seafood specialties and steakhouse favorites that jumped at me and they include but are not limited to the porterhouse steak, herb-dusted seabass, jumbo lobster tail, bone-in rib steak and last but most certainly not least the centre-cut king crab legs.
After some serious thought about what was going to be our supper we decided to start with some seafood and white wine. We opted for the jumbo shrimp cocktail which is arguably my number one choice of appetizers anywhere and the pepper-crusted bigeye tuna. The shrimp cocktail was a winner from my first foray in to The Shore Club's menu and the tuna was simply out of this world. We both savored most of the tuna before jumping into the jumbo shrimp. We paired these dishes with a great Chardonnay from Chablis, France.
Next it was time for the main courses of which I chose the herb-dusted seabass and my date "The Dentist" opted for the classic steak and lobster. Let me mention one final time that it took a lot of will power not to just order a personal favorite, the steak and lobster. The seabass was baked and served on a bed of mixed beans and for sides we chose the fresh asparagus, scalloped potatoes and sauteed spiced mushrooms. We paired this course with a 2008 Amarone which in Italian literally means "The Great Bitter" although it was nothing but soft on the palate with a smooth finish.
Before we go into the dessert I'd like to mention that I'm not a dessert guy whatsoever. I prefer savory over sweet and usually order another seafood appetizer should my main not sufficiently satisfy me. I mention this as I had no intention in having dessert and the sides are such generous portions that we couldn't even make it through the three we ordered and that involved me going back for more than anyone really needs.
We decided to go with the special feature for dessert. I'll described what was delivered for dessert in the pastry chefs own words "A biscuit base with a creme brulee center, covered with caramelized white chocolate and banana mouse. Covered with a chocolate glaze and roasted almonds. Served with white choco mousse, brandy snap, almond praline powder and strawberry sparkling wine Jelly." Need I say more? I dug in timidly but ended up eating more than half, how could I not?
In closing, I'd like to once again thank The Shore Club Toronto for their gracious hospitality. We both thoroughly enjoyed the experience from start to finish and I have a feeling "The Dentist" will be returning with some other friends in the not too distant future.
Tips hat,