Dinner and Drinks at TOCA in The Ritz Carlton, Toronto
Good day,
I'm sitting here still sufficiently satisfied from last nights treat which was dinner and drinks at TOCA in The Ritz Carlton. The hotel is conveniently located in downtown Toronto and the restaurant had a laid back but sophisticated feel to it. This really struck a cord with me as somewhere I'd like to swing by with a date for a glass of fine wine, a cheese platter that pleases the palate or a dessert that looks like another world and tastes out of this one…
I did a little research before going and again went with my friend "The Dentist" as she is a true lover of fine wines and cheeses. Upon arrival we were greeted by a very gregarious and knowledgeable gent who was the wine director and I must say, every pairing chosen was nothing but pleasant and we explored wines from various regions around the world. The main courses were great but it was the wine, cheese and dessert that will bring me back. Yes, I even said dessert.
To start, we decided to try some terrific tartars.  After much deliberation and debate we ordered the Alberta classic beef tartar with arrived with a raw quails egg on top, it was delicious. We also decided to try to organic salmon tartar with avocado and micro tabouleh which was everything we thought it would be. I'm a huge fan of avocado and salmon so the two combined created a taste I'd like to further familiarize myself with. We paired this course with a 2012 Spanish Rose and a 2010 Burgundy Pinot Noir. That Pinot Noir may have been my favorite glass the entire evening.
When it came time for the main courses, my guest ordered a Ribeye and I decided to try the Piri-Piri Cornish Hen. The marinate which the hen sat in for 24 hours prior to serving consisted of fresh chili pepper, dry chilies, smoked paprika, garlic, shallots and olive oil. It was also served on corn puree with mascarpone, butter shallots and garlic. What's not to like? This dish was paired with a 2011 Californian Pinot Noir and my guests dish was accompanied by a 2010 Baco Noir from the Niagara Peninsula.
Next it was time to try a cheese I'd never had before but thoroughly enjoyed. At this time I'd like to mention that TOCA has a unique cheese cave in the restaurant. It functions like any cheese cave except instead of being deep in some dark basements it's on display for guests. They always have some cheese on the go but the vast majority of them are simply being aged, think of it as a wine cellar but for cheese. We were fortunate enough to take a tour and now I have the desire to travel to Prince Edward Island to play some golf and see how the cheese called Avonlea clothbound cheddar is created but I digress….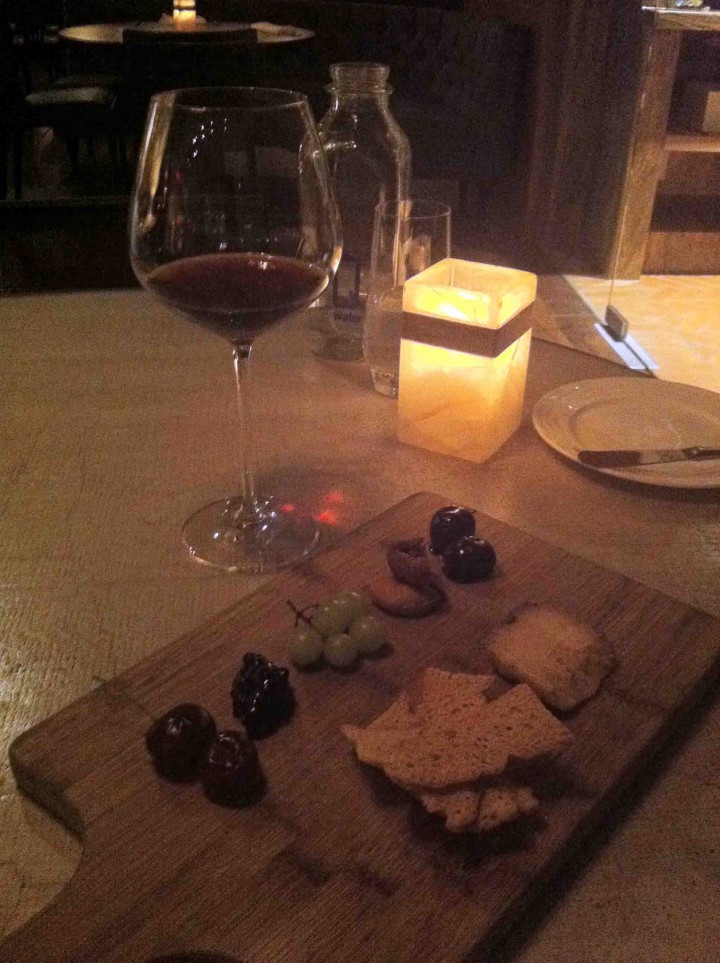 The next course was a cheese platter that featured Orcelli de Barolo. This cheese was from Piedmont, Italy and aged a full year in a barrel covered with Barolo skins. It consists of both goats and cows milk and was further aged another half year in their cheese cave. This may have been one of my favorite tastes of the entire evening and it left me curious and somewhat inspired to start discovering more of the world's fantastic cheeses. This course was pleasantly paired with a 2007 Barolo.
Finally it was time for dessert and as I've mentioned time and time again, I'm not a big fan of dessert but what they gave us tonight looked and tasted out of this world. We opted for the planet chocolate which looked like well, a white planet of sorts until they poured intergalactic chocolate over it which formed a space crater on the top exposing the maltesers and pop rocks, need I say more?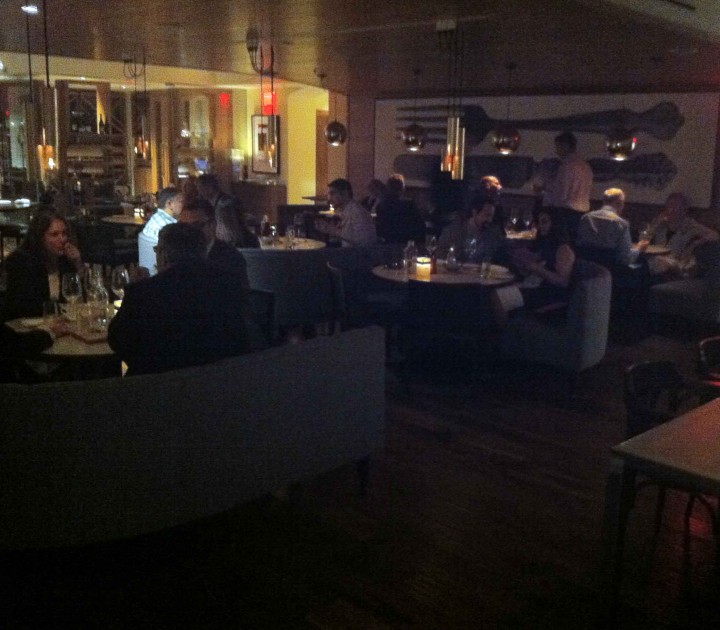 In closing I'd like to say that I had a great time at TOCA and it was an enjoyable dining experience which I'd recommend. That said, in the future I'd probably stop in on the way to a show for some wine and dessert with a lady friend or roll in with a small crew on the way to somewhere and sample some exquisite cheeses while sipping on fine wine which is always a good time. That said, I've also heard wonderful things about their Market Brunch on Sundays and perhaps we'll discuss that another time.
Thanks to Toca at The Ritz Carlton for their hospitality, we both thoroughly enjoyed our time.
Tips hat,