Greetings,
The sun is shining here on the Gold Coast of Australia and I'm sitting in my apartment at Peppers Broadbeach with a smile. I can't believe I'm leaving tomorrow but that's neither here nor there right now; let's discuss a round of golf I played this Friday with some new friends at RACV Royal Pines Resort here on the Gold Coast. The course was in amazing shape as it gears up for the Australian Ladies Masters; more on that later.
Royal Pines is a 27 hole composite golf course with three distinct 18 hole, par 72 setups. It's also home to the Australian PGA Championship for the next while and a solid course if you get the chance to go play it. If you're renting clubs as I was, they have you covered with a few different sets to choose from depending on your preferred style and skill at ball striking.
It's a short drive from the beach here at Broadbeach and we got going early on a Friday morning. If you ever get the chance to play mornings on weekdays, do it. You most often have the course to yourself and if you see any others into the game chances are they are moving just as swiftly as you through the course. Pair that with a group of similar skill and you're breezing through for the perfect type of round from the blues.
The course was in excellent condition as it's preparing for the Australian Ladies Masters and a few of the competitors were already there strengthening their skills. The fairways were smooth like velvet and the greens rolled true; took a bit of time to get used to the speed. It's always a great experience playing a world famous course but playing it not long before it's tournament ready is a treat in itself.
Water and troublesome bunkers did come into play as hazards but the course was fair and long. On many holes it was forgiving enough off the tee but would punish you as you'd have a tough go at making it to the green in two on most holes or three for those par 5's. I'm not the longest hitter anymore and found myself going for bogey more often than even pondering par.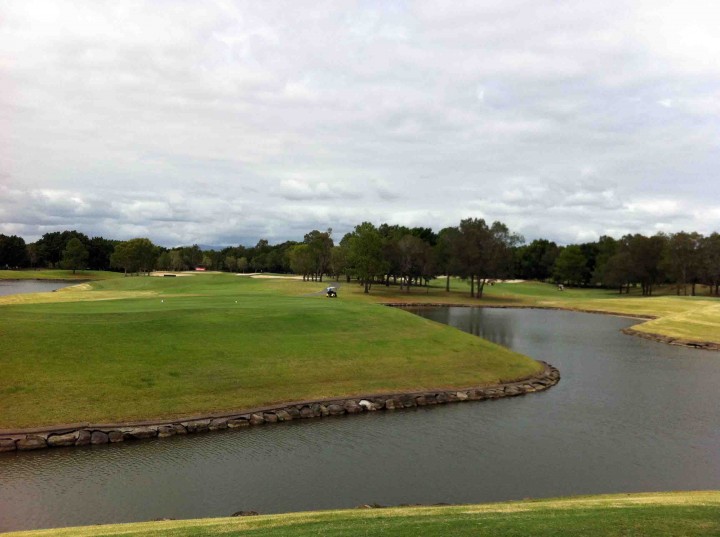 They have some seriously long par 5's and this was just from the blues. I could see where the professional ladies and gents tee off and it's just insane how far they have to hit it. Then again, when you're choosing 4-5 iron from 200m+, the game sorta changes, yes? It's a shame I won't be here longer as I'd love to see one of the tournaments in action; while there all the grandstands and what not were being setup.
I will note that the design was one that if you nailed it fine; but if you made one simple miss your score could serious escalate like what happened to me on the 18th all from a simple mishit wedge into the green. After a gruesome 18th, it was time for my favorite hole aka the 19th. The clubhouse has great food and I highly recommend the chicken parmesan.
In closing, I'd like to thank the fine people at Tourism and Events Queensland for their hospitality here in Australia, I'm having a wonderful time.