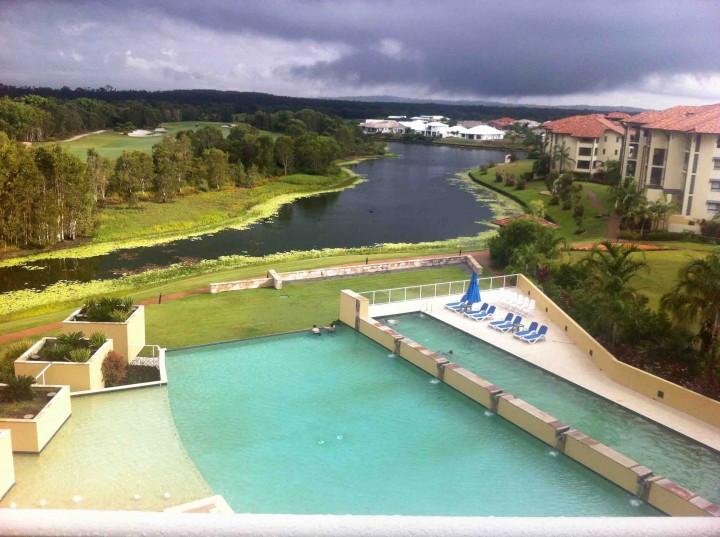 Good day,
Today I had the pleasure of playing a roller-coaster round at the Pelican Waters Golf Club on the beautiful Sunshine Coast of Queensland, Australia. The course was sound and I couldn't have asked for better company; it was really all over the map when it came to both scoring and the weather; won't be forgetting this round for a while.
Pelican Waters Golf Club is a championship course that was designed by the legendary Greg Norman and sits on 80 hectares of land that hosts 66 bunkers designed to derail your score. It was built in harmony with the surrounding landscape and measures 6289 meters from the tips. It's a fair course but as the name suggests, lots of water hazards.
I got off to a bit of a shaky start this morning and met a fine gent named Mike at the clubhouse around 8am. We hit the driving range to warm up and set off onto the course. I got off to a weak start sending my first drive into the woods; it's been a while since I've done that and makes me appreciate how far I've come with my game. Golf is a lot more fun when you're hitting fairways.
A few holes later the club pro comes to join us and the three of us start to make our way around the course. It was drizzling the whole time as the weather from Brisbane had followed me to Pelican Waters. As it happens, on the 5th hole it started to pour torrentially and we had to call it and make our way back to the clubhouse as the clouds assaulted us.
Supposedly it had not rained forever so they joked that I brought the rain. We eat an egg and bacon roll while waiting for the weather to change and sure enough it did. About thirty minutes later it was clear out and we hit the back 9 with great vigor and zeal. The rain was actually a bit of a blessing as it made the greens color really pop.
The course has lots of water and beautiful looking homes lining the fairways. I also saw my first ever kangaroos(look for them in video) and they just hang out on the fairways like geese often do on the courses I play back home. That said, they are considerably larger and wouldn't really want to see what might occur if one pushed their luck.
This course, like most courses, was fair and wasn't that difficult if our tee shot went where you planned. If not, it was dense forest or brush lining all the fairways. Also, most of the greens were very well protected by deep and wide bunkers which would quickly turn a good hole into a potentially gruesome number on the scorecard.
In closing, I'd like to thank the fine people at Tourism and Events Queensland as well as Pelican Waters Golf Resort & Spa for their hospitality. I had a great time and would love to play it again sometime.
Tips hat,