Is Consumer Services a Good Career Path for You? Here's What You Need to Know
Choosing a career path is a crucial decision for your future. Besides paving the way to financial stability, a fulfilling job can improve your happiness and overall well-being.
However, choosing the right path can be challenging, whether looking for your first job or switching careers. How can you know which road to take when many opportunities seem rewarding?
Don't worry, we're here to help. We've prepared this comprehensive guide to shed some light on the most sought-after job opportunities these days – consumer services.
Consumers expect meaningful, personalized services when interacting with brands across industries, making this career option consistently grow in demand. People increasingly embrace it to provide customers with excellent experiences and improve their lives. Hardly anything is more rewarding.
However, is consumer services a good career path for your needs, goals, and abilities? Let's find out.
What does it mean to have a career in consumer services?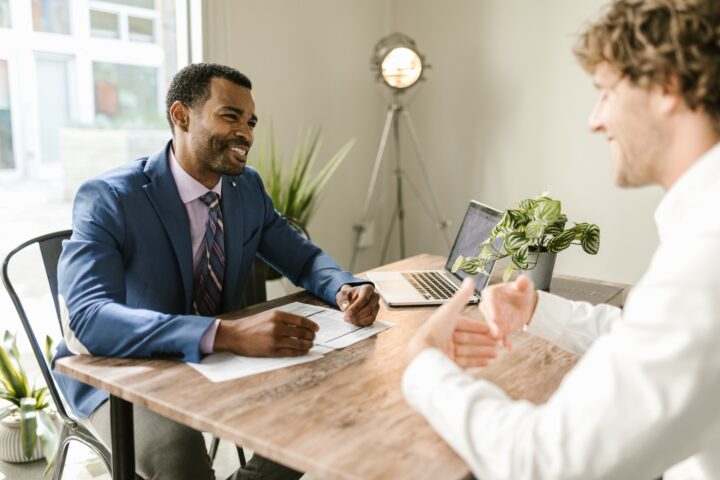 A consumer services career involves working directly with customers to provide solutions to problems and help them make informed decisions. You become their go-to partner for resolving various issues, making the most of their chosen products or services, and improving their lives.
That's not the same as customer service before, during, and after a purchase, as you provide services directly to consumers – end users.
That involves more than answering questions via live chat to resolve a technical problem or recommending insurance coverage. You could be a college professor, offer travel accommodation services, develop software solutions, or provide preventative healthcare.
These are only some examples; the possibilities are seemingly endless. You can do anything that involves interacting with consumers.
If that brings you joy, you have your answer to the question, "Is consumer services a good career path?" Still, learning more about it before diving in those waters is crucial, so read on.
Different sectors
Career opportunities in consumer services are available across multiple industries and sectors. Below are the most prevalent among current employees and job seekers.
Finance
A career in finance consumer services entails helping customers make financial decisions and transactions, from paying the bills and saving money to taking out loans and investing in real estate. By doing so, you can help them select the best insurance policies for their needs, buy and sell stocks and other securities, and manage corporate finances.
The finance sector is broad, including banks, credit unions, credit card issuers, insurance companies, consumer finance organizations, investment funds, and other businesses.
Hospitality
The hospitality sector includes numerous services for locals and tourists, including dining, accommodation, transportation, events, travel arrangements, entertainment, and recreation. It focuses on providing excellent experiences to help consumers enjoy leisure time.
Whether they want to buy airfare, book concert or theme park tickets, enjoy fine dining, find a hotel, relax in a spa, or plan a wedding or another event, hospitality professionals can handle those services.
Businesses in this sector include restaurants, catering businesses, bars, clubs, travel and transportation agencies, tourism offices, hotels, resorts, recreation centers (wellness, spa, and fitness), theaters, and other services offering leisure activities.
Education
The education sector includes schools, colleges, universities, and companies offering learning and development programs to people from all walks of life. Besides teaching students in a traditional classroom and online setting, educators provide training opportunities to those switching or advancing careers.
You can be a teacher, professor, counselor, or trainer in the education sector.
This option involves molding young minds, guiding them to uncovering and developing talent, and helping them acquire the necessary knowledge and skills for future careers.
You can also provide career counseling, prepare students for job interviews, help them find the best employment, and provide growth and development training programs for professionals.
Healthcare
A healthcare industry career is one of the most fulfilling and rewarding paths. Nothing can compare to saving lives and helping people live healthily.
The healthcare sector might require extensive education and training, primarily if you work in a hospital or clinic, but every effort is worth it. Whether you become a nurse, neurologist, dentist, or any other medical professional, you can positively impact every patient's life, helping them recover or maintain a healthy lifestyle.
Health services include preventative care, mental healthcare, physical therapy, dental care, nutritional support, emergency services, long-term care, and many other medical services and treatments.
You can provide these services in hospitals, community health centers, clinics, emergency rooms, nursing homes, assisted-living facilities, medical practices, and other medical treatment organizations.
You can also work in a medical lab, doing diagnostic tests or clinical research that could revolutionize medicine.
Retail
Retail is the most prominent sector in the US and beyond. It includes businesses selling products or services to individual consumers, from brick-and-mortar stores to ecommerce platforms.
Working in a retail setting includes interacting with consumers, promoting products or services, communicating their benefits and features, answering questions, resolving problems, and closing sales.
You can provide retail services in supermarkets, hypermarkets, malls, or convenience, department, specialty, discount, warehouse, and ecommerce stores.
Job positions by type
A career in consumer services opens the door to numerous exciting opportunities. The popular sectors above have given you a sneak peek into the most prevalent options, but many more await around the corner.
These and other sectors offer so many job positions that listing them all is virtually impossible. We've picked the most common options to help you determine if consumer services is a good career path for you.
Before exploring them, it's worth noting several job positions you can take in many industries and sectors:
Customer service representatives – CSRs are often the first point of contact with a business, answering consumers' queries, handling complaints, providing helpful information, and ensuring their satisfaction. Besides interacting with walk-ins, they offer support via live chat, email, and phone (call center agents).
Receptionists – This administrative position is available in any business or organization with a front desk (a waiting area or lobby) where customers arrive to schedule appointments, make travel arrangements, or visit a professional. Receptionists answer phone calls, greet visitors, handle their bookings, and direct them to the desired office (e.g., manager's or physician's office) or room (e.g., at a hotel, hospital, or nursing home).
HR professionals – Every business and organization needs HR personnel. These professionals arrange job interviews, coordinate recruiting, hiring, onboarding, and training, handle the hiring paperwork, create and ensure compliance with company policies, and manage payroll and benefits packages. Their other duties include maintaining company culture, workplace safety, and employee relations.
PR specialists – Many organizations, including media companies, schools, non-profits, marketing agencies, and other businesses, need PR specialists. They write press releases, create social media marketing strategies, and manage public relations to establish and maintain a positive brand image. That includes office meetings, public speeches, and community activities.
Job positions by sector
Here are other job positions in the most in-demand, fastest-growing sectors:
Finance – bank teller, loan officer, accountant, investment banker, chief financial officer, chief compliance officer, hedge fund manager, financial advisor, insurance agent, and real estate agent
Hospitality – travel agent, tour guide, personal concierge, hotel manager, flight attendant, executive chef, sommelier, event planner, and restaurant manager
Education – elementary school teacher, high school teacher, college professor, special education teacher, curriculum developer, counselor, and academic coordinator
Healthcare – EMT (Emergency Medical Technician), registered nurse, physician (e.g., pediatrician, neurologist, anesthesiologist, radiologist, internist, psychiatrist, etc.), surgeon, home health aide, nutritionist, and physical therapist
Retail – retail store manager, sales associate, logistics professional, customer service manager, product manager, cashier, store manager, visual merchandiser, and inventory control specialist
Information technology – software developer, software engineer, IT consultant, technical support specialist, computer support specialist, help desk analyst, and network administrator
Marketing – market research analyst, social media specialist, marketing manager, marketing coordinator, marketing consultant, chief marketing officer, and SEO specialist
Your answer to the question, "Is consumer services a good career path?" might be rearing its head now that you know all these available positions. While you may not see yourself occupying many of these, some might be perfect for your knowledge, skills, and personality.
Types of work in consumer services
All these job positions in consumer services entail different types of work. They come down to four primary categories:
Product – You can sell physical or digital products to consumers. Ideal examples of this type of work are brick-and-mortar shops and ecommerce stores.
Service – Most job positions in the list above include providing various essential and non-essential services to consumers, including financial, healthcare, marketing, hospitality, and educational services.
Support – Administrative services, such as customer support, client reception, and HR, and technical services, like IT support, fall under this category.
Technology – Offering tech solutions to consumers means working in the IT sector. For instance, you can develop financial software and dedicated mobile apps for clients.
How working in consumer services looks
Since working in consumer services involves directly interacting with customers, your daily responsibilities revolve around providing excellent experiences.
Take a customer service representative position, for example. Your job is to respond to customer queries, prioritize requests according to urgency, and offer the best solutions to problems. That includes answering questions, processing orders, handling complaints, and escalating to managers or others up the chain of command.
Many consumer services are reactive – you solve problems after they arise. However, your job is to ensure they don't happen again or help customers resolve them quickly, with or without your assistance.
That requires updating your company's knowledge base, support ticket logs, and self-service information like the FAQ page.
Your job as a customer service representative also includes meetings with the supervisor to develop the best solutions to customer problems and improve products or services. Regular training is also part of your work, helping you hone skills and provide fantastic customer experiences.
Job outlook
Consumer services have a generally positive job outlook for the next ten years. You can see that in the 2021–2031 Employment Projections report and the latest Occupational Outlook Handbook by the US Bureau of Labor Statistics.
The healthcare and social assistance sector will create the most job opportunities, adding approximately 2.6 million jobs during the forecast period.
Occupations in this field will grow by 17.8%, with most new jobs available for home health and personal care aides – 924,000. Nurse practitioners will be the fastest-growing occupation, with a 45.7% growth rate.
The hospitality and leisure sector will be the fastest-growing, with the food services industry providing the highest increase of approximately 1.3 million more jobs.
Occupations in production, sales, administrative support, and office support will witness employment declines due to automation and self-service. However, if the past decade has taught us anything, automation can enhance and create new jobs.
Is it challenging to find a first job?
Finding your first job can take time and effort, primarily since some companies only hire experienced workers or require a high education level. Other obstacles include never having been to a job interview, having few skills, and having few to no connections.
However, networking and internships are your best solutions to landing your first job and gaining work experience. Thoroughly preparing for job interviews, researching potential employers, and highlighting accomplishments in your resume are other crucial steps.
Research the essential job search tips to see how your job hunt can quickly bear fruit and help you land the desired position.
Income numbers
Why is consumer services a good career path? Because most occupations offer an excellent salary, besides the rewarding feeling of helping people live better or healthier lives.
The best-paying jobs include medical and financial services, while retail workers earn the lowest salaries in consumer services.
Here are the average salaries of the 20 most sought-after jobs in consumer services in the US:
Customer service representative – $35,991
Travel agent – $39,513
Insurance agent – $53,565
PR specialist – $59,812
HR specialist – $61,846
Market research analyst – $62,567
Software developer – $71,118
Registered nurse – $71,529
Flight attendant – $81,157
Accountant – $84,780
Executive chef – $86,766
Customer service manager – $95,134
Hotel manager – $112,252
Software engineer – $122,030
Hedge fund manager – $136,723
Physician – $249,272
Chief marketing officer – $338,504
Anesthesiologist – $412,500
Surgeon – $417,907
Chief financial officer – $419,067
Education and skills requirements
Is consumer services a good career path, considering your skills and education? It's an excellent path because not every job position requires a graduate, associate's, or bachelor's degree.
Many employers hire people with a high school diploma or an equivalent. Some examples include community health workers, bank tellers, retail sales associates, customer service representatives, receptionists, and hotel concierges. You don't need much technical knowledge to do an entry-level job.
Some occupations, like commercial drivers, personal care aides, and fitness workers, require only a postsecondary nondegree award.
Of course, many jobs require specialized education, extensive training, and specific skills, primarily in finance, healthcare, and education.
For instance, a technical support engineer must have at least a bachelor's degree in a tech field like computer science or robotics. Chief financial officers typically must have a master's degree and relevant financial certifications.
As for the skills, excellent communication, listening, self-motivation, problem-solving, leadership, time management, assertiveness, patience, empathy, and a positive attitude are critical.
The good news is you can build and hone these skills and get the necessary training for any desired job position in consumer services, whether you get formal education or enroll in a course.
Crucial statistics to consider
The latest customer service statistics show the significance of numerous jobs in consumer services and the market's continual growth. Here are the most notable:
The customer experience management market grows consistently – It's worth $11.34 billion in 2022, slightly increasing from $10.11 billion in 2021. The report by Fortune Business Insights shows significant growth by 2029, with the market reaching $32.53 billion in value with a 16.2% CAGR (compound annual growth rate).
Excellent customer service drives repeat purchases – Most (81%) consumers return after a positive experience.
Poor customer support drives consumers away – Over 61% of consumers turn to a competitor after a poor experience.
High-quality support increases order values – Over 68% of buyers will spend more if they receive excellent service.
Human touch is critical – Most (75%) consumers prefer human interactions over automated services. Over half of them (56%) find automated call centers frustrating.
Interacting with consumers comes down to providing superb experiences, regardless of the industry or sector. Failing to do so would drive them away. Consider that when answering the "Is consumer services a good career path?" question.
Advantages
Every job in consumer services has benefits and drawbacks. We think the advantages of working in consumer services significantly outweigh the disadvantages, but we'll let you be the judge.
The most notable advantages include the following:
Numerous job opportunities – Consumer services aren't exclusive to one industry or sector. You have many possibilities allowing you to pursue a fulfilling, promising career and improve people's lives.
Low entry requirements – You need only a high school diploma or an equivalent for many jobs in consumer services, making them ideal for first-time job seekers.
Building knowledge and expertise – Even if you take an entry-level job position, you'll receive training to hone and acquire new skills. They and your transferable skills and experience will make career advancement or transition to another job seamless. You can use any job as a stepping stone to higher positions.
High-income potential – A college degree often means earning a sizable paycheck. However, many jobs include regular bonuses, commissions, and career advancement opportunities, even if they don't require formal education. Relevant training and the knowledge and expertise you'll gain can help you work your way up the corporate ladder and increase your salary.
Dissadvantages
The potential disadvantages to consider are:
Irregular work hours – Many jobs in consumer services require working outside regular business hours. Late-night shifts, weekends, and holidays could become part of your workday, with your schedule often changing weekly. That's not the case with every position; many provide a healthy work-life balance.
Stress and burnout – Many consumer service jobs include working under pressure, primarily when dealing with complaints and frustrated customers. That's why solid interpersonal and intrapersonal skills are crucial, helping you resolve issues quickly and maintain your physical and mental health.
Minimum wages for entry-level positions – Many jobs include this potential downside, but you can turn it into an opportunity. There's always room for progress and career advancement, helping you increase your income.
What's your take on this field now, considering the pros and cons? Is consumer services a good career path for you?
Hopefully, the answer is "yes" since the drawbacks can't compare with the positive experiences and opportunities you can gain. Don't let them discourage you if you find joy in consumer services.
Conclusion
Now that we've covered various job positions across sectors, education and skills requirements, income potential, and the pros and cons, it's time to answer the critical question: is consumer services a good career path?
The answer is a resounding "YES!"
Why is consumer services a good career path? Because it enables you to make people's lives better, happier, and healthier, depending on the job. It's a rewarding career that lets you positively impact customers and the brand you work for while building job-specific and transferable skills and expertise.
A college degree can land you some of the highest-paying jobs, but you don't need formal education for many positions. You can advance your career in a dynamic work environment. You may start with a minimum wage, but you can quickly climb the corporate ladder and boost your paycheck.
Regardless of your chosen job, you'll interact with consumers daily and have numerous opportunities to learn something new and develop interpersonal and intrapersonal skills. Every workday will be different, bringing new challenges, excitement, and job satisfaction.