Sunday Stroll & Serious BBQ in Mendoza, Argentina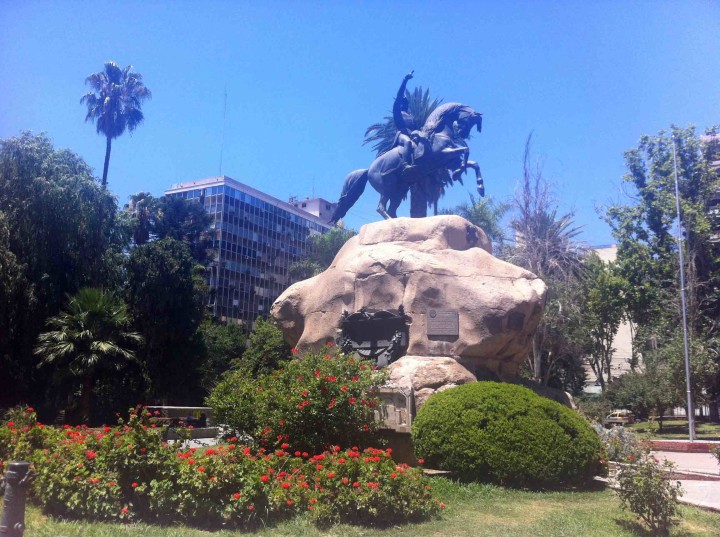 Good day,
Arrived in Mendoza after a 14 hour bus ride from Buenos Aires, Argentina. Mendoza is basically the foothills / eastern side of the Andes which well, is a rather famous mountain range. There are plenty of things to do here such as visit wineries, hiking, skydiving, horseback riding, ATV trips, rafting etc… It's all quite reasonably priced and the town itself is quite nice. Myself and a new friend checked in and immediately hit the streets to check out the city…
The downtown core was pretty dead but I'm guessing it's because it was a Sunday and holiday season? That said, we did check out a few spots including Plaza d'Indpencia and a few other spots. For starters, I really need to stress how hot it is here this time of year. A gent from Cordoba told me it would be hotter than Buenos Aires and I didn't believe him, he was right. That said, we strolled the streets snapping the shots you see here.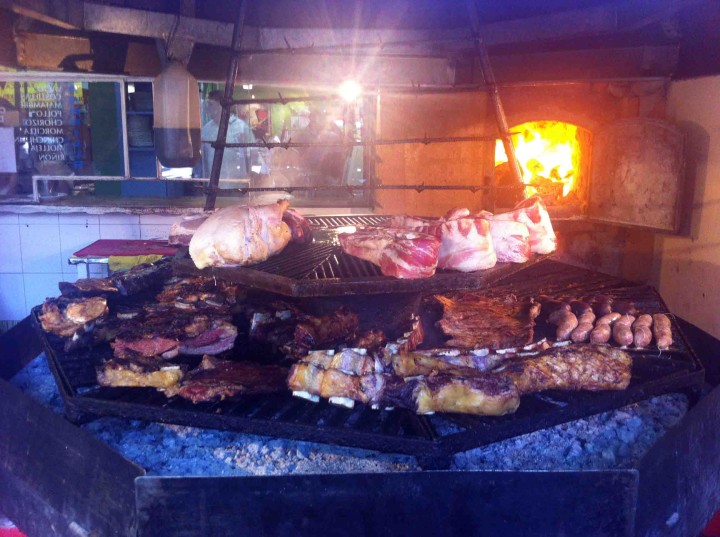 The coolest thing I encountered was the whole BBQ Grill Buffet thing which I had heard about but never actually experienced in Buenos Aires. There were lots of places ranging from 80-100ARS which is roughly $8-10US if you're using blue dollars. We checked out a few and one of them smelt like a Chinese buffet I overdid in Buenos Aires. We found a place through a gent handing a flyer for 80, after checking others decided it had the best salad options.
So basically it's an all you can eat salad, fries and meat type thing. The salads were needed as a diet of strictly meat isn't so much for this gent. The salads were good but enough talk about salads, right? The meat was out of this world. They hooked us up with all these sausages which were a waste of space in our stomachs. After we had a steak that was probably close to a kilo and cooked to perfection along with some ribs and chicken for good measure.
They don't ask you how you like your steak as in you are in steak country, they will give you a steak the way it's meant to be eaten. The steak was so big and charbroiled that it looked like a big rack of ribs but it wasn't, it was only meat. You cut into it and it was red with some blood squirting out like you hit an artery. It melted in your mouth and was easily the best steak I've ever had in my entire life. No other steak can even come to mind, it was that good.
The ribs were also really good but kinda though and the chicken was the best I've had. Dipped the chicken in the juices of the steak and you're having a moment you won't soon forget. We bought two liters of Andes beer because we figured we'd try it. The Andes beer was alright but really, should have had wine yes? Somehow we overlooked that which looking back was a most egregious error but oh well. The beer was alright and for dessert they gave you some amazing ice cream.
The entire meal for two people and we eat until we basically exploded was 220ARS which is roughly $22. I will never order a steak again without thinking about this. It reminds me of the odd $55 for "just the steak" they charge at some top establishments in Canada. Once you go Argentinean grill, you never go back. Afterwards we hit the streets ans I met some SHABL supporters with their "STOP having a boring life" t-shirts. Who knew the strongest supporters of the SHABL movement worked at a pizza slice shop in Mendoza?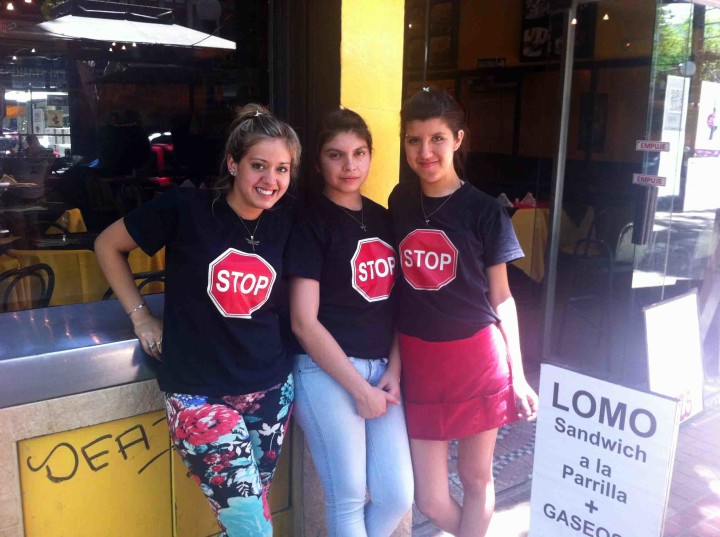 We rolled back to where we were staying when I met an interesting gent from Montana. Went to grab a beer and noticed champagne was roughly the same price. Drank some cheap champagne before jumping in a cab to Colon street. There is a place called Antres which has imported beers and good food. I know it's crazy eating after that massive monumental feast but it happened and yes, I have mixed emotions about it. Since it was a Sunday a bit slow but I really liked that street as it was basically the party street. If here on a weekend or good weeknight, hit it up.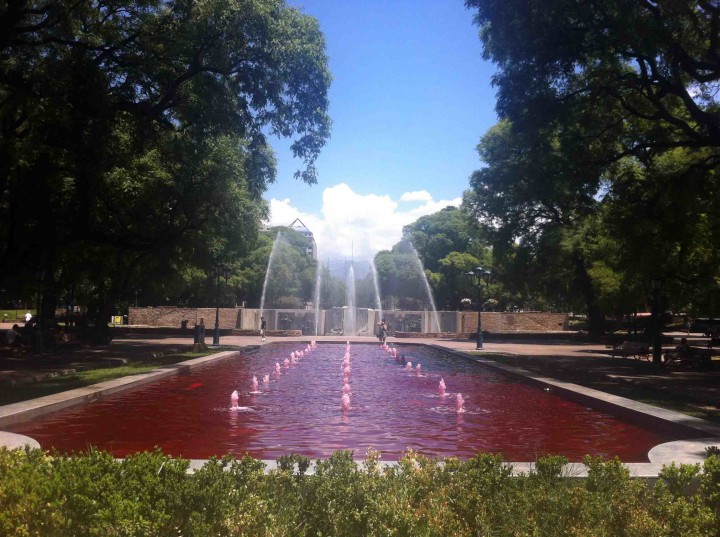 Now I'm checking out and writing this blog before the day forever fades into oblivion. I'd like to stay another day but with holidays, all the buses are filling up. Myself and new friend booked the last two tickets available from Mendoza to Santiago in Chile. We do a pass through the Andes which many describe as one of the coolest drives out there. We opted to rent a car but they want something like $50-$100 a day and if you drop off elsewhere they really sting you.
Supposedly the beaches in Chile are insane and it's Xmas aka high season so why not? Then it's off to Patagonia!
If you are into adventure tours or want to drink some wine and have time, check out Mendoza, nice feeling place and great BBQs!
Tips hat,
P.S: We eat at Del Jardin Grill Parrillada; recommended.
P.P.S: Forgot to ask if taxi driver had a meter on way home, if that happens immediately confront them and when they say broken, tell them the price it cost you to get there in a serious manner. He will probably grumble and speed you to your place like you're in a rally race.