Help Yourself to Faster Airport Security This Summer 
It's summer, you've been planning your big vacation for a while, and all you can think about is getting to the lake/beach/mountain (select dream location here). But with your mind's eye fixed on your destination it's easy to forget about the journey, particularly security screening at the airport. The good news is that being prepared can help you breeze through the screening checkpoint, leaving you more time to shop, eat or just relax before your flight.
The first step is doing your homework so you know what goes in your carry-on and what goes in your checked baggage. The Canadian Air Transport Security Authority (CATSA) has some handy tools on its website, including a searchable "What can I bring" list that lets you know where to pack your items and what can and can't fly. It also has a travel-checklist generator (insert reminder to water plants here), and tips for all sorts of  challenges –  from what to do with large sports equipment and medical supplies to travelling with pets.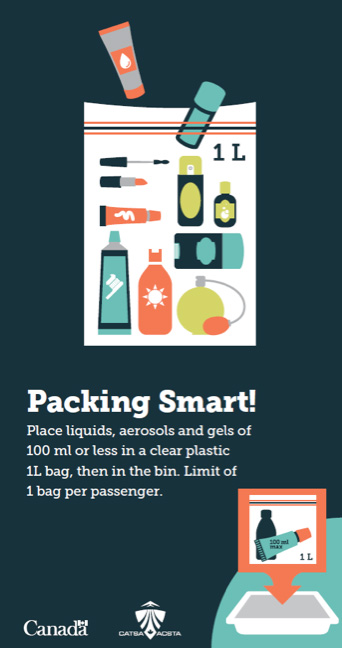 According to CATSA, one of the biggest hold-ups at security is having too many liquids, aerosols and gels. Containers over 100 ml and 1 litre bags that are overstuffed with smaller containers (no seal; no deal) will need to be checked. As for that cup of java or water bottle in your hand – if it's over 100 ml, be prepared to chug.
There are some exceptions, like liquids for kids under two years old and medication. You can check out more here. In all cases, the containers should be taken out of your carry-on bag and ready to present to the screening officer for inspection.
Once you hit the front of the line, it helps to have your boarding pass ready to show to the screening officer. You can also speed things up if you put any loose change, keys and small electronics (smart phones, cameras, tablets) in your carry-on bag so you can just drop it in the bin. If you're travelling with a laptop or other large electronics (gaming console, DVD player) you'll need to put them in a separate bin. For more information on what you can put in the bins at the checkpoint, you can find it here.
If you're still wondering what to do with an item or want more information about security screening, you can always send questions to CATSA on Twitter or Facebook.
Lastly, travel is all about being mobile, so you should definitely download CATSA's free mobile app. It's available on Android, iOS and Blackberry, and can help you with all this and more, including wait times for security at most major airports.