Exploring Waterford – Ireland's Oldest City
Greetings,
Today we're going to talk about Waterford, an interesting city in Ireland's Ancient East which also just happens to be Ireland's oldest city. I enjoyed my time there and easily could have spent longer but we were on a busy schedule so glad for the time we had. There is lots to see and do, especially for the history buff. If you're unfamiliar with Waterford, the information below should get you acquainted with the city.
Introduction to Waterford
Founded in 853 by Vikings, Waterford is the oldest city in the Republic of Ireland. These days, Waterford is best known for the crystal that it produces, a specialty that developed as a legacy of this city's glass making industry. Before you come here, make sure you check out Renthero and see if you can find the best place to rent during your visit.
The city motto of Waterford is Urbs Intacta Manet Waterfordia,  which means, Waterford Remains the Untaken City.
This honourable title was granted to Waterford by King Henry VII in reference to the refusal of city leadership to recognize the claims of Lambert Simnel and Perkin Warbeck to the throne of England in 1497.
History of Waterford
While Waterford was originally settled by Vikings, their original stay was short-lived, as the Irish drove them out of the area fifty years later in the year 902.
This gain didn't last long, as the Vikings were able to re-establish their foothold here in 917. This time, they stuck around for longer, beginning a dynasty of rulers that featured the likes of Ottir Iarla, Ragnall ua Ímair, and Ivar of Waterford.
After more than 250 years of Viking rule in the Waterford area, Diarmait Mac Murchada, a former king of Leinster, led a detachment of Norman mercenaries to its gates in 1170. After a long siege, they took the city, finally bringing it under Norman control.
During medieval times, Waterford was Ireland's second largest city after Dublin; its importance expanded in the time after the Protestant Reformation, as it became a highly valued centre for shipbuilding and glass making during the Industrial Revolution.
Things to see and do in Waterford
The most notable building in Waterford is Reginald's Tower. Built in 1003, it is the oldest building in Ireland, and it was the first structure in the country to be built using mortar.
Used to defend Waterford over the years, there is a cannonball embedded in the wall from when it was besieged by Cromwellian forces in 1650. These days, it is home to a museum that tells the story of the time when Vikings ruled this city.
Reginald's Tower is surrounded by a part of Waterford that is known as the Viking Triangle. While most of the structures in this part of town date from the Norman era and beyond, portions of the city wall from the Viking era still exist here.
If you'd like to really get to know the area, you can take an "Epic Tour of the Viking Triangle" which was a walking tour we did and I'd recommend it. Beyond covering all the major sights you'll also have a gregarious guide who will happily answer the many questions you'll have throughout.
Other buildings of note in this historic portion of Waterford include the French Church (built in 1241), the Medieval Museum and the Bishop's Palace Museum.
Another prominent tourist attraction in Waterford is the Waterford Crystal factory.  This fine form of glass has been produced in Waterford since 1783, but the company that is presently known as Waterford Crystal was founded in 1947.
Founded by a Czech immigrant, the company quickly took off; despite suffering financial difficulties after the global economic crash of 2008, Waterford Crystal emerged from bankruptcy proceedings in one piece.
It continues to produce fine crystal for customers around the world. A famous customer is New York City, as they create the crystal ball that drops high above Times Square on New Year's Eve each year.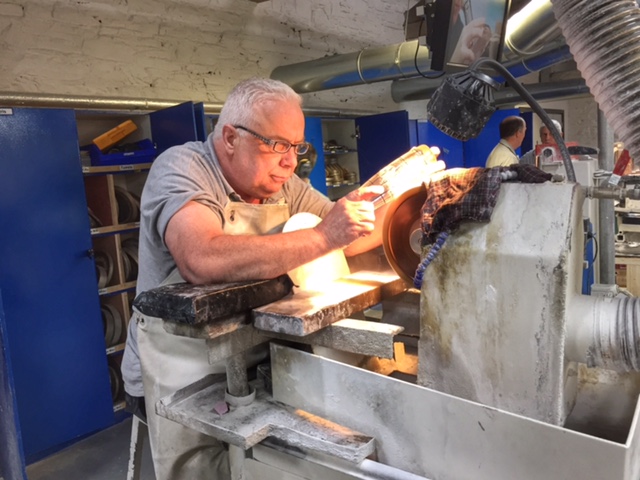 Where to eat and drink in Waterford
While here we had lunch at a spot called The Reg and dinner at La Boheme Restaurant and recommend them both. I really liked the vibe of the Reg and although we were there at lunch on a weekday, I can only imagine what it's like in the evenings or on a weekend… The place oozes of character, the food was good and I'm absolutely positive that countless great nights have been had there.
The video below is of my day at The Rock of Cashel and Waterford, Ireland's oldest city.
https://www.youtube.com/watch?v=7D5xqqH-epE