Good Times at Casselview Golf Course in Casselman, Ontario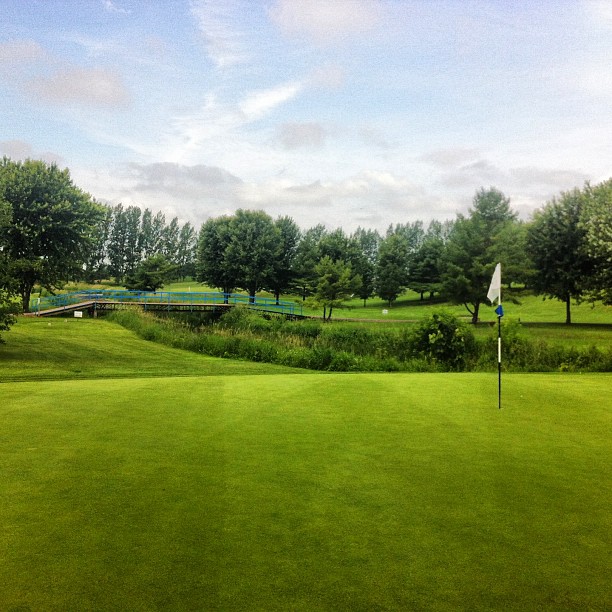 Greetings,
Yesterday I had the pleasure of playing another round at Casselview Golf Club in Casselman, Ontario which is basically a stones throw down the highway from Ottawa. I used to play this course quite often when I lived in Ottawa and it was always known for being well kept with  large and near impeccable greens or about as good as you can expect to find from a course that is open to the public. As per usual, it was a pleasant experience and this time was special, got to bring my dad.
We teed off at 7:45AM in a dark fog which made us feel like we were on some links course ever so slightly on the coast of England. It was so foggy that we couldn't even see 100 yards in front of us, an hour or so later the fog started to lift and near the end of our round, the sun started shining. From a photo point of view sunshine with creative cloud patterns are great, from a playing point of view, the overcast was perfect. It wasn't too hot and we didn't have to worry about frying ourselves under a hot sun.
If you're a long time reader of SHABL, you may remember that I played Casselview Golf Course last year, yes? If you're looking for more photos from a sunnier day and information be sure to check that post out as I'm not about to sit here and rewrite history; that would be boring, yes? Also, every round of golf is different like a snowflake. Golf is the sport with the largest area and the smallest target which makes every round an adventure in itself.
We were supposed to be playing on the Monday but there was torrential rain the night before and I canceled. I've concluded that when it comes to golfing, if you're going to take a cart it has to be on a day where you can drive where you wish on the course; simply cart-path only is frustrating. As it happens, Casselview has solid drainage because when I spoke with a gent named Eric who works there, he told me that the course had drained properly and carts were allowed everywhere. That's pretty sweet considering my front yard was still pond like.
The course has 5 sets of tees which is great because it makes it easier for seniors like my father to get in the game. Senior tees are usually in between the whites used by your average man and the reds used by most ladies. The tees are closer to the ladies because let's get real, when you get older you can't long bomb it like when you were in your youth and no self respecting man plays from the reds even though I'm sure many of us have thought about it once, twice or thrice.
We teamed up with a club member and the three of us had a great round all playing from different tees. As per usual, I didn't keep score but the greens are quite large so I hit many and since they rolled so well, didn't make many costly 3 putts which is always a good thing. After the round I was informed how they are celebrating their 30 year anniversary this summer with a large tournament on August 1st. It should be a good time and there will be all sorts of activities including the 30 putt challenge. I have no clue where I'll be on that date but if I'm in Ottawa, good chance I'll be there.
In closing, I'd like to once again thank Casselview Golf Club for their hospitality and hopefully I'll get to play it again soon.
Tips hat,
P.S: Photo above is from 11th hole. If you miss right approaching the green, you're in serious trouble.