A Visit to South Central: Roscoe's & Watts Towers
Yo SHABL,
As I mentioned before, I have been spending a significant amount of time in southern California with family and friends after a year of being away. It's been fun, it's been real, but it has definitely started to get a bit boring staying relatively "put" in one spot for the past few weeks. And obviously we can't have that on this site (nor in our lives), can we?
So I decided to take a little trip out to South Central Los Angeles. It was quite a change of scenery from where I was staying on the west side of the city, a change that I embraced and thoroughly enjoyed. Due to time constraints I wasn't able to spend as much time here as I would have liked, but there were two things that I did manage and would like to recommend them to anyone hanging out in Los Angeles looking for something different to do.
ROSCOE'S HOUSE OF CHICKEN & WAFFLES
There are quite a few Roscoe's you can choose from to experience the famous fried chicken and waffles combination, but since it was a "South Central" kind of day, I hit up the one in Inglewood right off the 110 freeway at Manchester.
As usual, didn't know what to expect, but have to say I was impressed. For some reason I thought it was going to be a McDonald's or Burger King style setup—that is, if I was lucky. But no. It was a nice, clean sit-down establishment and the service was excellent.
Now more about my entrée. I was recommended the #1 Scoe's (1/4 chix prepared southern style, 2 waffles, and "their own private mix") for $10.70 and got a mix of white and dark meat. I was pleased with it and therefore am passing that recommendation on to you.
I only made it through half of my plate—definitely one of those meals that makes your arteries hurt and ass grow just looking at—but I'm proud to say the waiter complimented me anyway on what I was able to accomplish. He said my eating technique "looked goood" for a first-timer so that made me feel like a champion. Looking back at this photo though, I really have no idea what he was talking about…looks disastrous. Whatever. It filled me up and I was ready to move on to my next destination.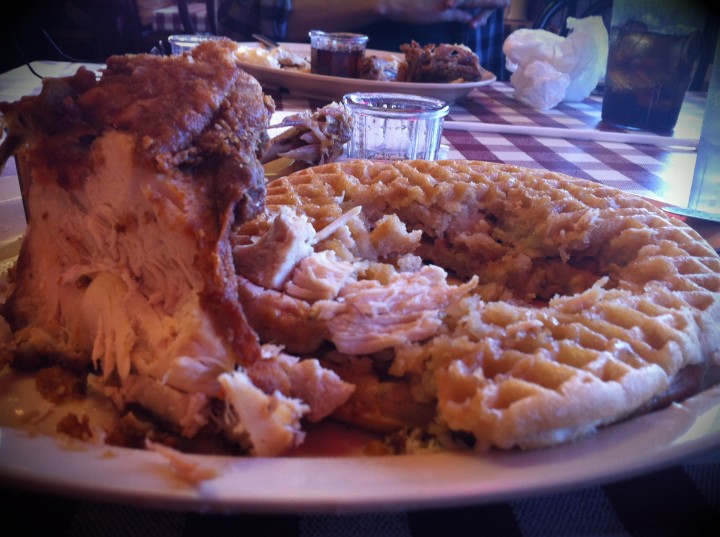 WATTS TOWERS
Just a short drive south from Roscoe's down Main Street and then left on 102nd Street you will soon find yourself in the heart of Watts (of 1965 riot fame).
102nd Street turns into 103rd Street…keep going. You will pass through South Central Avenue and then Compton Avenue. Pass over the train tracks and make your first right on Graham Avenue.
Keep following that road until you notice something that one would not expect to find on this side of town.
This quirky art installation is known as the Watts Towers. They were created by Italian immigrant and construction worker Simon Rodia. From 1921 to 1954 Mr. Rodia worked on what he called "Nuestro Pueblo" during his free time (nights, weekends, holidays). Hell of a hobby, huh?
Guided tours are available if that's your thing but personally I just wanted to walk around the outside and take photos. If you're into photography I suggest you try going just before sunset.
All in all it was a nice day out. As is so often stressed on this travel blog and many others…it's all about making the best out of whatever situation you are in. If it happens to be one in which you wish you were traveling but for whatever reason cannot, just have a look around your own backyard, even if you always thought your backyard was a dangerous ghetto. You might be pleasantly surprised with what you find.