A Night in Miami, Florida
Greetings,
I'm writing this from a plane that's quickly reaching its cruising altitude on the way to Europe. Last night I had the pleasure of spending a Saturday night in Miami's world famous South Beach. As one could expect the strip was packed with people from all over the country and the world letting loose, enjoying the festivities and wonderful weather.
Not long ago I was chatting with my friends at Marriott Rewards and as it happens they are celebrating their 1,000,000th mobile check-in via their app for smartphones. Since I was coming through Miami, we decided to team up and let me give it a test run, to say it makes things easier would be an understatement and I'm sold. They made a cool video to capture the millionth check-in and you can watch it below. If the video brightened your day, consider giving it a share.
https://www.youtube.com/watch?v=Z3YskvZZNpo
To continue the celebration and give back to all those using the app Marriott has decided to run a sweepstakes until the end of the year giving away millions of Marriot Rewards points. For full details you can click here. Below is a quote from Marriott Rewards which sums up the sweepstakes well:
"From April 2 to December 31, 2015, Marriott guests who check-in with the mobile app during their stay at a hotel in the US, Puerto Rico and the US Virgin Islands have a chance to win a grand prize of one million Marriott Rewards points or monthly prizes of 100,000 Marriott Rewards points."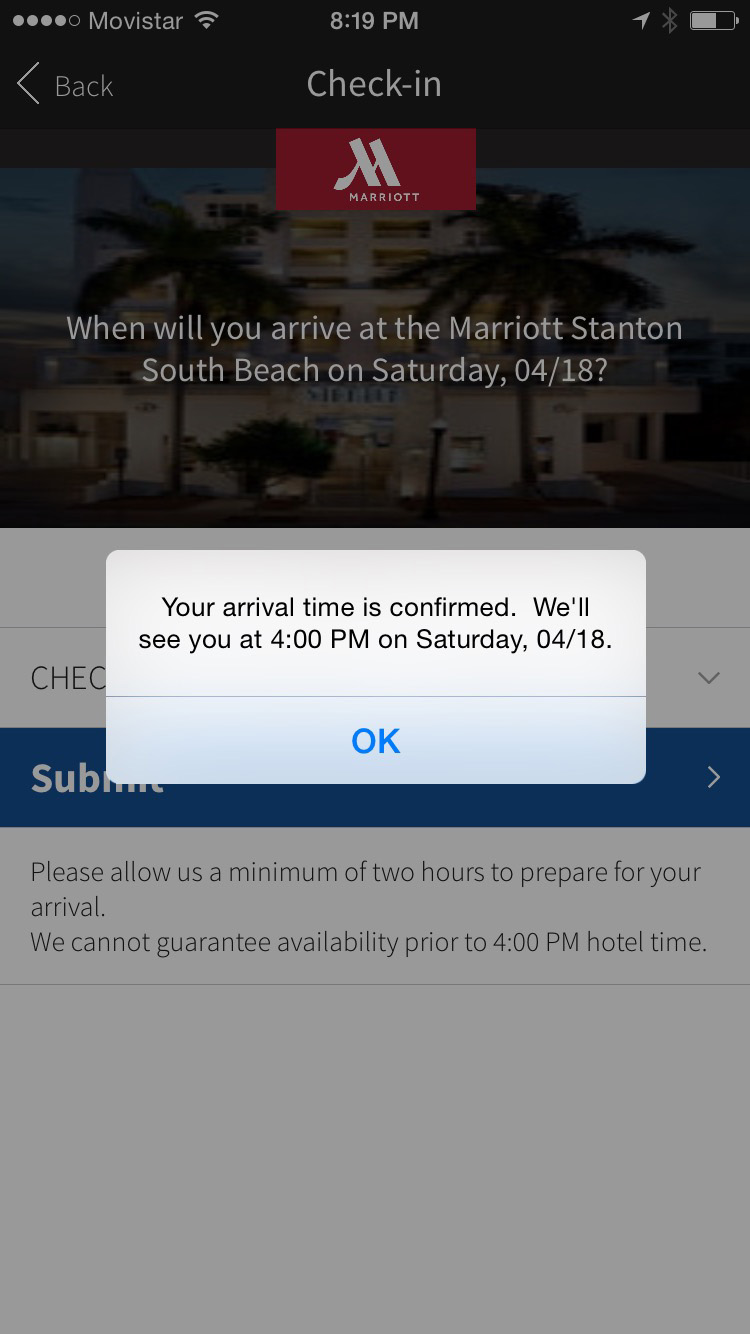 What I liked about mobile check-in is that it's efficient and saves you time. When you reach the hotel, you go to an express desk so you don't lose time in the lobby and can get on with your evening. Also, on check-out, you can just leave the keys in the room and leave without having to deal with the lines in the lobby.
"With the Marriott Mobile App, check-in is simple. Guests can check-in after 4 pm the day before their arrival and will receive an automatic notification when their room is ready."
I stayed at the Marriott Stanton South Beach and loved it. Since it was a Saturday, the beach was packed and enjoyed watching the action from the balcony attached to my suite. First priority was to do some shopping and take a stroll along the beach. Later in the evening I linked up with an old friend and we stopped for a seaside pint before starting our quest for sushi which never really materialized.
That said, we still got our salmon fix at a stellar sandwich spot called Europa. I'm not a sandwich guy by any means but gladly devoured the delicious North Star which came with smoked salmon, brie, pickled onions and more. If you're in South Beach and wandering around on Washington just south of 5th Street, do look into it; it's become a new spot for me and look forward to trying another sandwich or just the same once more next time I'm in the area.
Following the sandwiches I decided to retire to the room. I guess I'm getting older or perhaps just wiser but when I have a nice suite, I enjoy spending some time in it. Not long after that the night was complete and now here I am. I'm not sure when I'll be going back to South Beach but hopefully sooner than later.
Big thanks to my friends at Marriott for their hospitality, it was much appreciated. As always, all thoughts and opinions are mine as they always have been and always will be.