Great Round at Casselview Golf Club in Casselman, Canada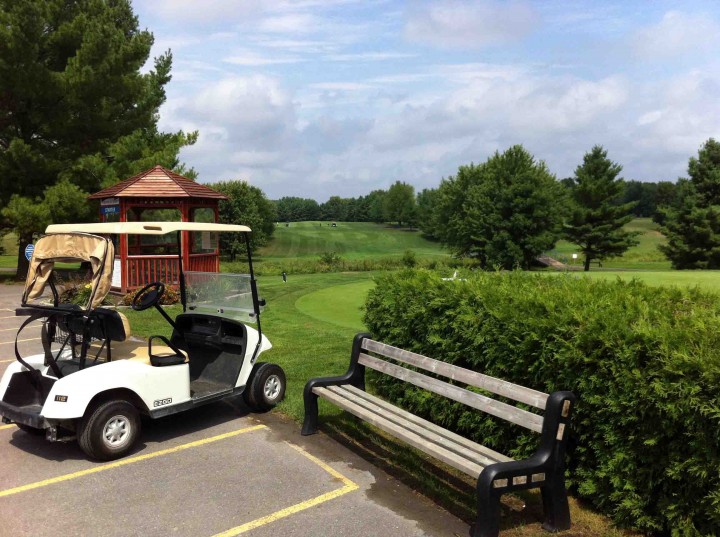 Good day,
Yesterday morning I had the pleasure of playing a great round of golf at Casselview Golf Club which is in Casselman, Ontario aka about 25 minutes from the downtown core of Ottawa. This course is by no means new to me, it used to be included in a pass that I bought which comprised of numerous great courses and I'd play it once or twice a month throughout the Canadian golf season. It was great to revisit a a course I've always enjoyed that always has smooth rolling greens on a grey old day where you basically have the course to yourself…
Prolific commenter / loyal reader "PHIL"  and I made our way to Casselview and arrived about 45 minutes early for our tee off time. It poured the night before and the sky was grey and filled with indecision. As a result, we were basically the only people there that early and after passing this one group of friendly slow pokes, we had the entire course to ourselves. The course isn't difficult if you can keep your ball in play, the well manicured fairways are rather wide most of the time and the greens are also quite spacious. If you do make a mistake though, there are still tree lined fairways, deep rough in areas and more than its fair share of ponds and creeks to bloat that scorecard.
Considering the course is quite open and there isn't a lot of elevation change, the staff has done a great job of tee box area selection. What I mean is that lots of the tee shots need to be straight or controlled for the first 100 or so yards before the holes open up, as a result if you aren't straight off the tee, you're in for some trouble . I will note that the greens were in great shape and the ball really rolled the line you chose without much dragging it back. In other words, you had to be gentle with your putts and place your chips as no matter how big the greens are, if they are rolling well and you put too much heat on your approach, you're rolling of the dance floor.
Looks like they installed GPS in most of the carts since I left which was good to see. We thought it was going to rain so opted for an older cart with a cover for our clubs in the back. Quite glad to see the addition and Casselview golf course in Casselman differentiating itself from some of the other courses in the area. It's always been well maintained but now the GPS is an extra perk for those who wish to play one of the top tier public golf courses in the region. No matter how good or bad you are, a GPS helps every game and gives you an idea of the actual distance to the pin, not just a guesstimate to how far the front of the green is.
After our round, the sun was starting to come out so Phil and I ordered some lunch and were offered a pitcher from Cassel Brewery Co. which was a tasty addition to the 19th hole aka one of my favorites. I will note that the club sandwich was great and the fries were similar to the kind you find at chip stands, not that frozen junk many establishments try and pawn off on you. Luckily Phil was driving so I did the drinking followed by a most dignified mid-day nap.
Great times golfing today at an establishment I used to frequent back in the day. It was a fun day and a blast from the past all wrapped into one. Big thanks to Claude and Eric from Casselview Golf Club and Ottawa Tourism for making it all happen. Finally, thanks to the young lady who met us in the parking lot and arranged a cart for our bags, it's the little things in life which make the biggest difference…
Tips hat,