Where to Stay in Cape Town : A Neighborhood Guide
Anyone who has made the voyage to Cape Town, South Africa knows that research is important. Knowing the answer to what is the best area or where to stay in Cape Town beforehand is a must. Even more important is asking what are the safest areas in Cape Town. Although this popular city in South Africa is relatively safe, there are certainly areas that should be avoided.
It's time to stop stressing out about finding a suitable place to stay that also happens to be in a safe neighborhood. Heck, you can even stop wondering about how to fill your time. Just follow this No-Stress Guide to Cape Town for all the answers.
Top Choices on Where to Stay in Cape Town
If you're short on time and want a quick rundown on where to stay in Cape Town, you can't go wrong with booking one of these accommodations. Read below for more details on the different neighborhoods if you're looking for something more specific from your stay in Cape Town.
Compass House is a 5-star hotel that feels more like a luxury B&B. It offers all the convenience and perks of a major hotel chain, but guests love the charm and quaintness that come along with their stay. The hotel offers the best views of Cape Town, which can all be taken in while lounging by the beachside pool.If you've got the cash to spend, staying in Bantry Bay's Compass House will make any trip to Cape Town complete.
Best Airbnb in Cape Town: Cozy and Central Inner City Loft
Part of the reason for this Airbnb's popularity is because it's located in the heart of the trendy CBD neighborhood. This is the ultimate area for nightlife, but you might choose to spend your nights in when staying at the Cozy and Central Inner City Loft. This highly-rated Airbnb is light, airy, comfy and cozy. And the best part is that it's within walking distance of most of CBD's main attractions.
Never@Home Cape Town is the ultimate spot for backpackers who are OK with staying in a dorm room. The hostel is just 5-minutes by foot to the V&A Waterfront and a short walk to the bars, restaurants, and shops of CBD. N@H offers the perfect social environment that so many backpackers crave. If you're not in the mood for a dorm room, there are also a few double/twin private rooms to choose from.
The Grand Daddy Hotel will be mentioned twice on this list of places to stay in Cape Town, but it is deserving of even more recognition. As soon as guests step food in Grand Daddy, they are blown away by how special it is. Just to give you a hint, Grand Daddy has its very own "trailer park" on the roof. And yes, guests can actually stay in these trailers. You can read more about this later on.
How to Get Around Cape Town
The first question for any traveler is how to get around. Nobody wants to be hanging around the airport without a clue on how to get to the hotel that is miles down the road. These days, as long as you have a smartphone and the UBER app, you're good to go.
Without a doubt, UBER is the easiest way around Cape Town. Keep in mind that this will also be the priciest transportation method. If a comfortable private ride is your main priority, though, UBER is the top choice. For anyone without a working South African phone plan, finding WiFi is generally possible.
Not all travelers have the luxury of ordering UBERs all day long. Rikkis taxis are also available throughout the city, especially at the airport. Rikkis are pretty much the same as cabs, but more often than not you'll be sharing a ride with a stranger. Rikki rates are lower than UBER fares, plus carpooling with strangers is much more environmentally friendly.  When renting a car be sure you have your international driver's license to avoid any inconveniences.
All in all, it's not difficult at all to get around Cape Town. Hopping on a local bus is also available. For the most part, though, Rikkis and UBERs seem to be the most popular methods for getting around. Depending on where you choose to stay, exploring the city on foot is another option.
About the Best Neighborhoods in Cape Town to Stay
Table Mountain acts as a divider between the Atlantic Seaboard and the City Bowl. These are the two main areas of Cape Town, and within them, you'll find some of the best neighborhoods for travelers. No matter which side of Table Mountain you choose to stay, there will be plenty to keep you busy. Atlantic Seaboard is home to the famous Camps Bay, the best spot for family travelers.
First-time travelers to Cape Town should head to a neighborhood called Gardens in the City Bowl. Most of the trendy areas are in City Bowl, including Woodstock, CBD, and Observatory. Below you can find a complete guide on each of these popular neighborhoods of Cape Town to decide on the best spot for you.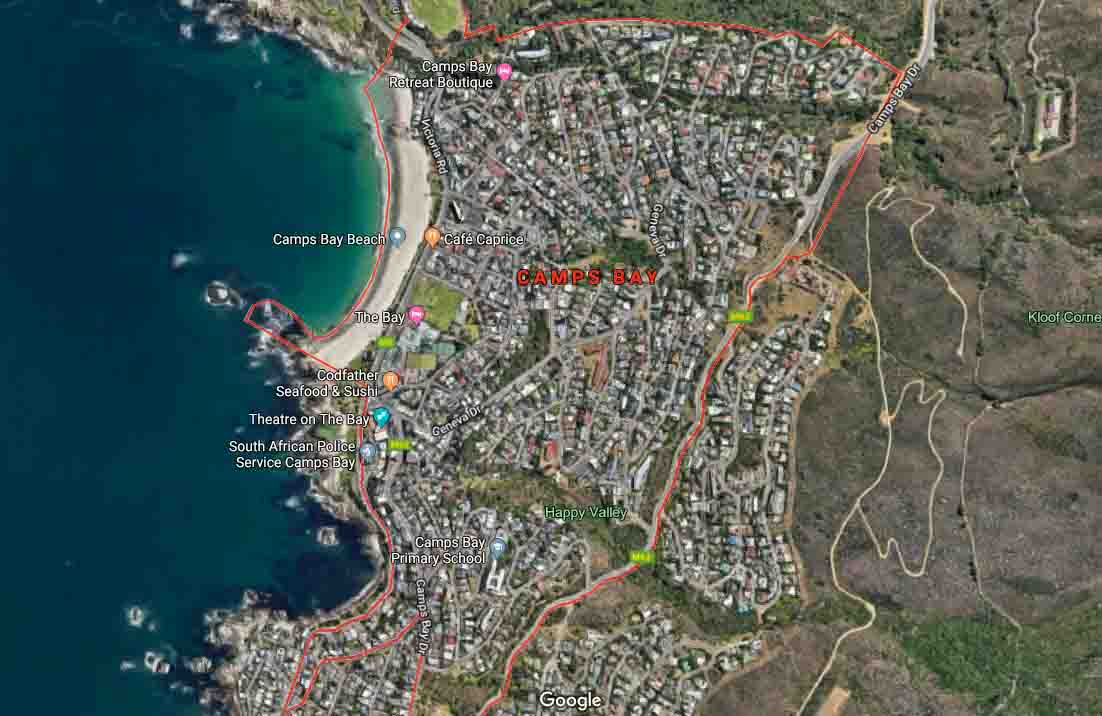 Camps Bay: Best Neighborhood in Capetown for Families
For a seaside neighborhood that caters to families, consider staying nowhere else than Camps Bay. Although the neighborhood is a bit outside of the main city attractions, the great public transportation makes up for this. Who wants to stay nestled among skyscrapers anyways when Camps Bay has the most stunning views in all of Cape Town.
Best Family-Friendly Hotel in Camps Bay: The Bay Hotel
The Bay Hotel is a world of its own. Although it is located just a few steps from the beach, families tend to spend much of their time on the hotel grounds. This makes complete sense since it is home to a full-service spa and workout facilities, four swimming pools, and three onsite restaurants.
Families with small children gravitate towards The Bay Hotel since it offers childcare services. There are tons of kid-friendly activities that happen daily. Plus, the rooms and suites are big enough for the entire family to stay comfortably in Cape Town.
Best Hostel in Camps Bay: Camps Bay Resort
Families don't often include the word hostel when online searching for accommodations. Why would they, since hostels are meant for solo backpackers and not so much for families. Even though Camps Bay Resort has been dubbed a hostel, it is so much more than that. Try not to overlook this family-friendly gem in Camps Bay.
The resort goes by the name hostel merely because it is a great place to socialize and meet fellow traveling families. The resort has a selection of small studios and full-size apartments available, most of them with access to a kitchenette.
Things to Do in Camps Bay
While sitting on a sandy beach with the family, the fam can take in the background views of the Twelve Apostles Mountain Range. These views aren't just nice to look at, but also perfect for getting in some outdoor action. There are tons of hikes to choose from in this neighborhood, ranging from beginner to advanced levels.
If hiking isn't on the list of things to do as a family, check out the Camps Bay street performers. Tourists and locals alike park themselves on the Camps Bay Promenade just to catch a glimpse of an impressive street performance. The performers are mostly locals showing off their acrobatic talents, so don't be afraid to offer up a cash tip afterward.
The ultimate place to find unique South African souvenirs is at the Camps Bay African Craft Market. Thanks to the crashing waves against dramatic mountainscapes, getting to the market has been described as one of the world's most beautiful drives.
Camps Bay is home to some of the most amazing sunsets in all of Cape Town. Many families spend their time bonding over surf lessons before settling in to watch the sun slowly set over the ocean.
Summary of Things to Do in Camps Bay
Go for a hike within the Twelve Apostles Mountain Range
Sign up for surfing lessons
Watch the street performers of Camps Bay Promenade
Buy souvenirs at the African Craft Market
Sign up for a bicycle tour along Victoria Road
Chill on the beach all day, building sandcastles
Woodstock: Where to Stay in Cape Town on a Budget
If you're okay with a bit of a gritty vibe that doubles as artsy and hip, check out Woodstock. The name is extremely fitting since the area is known to cater to "hippy" travelers looking to stay within budget. The area is often described as "rough around the edges", but this is exactly what some travelers are hoping for.
Most budget travelers immediately search for hostel dorm beds. Unfortunately, finding a cheap hostel isn't that easy in Woodstock. Travelers are much better off booking a room at an apartment-style hotel like Stock Exchange. This hotel isn't the cheapest option of all time, but the fact that each unit offers a kitchen space helps.
Most of the apartments at Stock Exchange cater to groups of four, so just remember that the nightly rate will be split four ways. Plus, spending on transportation won't always be necessary. Stock Exchange is centrally located near tons of Cape Town attractions, including the Old Biscuit Mill.
Things to Do in Woodstock
The ultimate activity that keeps travelers busy on the weekends is a trip to the Old Biscuit Mill. Maybe you're not a fan of biscuits, so you'll be happy to hear that this isn't just a place where fluffy bread is milled. It's actually a market that is teeming with life and full of yummy goodies to try. Cinta Food Market is another great spot for this.
Visiting local craft breweries is another favorite thing to do in Woodstock. Many travelers like to go directly to the source for their craft beers. Others prefer to go to the bars and restaurants lining Roodebloem Road. These establishments will all carry a decent variety of local brews, not to mention good eats.
Sticking to a budget is more than possible in Woodstock. Even if you're in the mood to shop, hitting up the quirky vintage stores along Victoria Road won't break the bank. For another cheap activity, head to Trafalgar Swimming Pool to cool off.
Summary of Things to Do in Woodstock
Visit the market at the Old Biscuit Mill
Sign up for a craft brewery tour (or create your own)
Hit up the vintage shops of Victoria Road
Satisfy your belly at CInta Food Market
Bar hop along Roodebloem Road
Gardens: Where to Stay in Cape Town for the First Time
Checking out the neighborhood called Gardens is a must for first-time travelers to the city. Gardens is an inner-city suburb of Cape Town directly next to the fun nightlife of the CBD neighborhood. The main reason this is considered the best area for first-timers is Gardens' eclectic mix of activities.
Welgelegen Boutique Guest House is nothing short of charming. According to the accommodation's founders, it is an urban sanctuary in the heart of Cape Town. Although it is technically a guest house, Welgelegen provides the perfect mix of hotel and B&B vibes. Oh, and the best part is that the guest house is right smack dab in the heart of Gardens.
If Welgelegen doesn't meet your need for luxury, the next best option is the Cape Cadogan Boutique Hotel. The hotel is fairly small, but the rooms certainly aren't. Cape Cadogan rooms and suites are spacious and comfortable. The luxury rooms even come with their own private sun terrace or courtyard.
Things to Do in Gardens
Travelers spend weeks in Gardens and still don't have enough time to see and do everything in the area. Prioritizing is key when it comes to creating a Gardens itinerary, and a top priority is Iziko South African Museum. This museum is the best place to learn about South African history, archaeology, and zoology.
Visiting the neighborhood's art galleries is another cultural activity to fill your time. For shopping, dining, and a lively environment head to Kloof Street. With so much culture in Gardens, taking in the natural scenery of Cape Town might fall to the wayside. You can prevent this from happening by taking the quick trip to the iconic Table Mountain.
Summary of Things to Do in Gardens
Get a history lesson as Iziko South African Museum
Check out Gardens famous art galleries
Meander along the lively Kloof Street
Take the short trip to nearby Table Mountain
Observatory: Coolest Place to Stay in Cape Town
Observatory has been labeled time and time again as the coolest place to stay in Cape Town. But what does cool even mean? Essentially it means that Observatory is the ideal neighborhood for travelers in search of some much-needed hipster vibes. There are a lot of hipster vibes in Cape Town, the Observatory has the most.
Best Hostel in Observatory: Bohemian Lofts Backpackers
Since the atmosphere of Observatory is best described as bohemian, there is no better place to stay than Bohemian Lofts Backpackers. This hostel has the option for private rooms and dorm beds. All guests have access to a shared kitchen, clean living spaces, free WiFi and free breakfast. It's in a great location close to the train station and is ideal for social solo backpackers.
Best Hotel in Observatory: Meg's Charm
Meg's Charm doesn't quite match up to the luxury of the Gardens Guest House mentioned earlier, but it is charming nonetheless. The guest house is homey to say the least; some guests even say that it is the perfect home away from home for any trip to Cape Town. The BBQ and garden area at Meg's Charm make this the ultimate cozy guest house in Observatory.
Things to Do in Observatory
The vibrant art community of Observatory is the main draw of the area. The area is nothing short of Bohemian, bringing together all sorts of eclectic cultures. The best way to experience Observatory is to simply meander around, specifically along Lower Main Road. Lining the street there are plenty of quirky restaurants, bars, and shops to browse through.
For travelers hoping for a bit more structure with their agendas, schedule a tour at the South African Astronomical Observatory. Anyone traveling with kids should buy tickets to the Cape Town Science Centre or head to the Observatory Swimming Pool.
Summary of Things to Do
Visit Heart of Cape Town Museum
Make a stop at Cape Town Science Centre (great for kids)
Stroll through the bars, restaurants, and shops of Lower Main Road
Take a dip at the Observatory Swimming Pool
Buy tickets for the South African Astronomical Observatory
CBD: Best Area to Stay in Cape Town for Nightlife
In most cases, CBD refers to the chill-out compound found in cannabis. In this case, CBD refers to the not-so-chill-out neighborhood of Cape Town often called the City Bowl. Travelers hoping to experience the nightlife scene of Cape Town should look nowhere else than CBD.
Best Hostel in CBD: 91 Loop
For a social hostel atmosphere in the heart of CBD, 91 Loop is a top choice. This is one of the most popular hostels among backpackers staying in Cape Town's vibrant neighborhood. The hostel grounds are home to an onsite restaurant and bar, and there is a large courtyard perfect for meeting new friends.
Couple and family travelers probably won't be in search of dorm beds, which is where the Cape Diamond Boutique Hotel comes into play. The hotel is centrally located and believes in comfort before all else. CBDH is located in one of the trendiest streets of CBD. Guests can simply step outside of the lobby to find vibrant markets, hip restaurants, and lively bars.
Things to Do in CBD
As Cape Town's most vibrant area, it makes sense that it draws the young traveler crowd. There are tons of things to see and do here. Bar hopping is a major activity of CBD, but it is by no means the only one. Most travelers staying in the neighborhood visit the Castle of Good Hope. Others browse around for healthy eats at the Earth Fair Food Market.
Apartheid history is a major part of South African culture. CBD is home to District Six Museum, the ultimate source for travelers hoping to learn about the rocky apartheid era. Other historical attractions in CBD include the South African Jewish Museum and the Cape Town Holocaust Center. After exploring South Africa's history, Bree Street is the best place to grab a bite.
Summary of Things to Do
Check out the Castle of Good Hope
Walk through District Six Museum to learn about apartheid
Grab a bite on Bree Street or Long Street
Take a ride up Table Mountain on the Cable Car
Explore the Parliament District of South Africa
3 Coolest Hotels in Cape Town
The official "Coolest Place to Stay" award has been handed to the Observatory neighborhood. But not every traveler wants to stay in Observatory. So what about other cool accommodations in other parts of Cape Town? There are cool places to stay all over the city. These 3 coolest hotels in Cape Town aren't average by any means; each one offers up a unique stay to its guests.
When accommodations come with the word treetops within the name, guests might not actually expect treetops to be involved. At Teniqua Treetops, treetops are 100% involved. This eco-retreat provides guests with the opportunity to sleep in a tented tree house, covered by South African forest canopy.
Staying at Teniqua might not be for everyone, but try to keep in mind that staying here is a step towards sustainability. Environmentally-conscious travelers have nothing but amazing things to say about Teniqua. Even if you're more inclined towards a luxury hotel, try something different and give this eco-friendly resort a chance.
You won't find anything quite like the Grand Daddy Hotel anywhere else in Cape Town (or anywhere in the world for that matter). Because of its uniqueness, the Grand Daddy Hotel is something of a local landmark. The rooms are fitted with retro designs and furnishings. There is even the option to stay in the rooftop glamping trailer park.
The Grand Daddy rooftop airstream trailers are equipped with everything a guest could need. Needless to stay, staying on the roof is the best way for guests to take in the panoramic city views. Table Mountain can even be seen off in the distance. Booking far in advance is a must, especially for travelers hoping to stay in one of the iconic Grand Daddy trailers.
POD Hotel in Camps Bay is fairly small – only 17 rooms. The entire concept behind Pod is for each room to offer its very own unique design and features. The hotel creators believe that just as guests are unique, the rooms provided should follow suit.
Another main goal of the hotel is to offer a private and quiet place to stay in the heart of all the Camps Bay hustle and bustle. Pod has five room choices ranging from classic rooms to deluxe suites, all offering optimal privacy and relaxation. Having a place to wind down is a must when staying in a neighborhood with so much going on.
Closing Thoughts on Where to Stay in Cape Town
With so much to do and so much to see, visiting Cape Town can seem overwhelming at first. But there's no reason to be overwhelmed. This city is colorful and vibrant and it's a place that all travelers should get the chance to experience. During this experience, just try not to underestimate the importance of quirky, cool, and comfortable accommodations.
When picking and choosing where to stay in Cape Town, the first step is to decide on your ideal neighborhood. Families should head to Camps Bay, nightlife lovers to CBD, hipsters and trendsetters to Gardens, budget travelers to Woodstock, and everyone else to Observatory. No matter which neighborhood you choose, finding accommodations that suit you won't be too difficult.