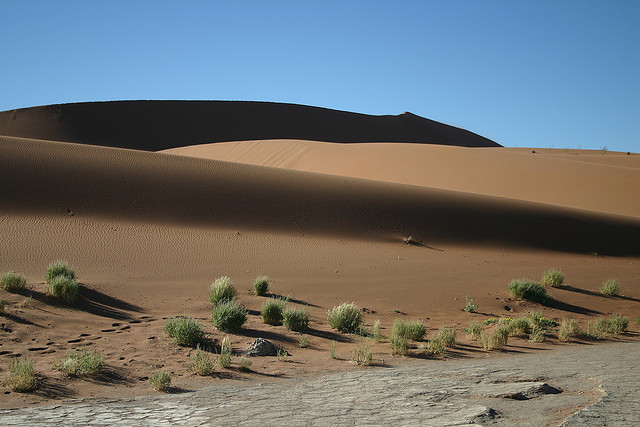 With a new year well underway, you have almost finished penciling in your goals and aspirations. Before you finish, don't forget to include a series of new travel experiences among these resolutions. The following top luxury destinations in 2015 will expand your horizons and challenge your beliefs in ways you haven't experienced in quite some time.
1) Namibia
Situated on the western coast of Southern Africa, it has never been a better time to discover this overlooked nation. Best known for the shifting sands from which Namibia takes its name (Namib desert), the coastal region where its rusty dunes meets the unrelenting surf of the South Atlantic Ocean has just been named as an UNESCO World Heritage Site in the past year.
With sparse but highly unique flora and fauna, and a night sky that is unimpeded by the artificial light of big cities, this nation's expansive wild areas are begging to be explored, and with official recognition by the UN, the time to see this place is now.
2) Guatemala
While this nation has inspired chills down the spine of many that remember the bad days of the civil war that once ravaged Guatemala, much has changed over the (almost) twenty years that have passed since the cessation of hostilities.
A vibrant tourism industry has sprung up around attractions such as the ruins at Tikal, the old colonial capital of Antigua Guatemala, and the stunning setting of Lake Atitlan, where a series of volcanoes surrounds a deep blue gem that will be forever burned into your memory at first sight.
With many airports across the country that can handle a landing by a Gulfstream or a Learjet, organizing private jet hire from Charter A is a way you can get away from your home in the United States or Canada while avoiding all the annoyances of travel via a commercial airline.
3) Norway
A person of your stature shouldn't be too concerned about how much a potential trip should cost, but you didn't get to where you are in life by being careless about your finances. This side of you will like the fact that crashing oil prices and strong state of the US economy have improved the dollar's standing against the krone, making pricey Norway decidedly less so.
Take this opportunity to get over your mental block about this stunning nation being expensive, as the rewards are well worth the money you'll spend. With jaw-dropping fjords, Oslo's magnificent cultural assets, and the mesmerizing phenomenon of the Midnight Sun, 2015 is the year that you should finally cross this alluring Nordic country off your list.