Bonjour SHABL,
A couple blog posts ago I told you about a press trip I went on to Poitou Charentes in France and I just wanted to share some more of the details of that with you.
The trip was coined Epic Cognac but the truth is there is so much more to the area than just its production of high end booze. In fact, Poitou Charentes was named one of the top 10 regions to visit in 2012 by Lonely Planet because of its nature and laid-back vibe, they hardly mention the cognac. I can attest to these attractions as it really felt like nowhere else I have been in France (that is Paris and many cities in the south). People were extremely friendly, every town we stopped in seemed warm and welcoming, and the scenery was just gorgeous.
We started off in the capital of the region, Poitiers, where I didn't get to spend as much time wandering around as I would have liked but saw enough to say that I think it's a pretty cool city. Université de Poitiers is one of the oldest universities in Europe and one of the most famous in France which means the city is full of students. About ¼ of its population, actually. This made the place seem more happening in terms of nightlife and fun things to do in general than most of the other towns we stopped in.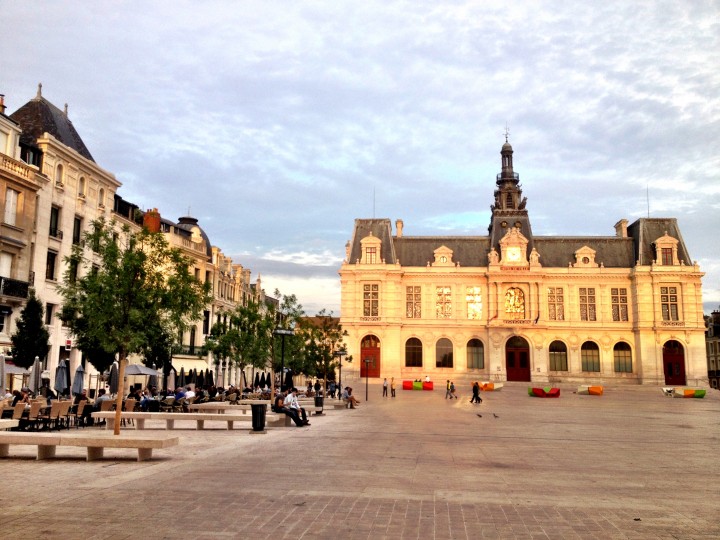 After Poitiers we headed south to Angoulême, the city of images and comics. This town is essentially the capital of la bande dessinée aka the comic strip with around 20 different wall paintings like the ones below that can be found around town.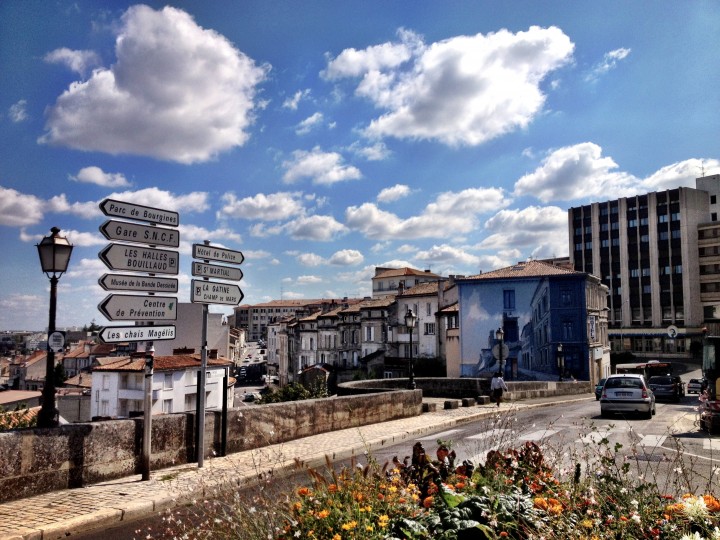 There's a really nice Comic Strip Museum down by the river and every year in January they have a huge international comic festival, the second largest in the world, called Festival International de la Bande Dessinée d'Angoulême. On the 30th anniversary of the festival they even changed the name of  Angoulême's busiest street from Rue Marengo to Rue Hergé after the Belgian cartoonist responsible for creating The Adventures of Tintin.
Next stop after Angoulême was Jarnac for an afternoon at the Courvoisier Chateau that sits on the Charente. This was the coolest alcoholic beverage tour I've ever done, was quite a lesson in cognac. Most important thing I think I learned that I wasn't aware of before is that all cognac is brandy, but not all brandy is cognac. It has to come from this area. Maybe that should have been obvious before but I'm used to Ukrainians calling anything remotely similar to cognac "cognac", regardless of whether it came from France or some babushkas basement. So needless to say, it was news to me.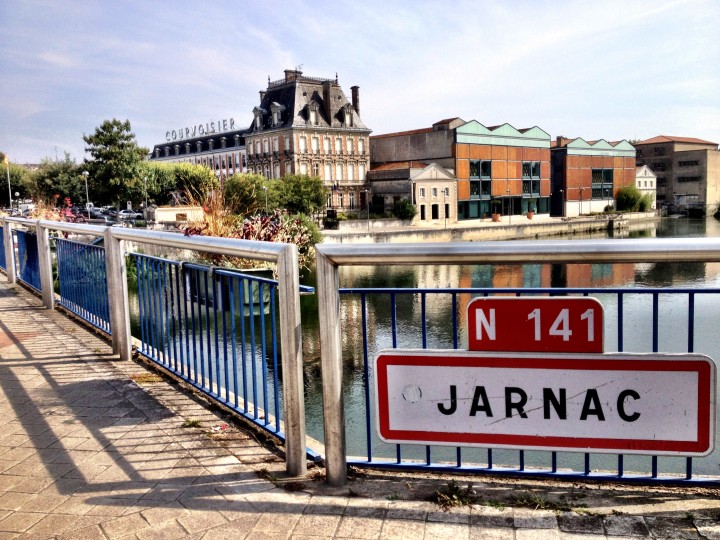 That night we ended up in the actual city of Cognac itself and at one of the most unique hotels I've ever stayed in called Quai des Pontis. I say most unique because it wasn't anything like sleeping in a hotel – no, I actually had my very own gypsy caravan for the evening!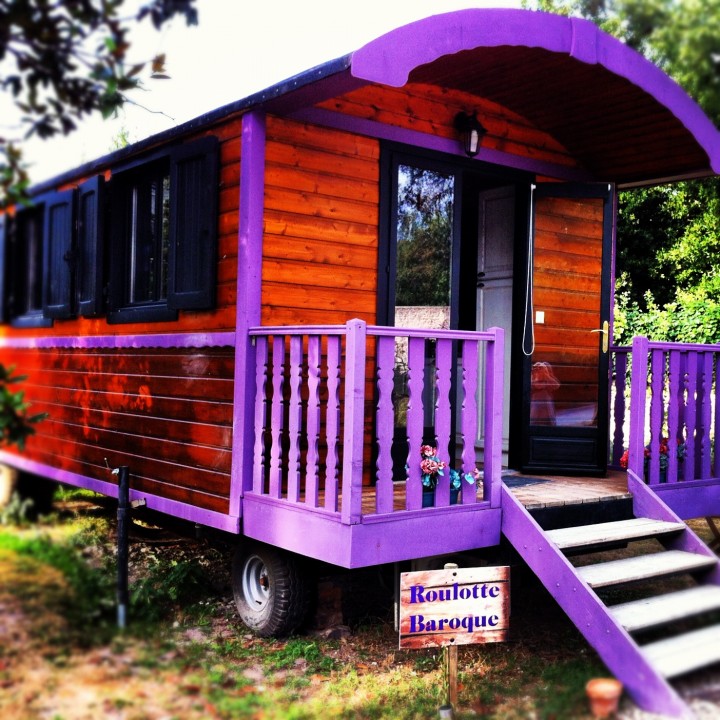 My "room" was called La Roulotte baroque and I swear it was designed just for me. The description on their website even says something like "a gypsy spirit between purple velvet and gilt angels watching you ..!" (that's horribly Google translated, but you get the gist). I could have stayed here for an entire week – there was wifi, cable TV, croissants delivered to my porch in the morning. Very, very cool and actually not expensive at all if you are sharing with other people – 75 -83 Euros a night depending on the season and it sleeps 4 people.
Cognac has a lot more going on than Jarnac in terms of new restaurants and hotels. It's also where you can find the distillery of another cognac powerhouse, Hennessey. I happened to ring in my birthday there so will always have fond memories of this place.
We spent the following day (my last day) checking out the city of Rochefort in another one of Poitou Charentes' "departments" called Charente-Maritime. It's right at the Charente estuary and is where the famous L'Hermoine is currently being reconstructed. Typically ships don't intrigue me much but this one has a pretty interesting story and truly is this city's pride and joy.
If L'Hermoine doesn't ring a bell then perhaps General Lafayette does. L'Hermoine is the frigate he sailed over to join George Washington during the fight for American independence in 1780. In 1997 they began this project to create an exact replica of L'Hermoine which is set to be completed in 2015. The plan is to then sail it across the Atlantic as Lafayette did and have it in Boston by the Fourth of July.
As for why I find this particular story interesting, I guess it mostly has to do with the fact that as an American, I think we sometimes forget how much France helped us out back in the day. As I am sure many French often forget how much America has helped them historically as well. The reconstruction of this ship is in many ways a tribute to that solidarity and also a means of reviving the region's maritime heritage. I think that's pretty special and was a good way to end my time in France.
This turned out to be an extremely relaxed and enjoyable press trip which I got really lucky with as a first-timer. Just want to an extend one more thank you to Visit Poitou Charentes and Magellen PR for taking a chance on this gypsy and showing her such a great time.
Speaking of which – she (The Blonde Gypsy) was just nominated as Best Newcomer for the Hostelbookers.com Travel Blog Awards! The party will take place after World Travel Market in London and I will be there, with bells on. Would be a really great present to bring home for Mom and Dad come Christmas so if you have 30 seconds to spare, please click on over and select my name on #8.
Merci beaucoup and have a great week!
Latest from The Blonde Gypsy:
Things To Do in Monaco (Poor But Sexy Edition)
Epic Cognac: Visit to the Courvoisier Chateau in Jarnac
Epic Cognac: Visit to Poitiers & Angoulême
How to Spend a Day in Funchal, Madeira