Great Round at Galway Bay Golf Resort, Ireland

Greetings,
I'm writing this from Galway, Ireland the morning after I played my first championship links course along the coast of Galway Bay at the Galway Bay Golf Resort. To say this was an enjoyable round would be an understatement as I often wished I had my father or random friends with me to share in the experience. I've never seen greens so green and finally got to play all the different links style holes I've watched on television since I can remember. The wind was also intense and always dynamic making club selection paramount to your success or failure as you navigate yourself around such a formidable foe…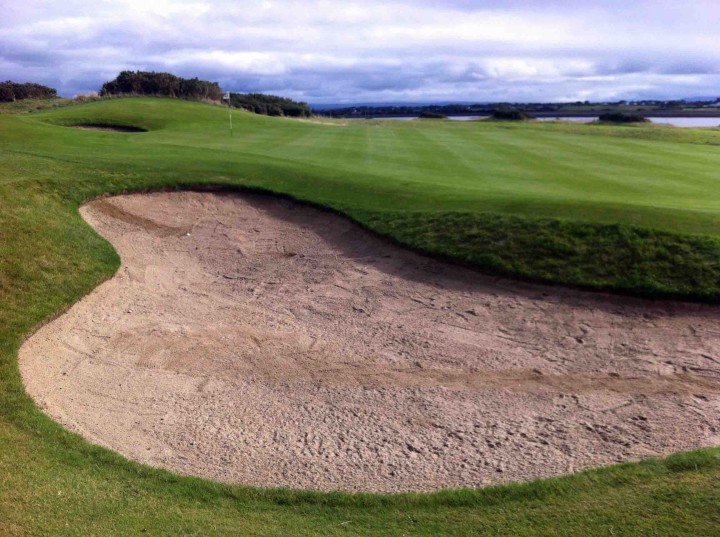 The Galway Bay Golf Resort was founded in 1993 and built by former Ryder Cup and World Cup golfer Christy O'Connor Jnr. It measures 7200 yards from the championship tees, is set on 300 acres of land, attacked by the Atlantic from three sides and in 1999 played host to the European PGA West of Ireland Open. This course was serious and I sent it long and strong off the first tee which is a lovely looking par 5. I left the three would in the bag and swung a six iron slowly. Then the wind played its games. From 150 I took a 7 iron but with the wind, I cleared the entire green and started to realize what this course was all about.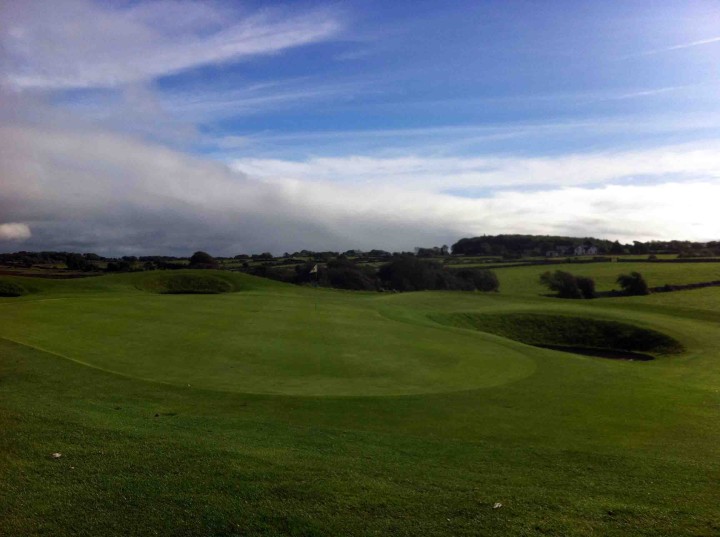 The bunkers were ever present and if you sunk yourself into one a lost stroke or so was almost certainly in order. The course was in great condition and the wind was ever present. The weather yesterday was almost bipolar as it started grey and windy, made its way to a bit of rain before the sun shined through cracks in the clouds and the wind died down before picking up again. Nothing was constant and despite the course itself being built to test you, it was the ever changing winds and weather which added an element I'd never truly dealt with before.
Besides the wind, the fescue was also something not to be messed with and it reminded me of watching Open Championships on television. You'd send your ball into the thick stuff and it was just gone, simply gone. If you went looking for it, best bring a club because if you find it and run back for a club you'll lose it again. The only redemption you received was that if you didn't find yours, you'd probably find that which once belonged to somebody else.
As far as courses go, if you can play a punch shot and control your irons it was a fair layout. That said, I need to stress that it was one of those courses where a simple mistake would multiply in magnitude quickly. The game was not making any errors and hoping you sink a few putts. The greens rolled true and I even managed to squeeze out a par on #13, #16 & #18. Other than that I had a bag full of bogeys not sinking one solid putt all round and of course a sack filled with others, some scary, very very scary others…
The course is located roughly 12 miles from the City of Galway aka "City of the Tribes". If you don't have a car, you can take a taxi or catch a bus to Oranmore and hire a 10E taxi each way from there. Along the way keep your eyes peeled as the countryside is scenic to say the least and you'll even see the house they burnt down in the movie The Mackintosh Man featuring Paul Newman, true story.
In closing, I'd like to thank Martin and everyone I met at Galway Bay Golf Resort for their hospitality and providing me with a golfing experience I'll never forget. This was my first round of golf in Ireland and my first time ever playing a true links course; an exciting afternoon that has already been deeply embedded in my memory.
Besides golf, I'm just loving my time in Galway and keep extending my stay everyday…
Tips hat,