Exploring Central Vietnam
Greetings,
I'm writing this at ~6:04am in the small village of  Bho Hoong which is in the mountains and not far from the Loatian border in central Vietnam. Yesterday was a really different day where I left one of the largest and most cosmopolitan areas on the planet, Hong Kong and flew to Vietnam where I ended up in one of the more rural and remote areas I've visited in recent memory. To say I'm pleased to be back in Vietnam would be an understatement and frankly, I can't believe it has taken me this long as the last time I was here was in 2010 and I loved it.
I left Hong Kong early and if you're doing so, you'll probably jump in a taxi as well. The taxi ride was part of the journey and I didn't realize how big Hong Kong was. I was flying with Dragonair which is an airline that is owned by Cathay Pacific and services international destinations which are more Asian based. I was there early and had lounge access so naturally had a large breakfast followed by a mandatory trip to the Noodle Bar. The flight was pleasant and in less than two hours time, I was in Da Nang, Vietnam.
Yesterday was busy, the way I like it and once we arrived in Da Nang it was straight to the back of some motorbikes for a small tour of the town with new friends Chi and Tony. I forgot how insane the streets of Vietnam are in the best way possible, it's organized chaos and I must have filmed hours of video and snapped too many shots to count. We crisscrossed the town, went through side streets and ended up at this bustling market.
There, many familiar sights and sounds awaited me as well as countless smiles. After strolling the aisles we made our way to a small stand and tried a local dish whose name I know not and something I had most certainly never tried before. To say I love eating Vietnamese food would be an understatement and I've yet to have a dish that I didn't like. Following the tour of the market we were back on the motorbikes and rode to the top of Monkey Mountain.
Monkey Mountain is right outside of Da Nang and offers great views of the city and the surrounding area. On a clear day, it's even possible to see Hoi An in the distance. It's a steep hill and the bike I was on with my guide overheated so I jumped on another and away we went, all the way to the top. I like having a guide as the
traffic in Vietnam is crazy
. The name Monkey Mountain comes from when the US military was stationed there during the war because obviously, lots of monkeys live on the mountain but I wasn't fortunate enough to see any on my short trip there.
We crossed the mountain and came out near the sea where countless boats floated not far from shore. I also noticed there was an untold number of baskets sitting on the shore. You see, you get taxed per boat and a basket technically isn't a boat. So instead of having a small boat to get to your big boat and paying double tax, why not just make a really big basket and float out in that to get to your boat? It's ingenious really and was lucky enough to see a local fisherman jump in one and go out to his boat. I think I'm going to have a basket made where I live, seems perfect for hanging out in the harbour and doing a little fishing but I digress.
Is that your boat one would ask and I'd reply with a "no, that's my basket!"
Following that we jumped in a truck and left the city towards the Truong Son mountains. Our first stop was in Xa Ba to visit a friend of my guide / new friend Mark. He's an elder who used to be chief of the Co Tu tribe. I saw lots of memorabilia from the past, shared a laugh or so, some rice wine and a delicious meal before pressing forward to where we are now. When we arrived it was just before sunset and not long after, it started to pour. This was actually quite welcome as it cut the heat and gave yours truly a chance to get a few moments of downtime.
Next we were in the Long House which is at the centre of the village  here in
Bho Hoong
. There we ate a delicious dinner prepared by some locally followed by the tribe's traditional dance. It was a village affair with men, women and children taking part. Myself and my new friend Chi even got involved, it was good times and a nice experience. Usually, it's done around a big bonfire but with the rain we decided to skip that and do it in a slightly different and most certainly drier spot.
I'd continue but I'm about to shower, shave and get some breakfast. I'm not in Vietnam for a long time and so far I'm having a great time; the way trips should be. This morning we're off to explore further into the mountains before making our way to Hue. Travel is a wonderful thing and yours truly can think of few things on this planet more interesting and enjoyable than exploring new areas and driving down roads for the first time knowing it will almost most likely be your last.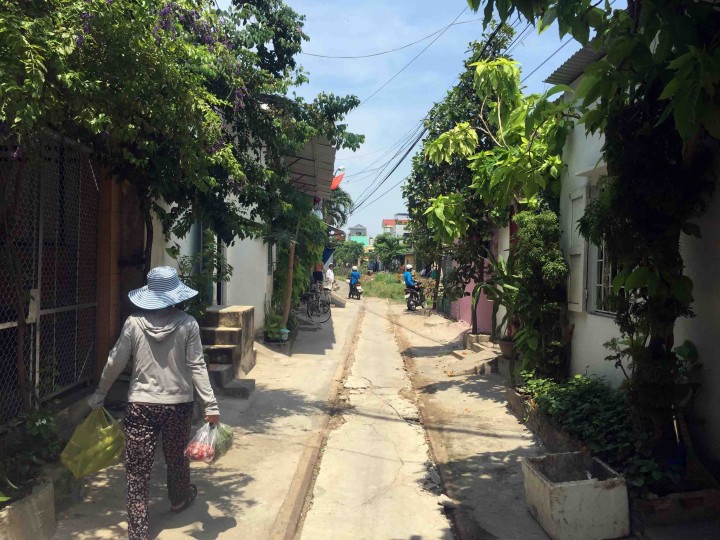 In closing, I'd like to thank my friends at Cathay Pacific for inviting me to try their services as well as those of Dragonair and partake in their #lifewelltravelled campaign. I'd also like to thank the fine people from Central Coast Vietnam for their hospitality. That said, all thoughts and opinions are mine as they always have been and always will be.