As soon as you start browsing around for things to do in PEI, you'll see that this little island has plenty to keep you busy. Although the activities in eastern Canada's maritime province are much different from how you'd spend your time in Vancouver, Toronto, or Montreal, a trip to Prince Edward Island is a must for every traveler.
There are so many fun activities to fill your time here, like golfing, visiting the infamous Green Gables, and exploring PEI's capital city, Charlottetown. It may not be the most talked-about destination in Canada among travelers, but this small island province is worthy of a visit.
Recommended Things to Do in PEI
Later we'll cover where to stay on the island, now let's talk about some of the best things to do in PEI. Keep in mind this province is nothing like what you'll find in other popular Canadian destinations, such as Vancouver and Toronto. It is all about experiencing the island's nature and stunning scenery rather than exploring city sights.
One of the best ways to do this is by picking up your clubs and visiting the many golf courses on PEI. But don't worry, even if you're not particularly into golfing, you'll have plenty of opportunities to stay busy with these top 10 things to do in PEI.
Spend the Day at Green Gables
Whether you're into golfing or timeless literature, Green Gables is a must-visit stop in PEI. Green Gables is the birthplaces of the classic literary masterpiece, Anne of Green Gables. This fiction novel was published in 1908 and quickly became popular around the world.
Many literature fans don't realize that although Anne herself is a fictional character, the setting of Green Gables is not. It's right here in PEI, and it's just as magical as L.M. Montgomery, the book's author, describes it. Whether you're a bookworm or not, consider signing up for the Anne of Green Gables tour to see what it's all about.
If this doesn't sound appealing to you, the other option is to hit the fairways at Green Gables Golf Course. This is one of the oldest courses in PEI, and also one of the most popular. Thanks to its popularity, this course is kept in pristine condition. You'll even be able to see the Anne of Green Gables Heritage House from the course. Take a look at our things to do in Green Gables post for more ideas.
Hit Up the Pristine PEI Golf Courses
OK, so it's already been mentioned once or twice that PEI is world-renowned for its many golf courses. Many travelers come here for the sole purpose of golfing and nothing more. You might even notice at the airport that many travelers bring their own set of golf clubs.
Of course, Green Gables Golf Course is at the top of the list for avid golfers, but the options are essentially endless. Some people even refer to PEI as "Golf Heaven" thanks to the many spectacular courses throughout the island. A few I enjoyed playing include Crowbush, Brudenell, Dundarave, Glasgow Hills, and Anderson's Creek.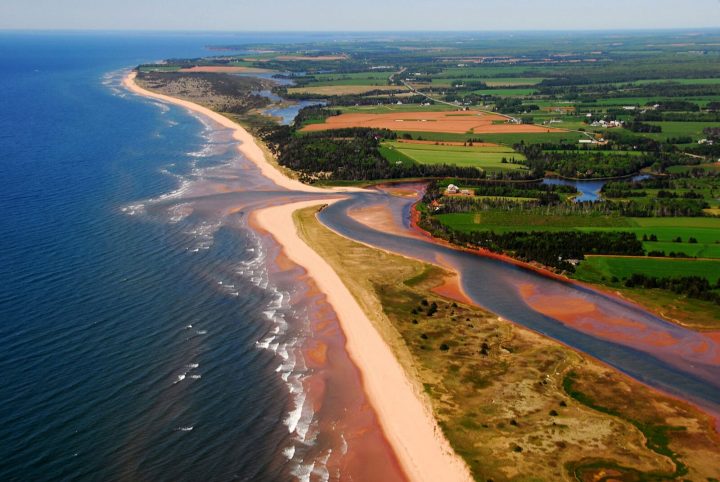 Go For a Coastal Drive
This next addition to the list of things to do in PEI might not sound all that exciting, but you might be surprised. Driving the entire island is possible in the span of 2 or 3 hours, and it's one of the best ways to take in the island's natural beauty.
There are 3 unique coastal drives to choose from: North Cape, Central, and Points East. Each of these routes is filled with scenic lookouts all along the way. You could essentially do all three in one day, but it is recommended that you spend one full day exploring each of the popular routes.
Explore Charlottetown
As the capital of the province, Charlottetown is considered to be where all the action happens. Even though it is the largest city in PEI, it's nothing compared to the likes of Toronto or Vancouver. But many travelers see this as a good thing, and they actually love the laid-back sleepy vibes of PEI's capital.
Many travelers to PEI book their accommodations in Charlottetown and use the city as something of a home base. You could easily spend your entire time in the city limits since Charlottetown is home to popular attractions, such as the "Birthplace of Canada". But in all honestly, you'd be making a mistake not to leave Charlottetown to see the other popular sites of PEI.
Curious to know more? Don't miss our post on things to do in Charlottetown for many more ideas.
Spend the Day at the Beach
You can obviously expect there to be a few beaches around PEI since it is in fact an island. PEI is home to some of the best beaches in Canada, and some of the most unique as well. If you're traveling as a family, spend the day at one of the supervised beaches of PEI – there's about 15 of them to choose from.
If exploring on your own is more your style, there are plenty of under-the-radar PEI beaches as well. Cavendish Beach, although a bit crowded during peak tourism months, is considered one of the best beaches on the island. For something a bit more laid-back, a south-shore beach like Pinette might be a better option.
Sign Up for a Deep Sea Fishing Tour
Fishing is a major aspect of PEI culture, especially fishing in deep waters. After one day out at sea, even just one hour on a fishing boat, you'll develop a newfound appreciation for fresh seafood. The best time to sign up for a deep-sea fishing excursion is from July to September. This is when the mackerel are most abundant and the giant Bluefin Tuna come out to play. You might even get lucky and catch a shark.
Go Cycling Around the Island
Similar to West Coast Vancouver, PEI is the land of infinite outdoor adventure. You can do everything from kayaking to paddleboarding to hiking throughout the island. The most popular outdoor activity here other than golfing is bicycling. There are plenty of places throughout the island to rent bicycles; you can either go out on your own or sign up for a cycling tour.
If you're keen on the idea of seeing the entire island from your bicycle, you'll want to make your way to Confederation Trail. Confederation Trail isn't so much a trail, but rather a paved path that is perfect for cyclers. The best part of all is that the trail extends from one end of the island to another. Biking the trail can be done in 2 to 3 days, and there are plenty of options for accommodations and food along the way.
Visit a Local PEI Farm
PEI is considered to be predominantly rural, so if you're hoping to get a local experience, visiting a farm is a must. If you decide to go on one of the coastal drives mentioned above, visiting a farm is as easy as stopping for a sign that says "Farm Fresh Fruit". You might only be expecting to leave with a few pieces of fresh fruit, but you could very well be given a full tour of the farm and how it operates instead.
This is an amazing activity if you're traveling with kids. Many PEI farms feature a variety of activities, and they even let you feed the animals. Many farms on the island have an onsite B&B, so stay for a few days if you're interested in getting in touch with your country roots.
Expand Your Culinary Horizons
PEI is often referred to as "Canada's Food Island"… you'll see why as soon as you sit down for your first meal. The main delicacy is – you guessed it – fresh seafood. Even if you're not a fan of fish, you'll love how the PEI locals dress up their seafood to make any type of fish a mouthwatering delicacy.
PEI natives put a lot of care into the food that they create, and not just when it comes to fish. With a visit to a PEI farm, it becomes obvious that the farmers here put a lot of love and dedication into their crops, livestock, and dairy. Try to plan your visit around a culinary festival happening on the island.
*Here's a helpful hint; the two best seasons to visit the island for fresh lobster run from May to June and August to October.
Visit the Famous Lighthouses of PEI
Just as you would expect from an island surrounded by expansive sea, PEI is home to several lighthouses. The early settlers of PEI used the sea as their main mode of transportation. When waters got rough and the skies dark, the island lighthouses guided them home. Most of these lighthouses are no longer in operation, but they still stand strong as a symbol of PEI's past.
The lighthouses of PEI might look a bit different than the lighthouses you've seen in the past. This is because many of them date all the way back to the late 1800s. At this time, lighthouses of the area were constructed in an octagonal shape. Some of the most famous of the PEI lighthouses include Victoria Range Light, West Point, and Cape Bear.
This list of things to do in PEI should keep you plenty busy during your time on the island. Whatever you do, try not to spend all your time in Charlottetown, do your best to eat as much fresh seafood as possible, and hit up a few golf courses during your visit.
Where to Stay in PEI: PEI's Best Areas for Travelers
Before you can even start thinking about things to do in PEI, you need to decide on where to stay in PEI. The island is made up of many neighborhoods, some of them better for travelers than others. Staying in the capital city of Charlottetown is a great option; the city is close to many of the main attractions of the island.
However, there are plenty of PEI accommodations outside of Charlottetown if staying in the city isn't for you. If golfing is your main priority – which it is for many travelers heading to PEI – consider staying in North Rustico. There are tons of pristine courses in and near North Rustico, mainly because it is one of the most beautiful areas of PEI.
If immersing yourself in the island's nature and stunning scenery is what you're after, book a place to stay in PEI's Cavendish. It's located just to the west of North Rustico, so you'll still have complete access to all the best golf courses on the island. Courses like Glasgow Hills, Anderson's Creek, and of course, Green Gables are all within easy access of Cavendish.
Where to Stay in Charlottetown, PEI
Best Luxury Hotel in Charlottetown: Delta Hotels by Marriott Prince Edward
The Marriott name is widely recognized around the world, mainly because it associated with luxury and comfort. If you know that staying in Charlottetown is for you and budget is not a concern, book a room at Delta Hotels by Marriott Prince Edward.
Best Mid-Range Hotel in Charlottetown: The Harbour House
The Harbour House is a quaint little inn near the water and PEI's Victoria Park. Since this 3-star hotel is located on a residential street, the area is peaceful and quiet. The rooms are comfy and there is a lot of common space to hang out and meet fellow travelers.
Best Budget Hotel in Charlottetown: Colonial Charm Inn
The name Colonial Charm Inn says it all; the colonial style of this B&B is nothing short of charming. The rooms aren't nearly as fancy as ones you would find in the Marriott, but the historic colonial vibes make up for this.
Where to Stay in North Rustico, PEI
Best Luxury Hotel in North Rustico: Kindred Spirits Inn and Cottages
To be completely honest, North Rustico isn't about luxury. You won't find any major hotel chains like the Marriott offering luxury accommodations. You will, however, find plenty of comfortable places to stay, all surrounded by the jaw-dropping North Rustico scenery. One of these places is Kindred Spirits Inn and Cottages.
Best Mid-Range Hotel in North Rustico: Tranquility by the Sea Resort
What you'll get at Tranquility by the Sea Resort is just that: a tranquil place to stay that is completely surrounded by greenery and water. Technically the resort is a campground, but you won't be subjected to camping in a tent. There are comfortable cabins on this property that fall within the mid-range budget category.
Best Budget Hotel in North Rustico: North Rustico Motel & Cottages
Although the North Rustico Motel is rated as a 2-star hotel, it ranks high with nearly a 5-star rating among its guests. Rooms here are comfortable, affordable, and the motel is located near the most popular attractions of northern PEI.
Where to Stay in Cavendish, PEI
Best Luxury Hotel in Cavendish: Fairways Cottages
Most of the accommodations in the area fall within the mid-range budget category, but they still offer luxury accommodations. The best of these options is Fairways Cottages. As you can probably gather from the name, Fairways Cottages is all about PEI golfing. The cottages are right smack dab in the center of PEI's best golf courses, including the Green Gables Golf Course.
Best Mid-Range Hotel in Cavendish: Graham Inn
Grahan Inn located on Cavendish Road offers everything a guest could ever need. The inn is home to an indoor swimming pool and it offers free breakfast, high-speed internet, and a welcoming atmosphere to its guests.
Best Budget Hotel in Cavendish: Beach & Breeze Cottages
For something right on the beach in Cavendish, Beach & Breeze Cottages is a great choice that won't break the bank. If you prefer to just look at the beach rather than get sandy and salty, the outdoor swimming pool overlooks the water. Each colorful cottage comes with a kitchen and private outdoor space.
Big thanks to Golf PEI for having me, I had an incredible time. That said, all opinions are my own as they always are.