As soon as you start researching things to do in Green Gables, PEI, you might assume that the area only caters to literary fanatics. Since this is the setting of the iconic novel series Anne of Green Gables, bookworms from all over the world flock to this PEI destination. But the area features so much more than just Anne of Green Gables historical attractions. 
Green Gables is an amazing place to sit down for a fancy lobster meal, learn about local farming practices, or even just chill on the beach. So don't avoid the area during your PEI vacation just because you don't give a hoot about Anne. The list of things to do in Green Gables is a long one.
Visit Green Gables Heritage Place
The Green Gables Heritage Place is the most-visited attraction of the area. If you're at all familiar with Anne of Green Gables, this white house with green shutters might look familiar. Exploring the historic site is the best way to get in touch with L.M. Montgomery's fictional character, as well as the author herself.
There are several ways you can choose to spend your time at the Heritage Place. If you're coming here as a family, consider signing up for one of the pre-organized events. You can even meet the fictional Anne Shirley and learn about her life on the Green Gables farm. Keep in mind that the full historical site is only open from May 1st to October 31st from 9 am to 5 pm.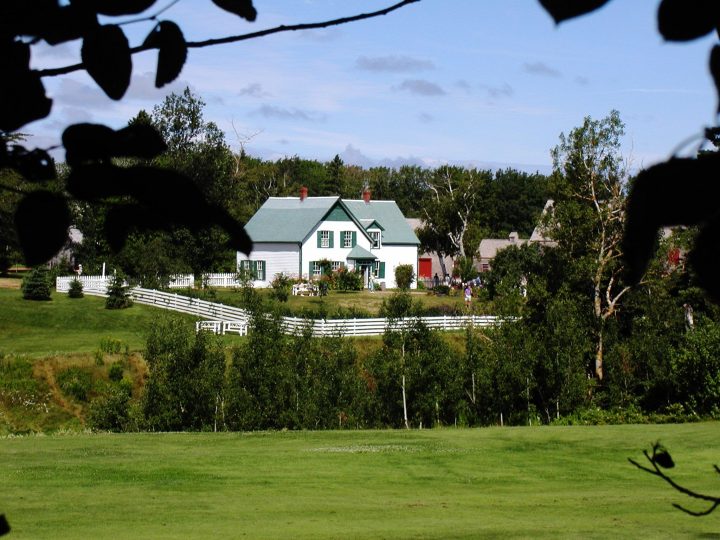 Tee Off at Green Gables Golf Course
Prince Edward Island is known for being one of the best golf destinations in the world. One of the most popular courses on the island is located right in the heart of Green Gables. Green Gables Golf Course is a scenic oceanfront course that welcomes both novice and advanced golfers.
The sand dunes of PEI National Park serve as the backdrop of the GGGC. You can even see the Anne of Green Gables Heritage site from the tee-off location. This is a must-play course for golf enthusiasts coming to PEI, but it's not the only course that should be visited. There are several to choose from in the area, including Anderson's Creek and Red Sands.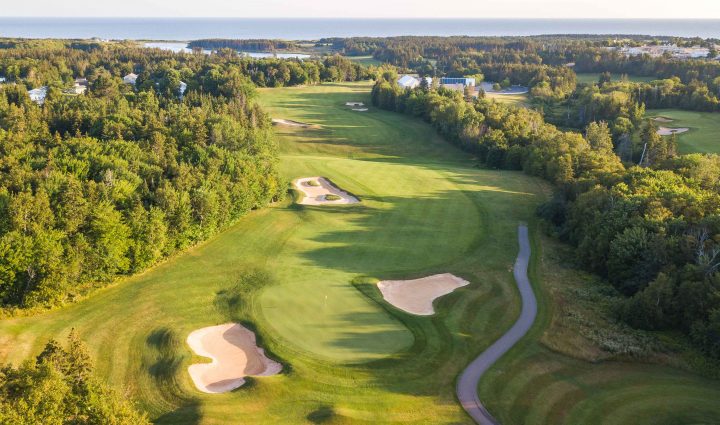 Spend the Day at Prince Edward Island National Park
The heart of PEI National Park is located just to the east of Green Gables, about 30 minutes by car. The park is small compared to some Canadian national parks, but it should be included on any list of Green Gables things to do. The reason that PEINP is so special has to do with the red-hued beaches found here.
Since it was officially established in 1937, the park has been dubbed a Canadian important Bird Area. Tons of bird species roam the park, including herons, ducks, owls, cranes, falcons, and even eagles. A visit to PEINP means that you can explore everything from wide-sand beaches to dunes to freshwater wetlands to saltwater marshes.
Take a Day Trip to PEI's Capital
Visiting PEI's capital during your time on the island is a must. You can simply make a day trip to Charlottetown or book a room for a night or two in the city. It's only a 40-minute drive, so a day trip is totally doable. During your time in the capital, be sure to hit up all of the historical sites, like the "Birthplace of Canada". Back in 1847, Canada was officially born in Charlottetown's Province House. 
Don't miss : Fun things to do in Charlottetown during your visit.
If you're not so interested in history but prefer to experience the culture of modern PEI, hang out along Victoria Row. Victoria Row is considered the shopping street of PEI. The entire street is a pedestrian-only area, so you can relax as you meander through the shops, restaurants, and cafes.
Eat All the Fresh Lobster You Can Imagine
If you're a fan of seafood, you've come to the right place. Some people say that the fresh-catch lobster of PEI is the best lobster in the world. You'll have to decide for yourself, and a good place to make that decision is at the Table Culinary Studio. This establishment serves as both a restaurant and a culinary classroom. Before you eat your mouthwatering lobster, you can learn the steps involved in creating the delicacy.
Take the Kids to Shining Waters Family Fun Park
Keeping the kids entertained on a family vacation is not always easy. Although the adults of the family typically love to visit historical sites, the kids will need a break from the history lesson at some point. As soon as that break is necessary, head to the Shining Waters Family Fun Park.
Shining Waters is a unique water park/amusement park combo. In other words, the kids will absolutely love spending the day here. There's even an onsite animal petting farm to keep them entertained. Between the playground, the massive pool, and the animals, the kids may never want to leave.
Head Out on the Central Coastal Drive
There are 3 separate coastal drives to choose from in PEI. The one that passes through Green Gables is called the Central Coastal Drive. Spending time in the car might not sound like the most interesting activity on this list of things to do in Green Gables, but you might be surprised.
Along the Central Coastal Drive, you'll come across some stunning scenic views that are worthy of a photo op. The entire route is about 250 kilometers, so it can easily be done in a day. There are two different aspects to this route: the Green Gables Shore and the Red Sands Shore. Going from one to the other is a stunning contrast. With the Green Gables Shore, you'll be surrounded by lush greenery. The Red Sands Shore is all about red-sand beaches.
Attend a Cavendish Theatrical Festival
Green Gables is a part of the Cavendish region of PEI. Cavendish is known for having the pretty beaches, friendly people, and wonderful cultural festivals on the island. The majority of these festivals have something to do with music and theater, but there are quite a few fests that avid foodies will appreciate.
The most popular Cavendish festival that happens in July each year is the Cavendish Beach Music Festival. If you're a fan of country music, you'll have the time of your life at CBMF. This past year, PEI hosted major country stars like Carrie Underwood, Eric Church, and Hunter Hayes.
Rent Bicycles Along the Confederation Trail
The Confederation Trail stretches all the way across PEI from tip to tip. If you plan on staying near Green Gables, you're probably not interested in exploring the entire 470-kilometer trail. But if you'd like to get some outdoor time in either through walking or bicycling, spending some time on the trail is a fun and active way to kill a few hours.
Visit Dalvay-by-the-Sea National Historic Site
Dalvay-by-the-Sea is a stunning Victorian style home located on the waterfront of Dalvay Lake in PEI National Park. The home used to be the vacation property of a wealthy oil tycoon, but now it serves as a historical site open to the public. Visitors are welcome to explore the shoreline, walk the grounds, and even take a tour of the home.
If a quiet, laid-back getaway is what you're in need of, there's no place quite like Green Gables. Sure, the relaxed atmosphere might not be for every type of traveler, but most visitors love the nature, history, and fresh seafood that Green Gables, PEI is known for.
Where to Stay in Green Gables
Now that you're planning a Green Gables itinerary, you'll need to book a place to stay. Some travelers to PEI choose to stay in the capital city of Charlottetown and then visit Green Gables on a day trip. But if you prefer to stay surrounded by the lush greenery and blue waters of Green Gables, you've certainly got options.
Best Luxury Hotel in Green Gables: Kindred Spirits Inn & Cottages
You won't find any massive skyscrapers in Green Gables. Heck, you won't even find them in the capital city of PEI. But that doesn't mean Green Gables can't provide its visitors with luxury. The best luxury option for staying in Green Gables is Kindred Spirits Inn and Cottages.
This charming 4-star hotel is set in the gardens just next to the Anne of Green Gables Heritage House. This family-run establishment is less than one mile from one of most popular beaches of the island, Cavendish Beach.
Best Mid-Range Hotel in Green Gables: Shining Waters Country Inn
For sticking to a middle-of-the-road budget, book a room at Shining Waters Country Inn. The country-style rooms date back to the 1850s, but obviously they've undergone some renovations. Shining Waters is the ideal choice for families; it is located right next to the Shining Waters Family Fun Water Park.
Best Budget Hotel in Green Gables: Anne Shirley Motel & Cottages
One of the best budget options in Green Gables is the Anne Shirley Motel & Cottages. The accommodations here are basic yet comfortable, plus the motel is located within a 7-minute walk of the Anne of Green Gables Heritage House. If affordable simplicity is what you're after, Anne Shirley gets the job done.
Big thanks to Golf PEI for having me, I had an incredible time. That said, all opinions are my own as they always are.