Greetings,
Piriapolis is a small beach town along the coast of Uruguay. It's about half way to Punta del Este and as a result it's in the Rio de Plata. The place was founded a little over a hundred years ago by a most interesting gent who had a vision and well, he followed through with it. As a resort town, there are very few permanent residents but lots of unique looking cottages if you will for the summer swell.
The biggest landmark you'll notice is the Hotel Argentino which is simply massive and apart from that it's basically this long seawall before a really big beach. Unless you want to go camp out on the beach, I'd say it's more of a day trip as that's what I did and the time I spent there was more than enough to get a feel for the place, eat some amazing pizza, drink a few beers and take a hike.
Since it's located between Punta del Este and Montevideo, it's quite easy to get to and about 45 minutes away from each. There is a big hill to the left of the town if you're standing on the beach looking out at the Rio de Plata. I climbed it with a friend to get these pictures for you, after making it most of the way up, realized there is actually a chairlift service; go figure.
From what I saw, the beach was nice but if you really want to get an idea of what the town looks like; make the hike or take the chairlift. If you make the hike, you'll pass by all sorts of uniquely designed summer homes with awe inspiring views. They also have the remains of an old castle like building called Les Mouettes or something of that nature.
If you're getting hungry, I recommend you look into Terra Ova or Terra Nova?! The beer was freezing cold, the location lovely and it had an out of this world pizza. I don't even like pizza because I think it's cheap greasy filler but I loved this one and sure you would too. I' back in Punta del Este for a few days on my way to Buenos Aires; more on that later.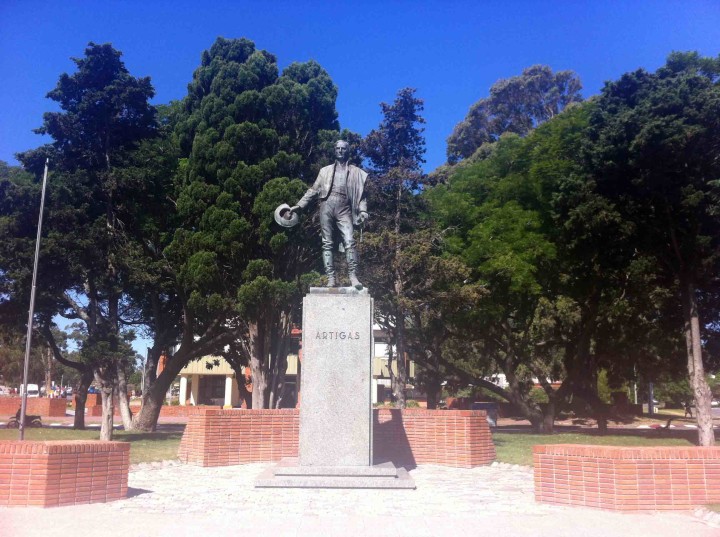 Tips hat,
P.S: Writing about the past is boring but hope these photos give you an idea.