Road Trip from Ronce-Les-Bains to the Bordeaux Wine Region in the South of France with stops in Blaye, Royan, St Palais and the Longest Title EVER!
Hello my friends I`ve never met but would probably get along with great,
Recently I've been on a road trip of sorts in France and been to St. Palais, Royan, Blaye and the Medoc wine region, Margaux, St. Julien, St. Estephe in the Medoc region to name a few. France is a beautiful country and considering I am fluent, it's quite nice to be in a foreign country where you understand everything you hear and the people are friendly and most importantly, fun aka "not boring".
I feel as thrilled as a bankrupted baker who just won the lottery and as inspired as a camel holding a baguette trying to figure out how to eat it most appropriately, if that makes any sense to you. I've been busy of late and internet has been hard to find. Such is life when you`re in beach holiday towns in Europe.
Since we last chatted, there was more family time and then my cousin and I took a trip to the Medoc region to purchase egregious quantities of claret. Last time he went down and filled his truck to the springs it was 1996, a lot has changed, namely regulations.
You used to be able to buy wines from the region AOC aka from those big drums before they ever met a bottle. Now everything is bottled, or almost anything you want to get your hands on. It's cheaper if you do not have it bottled and if you cross borders, you just get taxed on the wine, if it is bottled, you have an extra 2E charge per bottle. When purchasing hundreds of litres of wine, that adds up, yes?
2009 is supposed to be a vintage year, similar to say 2005, as a result many people myself included and especially my cousin are speculating in wine futures. The reality is, Bordeaux area is OVERBOUGHT, imo. The wine from that region is delicious but the "it thing" in Asia right now. You have rich business men purchasing significant quantities at any price. Often times though they don't drink them with dinner, they sip them like a spirit or if you're a rich kid in Shang Hai, you buy a bottle at a club and mix coke with it, dont' knock it until you rock it. I can knock it as I rocked it and I didn't like it, at all.
If you're going to invest in wine, you want to go for the "big names" such as Chateau Lafite Rothschild or Chateau Margaux variety. There are many classifications which I will not get into now. Just if you want a wine that could potentially explode in growth it has to have that "it factor" as arguably the "best". Cases of 2009 which are not ready yet go for ~6000E+ for many of these wines. As a speculator in all things lucrative, I like the idea but this is the problem… What happens if these Chinese people suddenly think Russian vodka is the "new cool" the prices will drop like a rock, aka bubble burst styles. Therefor we restrained ourselves and tried to look for some other names but to no avail. All this said, speculating in Lafite or other top names is currently out of my league but if you're going to "go for it" the "huge names with solid performance" will always appreciate more than the smaller ones, kinda like stocks.
On the topic of wine, most of the local people I've chatted with prefer to drink Bourgognes wines, they are delicious and still ~5E a bottle, you're in France, why would you pay more? Also, personally, my take is why spend lots on something that will be on the wall in a few hours? If the wine was say stronger, I could see but anyways to each their own and if you're looking for some good wines, I suggest you look into it. As I stated the Bordeaux area is just really expensive like ~15-100E a bottle and the ~15 doesn't taste like much. Basically a 100% cotton polo style tshirt is as good as the next but if you throw a Lacoste or Polo "tag" on it, suddenly it's through the roof, same thing my friends.
If you go to the region, I suggest you go during the week. If you wish to have a tasting in one of the major Chateau's you will need a reservation unless you happen to be good with words and then you may just find yourself inside with none. That said, most are closed to visitors on weekends, it may change later in the season, of that, I am not sure. If you wish to have a tour / tasting at one of the big Chateau's, you must contact them ~5 days in advance.
Accommodation in the region is obviously expensive and so are the dining options. This is to be expected, for obvious reasons. Suffice to say I didn't buy any wine but we ended up at this town near Margaux and it was the town birthday. There was a massive garage sale and of course barrels full of free finely aged wine.
So yeah, I bought no wine but I did buy 5 WWF action figures from 1991 and a baby Burberry shirt. My cousin is an antiques dealer and also a "speculator in all things lucrative"  so when he was picking up some early century farm equipment to flip at auction in England, I thought hmmm… I used to love toys and I knew these figurines when for something.
Turns out the 5 figures I bought for 5 euro go for ~20-30E each on ebay. Most just list for ~$4.99 and have ~20-25$ shipping, indeed. The baby Burberry shirt bought for 2E  will go for 20-40E to someone who wants to make their little man or woman that much more special, or something like that, ha.
This has gotten me thinking that I'm going to start keeping an eye out for estate sales, town fairs, auctions, whatever. As you know I love buying things and selling them for a higher price, you know, using capital to earn more capital as opposed to say sitting a desk filling out TPS reports.
I digress.
Blaye is a nice town, it has a large fortified citadel. It's also a UNESCO world heritage site. My cousin and I eat a delicious lunch of baguette, comte & goat cheese, ham whatever. At this time I wish to inform you that ham and cheese sandwiches are arguably the best thing in the world, mix them with a fresh baguette and well, you get the idea.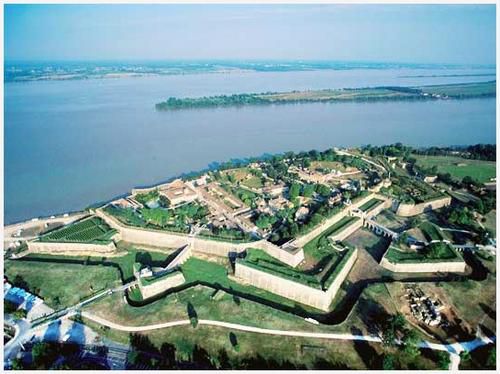 The ferries from Blaye to St. Julien are ~20E for a car and 2 people, the one from the point of "La Gironde" to Royan is only 30E but saves so much time, I recommend you take the Royan route if you wish to visit the wineries. I thoroughly enjoyed walking around the Chateaus and "tasting" egregious quantities of wine. You don't drink it (but you can) because it's never ready it still has to age most of the time, just gives you an idea of what you're getting yourself into type thing.
Blogging every few days is lame, almost as lame as rehashing old bloggeries on "travel tips" and other incredibly boring things like that. Writing those kinda bloggeries would be like writing a technical manual, let us let others with less interesting things to say waste their times on such tasks, indeud.
I could live in France, if you're a Quebecer or you speak Quebec French, you should come here, the people are incredibly nice and once you speak French it's over. Also the Quebec accident is actually a classy "old school style" of French. Many of the words aren't really used anymore. Think about it, hardcore Frenchman came over and fought for colonizations back in the day, then just grew totally separate from the main land, hence the accent. On that note, same happened with say England and the rest of North America, hence our accent / dialect is very different then say Great Britain etc.
Europe has a lot of history and I love being in old stone buildings, there is much to look at and lots of churches. I'm already over the churches, they are like temples now, cool but I don't need to go and see everyone. Also lots of castles and plenty of "Chateau's" which are basically massive estates, especially in the Bordeaux region.
One thing I will note, if you are on a fixed budget, have no income and want to "travel until the cash runs out" just don't come here, your money will go fast. I'm using internet in a pub right now, I've bought 2 .5L beers and that is 10E, my cousin just showed up and I bought him one, 15E. Dinner in the Bordeaux region is ~60E for 2 people minimum and expect to pay more if you'd like some atmosphere.
I could live in France, seriously but am looking forward to discovering and experiencing more of what this continent has to offer. I thought 3 months would be rushed and it sorta will but it's not like Asia where I am paying ~8-20US a night for a nice / decent hotel room and spending nothing on food and drink. It's expensive here and if you do not earn money via going to work, why would you spend long periods here when other places have everything at a fraction of the cost, yes?
Finally, at the town fair / birthday party we ran into an older French couple. This gent was 75 and he looked 55 or younger. He was a Vietnam Vet and a POW for 7 months. He told me of stories of as a parachutist, he'd jump out with 300 men, supposedly they were hoping for a 50% success rate in getting them to the ground but in reality 95% were shot down on the way in. He would be holding a canon part and when you land, you must assemble the cannon and begin running game. Either way, I found this gent most interesting to chat with.
His wife was lovely and beautiful and he just seemed incredibly happy. I asked him what the secret to not aging and being that happy / fit / healthy at 75 was, he told me "if you live an interesting life, you don't age like people who are in routine". He elaborated that whenever you are doing something new, exciting and learning in anyway you don't age as much, I believe him and thought you, my internet friends I've never met and probably won't should know as well.
I'm off to do some fishing with a 6E rod I picked up at that garage sale or just wander around town eating random things like cheese and baguette with gluttonous sized slices of ham or something of that general nature. Next few days I'm going south and working my way to Andorra so I can buy some electronics, it is duty free and supposedly MUCH cheaper. I took many pictures with my cousins camera but I can't get them on my PC. This update will be filled in at another time.
If you ever want to take your wife / husband / gf /bf / partner whatever somewhere special and they love wine, you should visit this place, I'm really loving France, it's a wonderful place. Oh yeah, last night was Saturday so you know what that means. Turns out this sleepy town had some fun people, met some new friends and my cousin and I went back to their place for an after party when the bar closed. Good times are everywhere, get in the mix by saying "hello" to anyone you might want to get acquainted with, seriously.
Tips hat,
P.S: St. Palais beach is great fun and very liberal.
Search Result Du Jour!?: Bangkok Hospital Rabies Shot