Nightmarish Night Bus from Bolivia to Cusco, Peru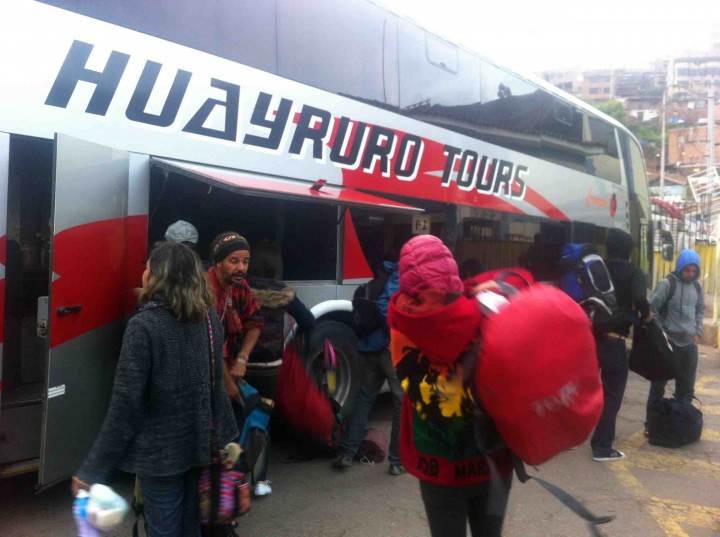 Greetings,
I've done a lot of hard miles on this trip and one of my least favorite things has to be the dreaded night bus. Sure the night buses here in South America are better than say Asia but whatever; it's still a night bus. There are those who can sleep on the night bus and then those like me who simply move around like a maniac for the duration of the night…
That said, I will note that it's also like Stockholm Syndrome as whenever the bus ride comes to an end, I am just starting to get used to it and that too is a bit of a shock to the system. Last night I had the displeasure of taking an 11 hour night bus from Copacabana, Bolivia to Cusco, Peru.
For starters, had no idea how close Copacabana is to the Bolivian / Peruvian border and it's literally 10 minutes away. There you have a monster line of sorts as all the buses pile up and everyone needs a photocopy of their immigration papers ehh ok. So I get one and he stamps it then I say why don't you just stamp my passport so he does and looks angrily at me.
You walk through this archway, see a big Peru sign and then do Peruvian immigration which takes considerably longer. After an hour or two or more we are back on the road and its freezing. It was the coldest bus I've ever been on from the border to Puno which is 3 hours away.
I look back and everyone is shivering / half dying except for these clever South Korean girls I met in line who had a sleeping bag. I had my hands inside my sweater and my shirt hugging myself like I had been dropped in a frozen lake in some arctic habitat, it wasn't cool at all but neither as what happened in Puno.
In Puno they make you get off the bus, change your ticket for a new one, pay a toll of some sorts then get back on the bus. Why couldn't we just sit on the bus the whole time? It was a weird racket and at roughly 10pm at night, it wasn't appreciated and seriously not necessary. In all my years I've never seen something so asinine.
I tell the bus driver that it's an icebox which makes no sense and he does what he can so he turns up the heat. He cranks it and the place becomes a sweatbox. As a result couldn't sleep and watched the hours go by as I found temporary relief in bizarre positions that didn't help me whatsoever. Tried leaning against window but hot air was nauseating.
Also, what's with the first class "full cama" scam in South America? There is NO full cama. Everyone says you pay more, get a smaller (sweaty) cabin and a full 180 degree bed; no bus I've seen has this, they are all the same which is roughly lazyboy like at best. Anyways, don't buy the full cama they don't exist!
Something else a little odd was at 2am or so we stopped at this roadblock and these narcotic looking offices dressed in blue with flashlights boarded and searched the top deck of the bus; they also removed two backpacks from the storage. This one lady seemed to be protesting but I just laid low as I figured it was something I didn't need to be involved in, yes?
Arrived and the bus station in Cusco, Peru at 5:45 in the morning is rather shady. It's not bad like Santiago but it's still not pleasant. Took a cab downtown to the Plaza de Armas and linked with these Argentinians and Chileans I met on the way to Copacabana. We scour the streets and they find nothing as they are a group so we part ways.
Moments later I'm in a hotel with 3 beds to myself and it's all over; doing this as short on time.
This could be the last night bus for quite some time… 100% over them.
That said, loving Cusco it's got everything like but more on that later…
Tips hat,