Natural History Museum and Exploring Soho
Greetings,
I'm writing this from my room at the Hotel Cafe Royal and I couldn't be happier with this epic accommodation. The fine people at Booking.com wanted me to find the most amazing hotel I could dream of in London and I certainly found it. Every comfort imaginable is here and everywhere I want to go is a short walk, taxi or tube ride away. It was a bit dark and grey yesterday so I went to the Natural History Museum, enjoyed a sushi lunch at Matsuri and finally met up with an old friend for a night on the town.
The Natural History Museum is a wonderful place easily accessed from the South Kensington tube station and literally fun for all ages. I loved the dinosaur exhibits and couldn't get over the stunning architecture of the building itself; it's beautiful on the inside and out. There are a few other museums in the vicinity so should you find yourself in London on a rainy day this could be a great way to pass some time.
I've been hunting for some good sushi and the concierge suggested I visit Sake No Hana so off I went. He offered to call ahead but I said not to worry and should have let him as it wasn't open yet. Turns out Matsuri nearby was opening in half an hour so I just waited; apparently not a lot of people are searching for top shelf sushi at 11am on a weekday!? There I met some lovely people who work in The City and we swapped stories and smiles over sushi and sashimi.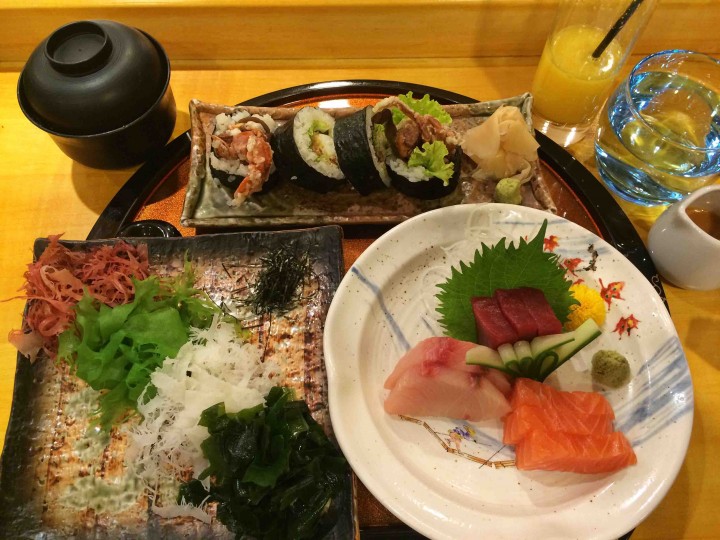 I'd like to say I came home to do some work which was the plan but the beds here are incredibly comfortable and a quick lay down turned into a full on afternoon nap. I was supposed to meet a lady I hadn't seen in over three years since hanging out in Thailand but sadly overslept. I woke up and sprung to action and before you know it, we were strolling the streets of Soho popping our heads into pubs, clubs and lounges.
We really covered some ground and when you're in central London it's incredible how close everything is. We explored Covent Garden, I enjoyed watching people skate at Somerset House, lounged around at Leicester Square and finally found the path back to Piccadilly Circus with a crucial stop for some Chinese along the way. To say I'm learning more about London and loving every last minute of it would be an understatement; what a city!
Supposedly Hotel Cafe Royal has an incredible spa and I'm going to investigate that in a few minutes after I publish this and sample some more sushi for lunch. This is my last full day in London and plan on visiting St. Paul's Cathedral as I'm a big fan of architecture; I find it inspiring. It's also close to some pubs and seems to be the perfect place to catch up with an old friend I met in Portugal years ago.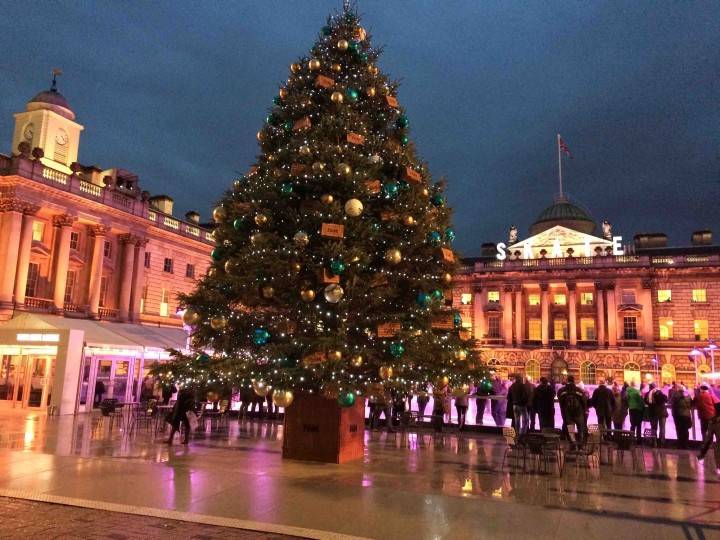 I'm definitely not going to be ready to leave London or this hotel when the time comes.
Huge thanks to Booking.com for hosting this campaign and at iambassador for managing it. That said, rest assured all opinions are mine as they always have been and always will be. The goal of the campaign was for me to find the most epic accommodation possible in which to experience London and I believe I succeeded.
Tips hat,