What up?!
Another chilled out day doing little but enjoying much. Need to get out of here sooner than later or will be sucked in like surly sailors by a suicidal or at least serious squid.
Decisions, decisions. Pemba -) Mombassa!? Stone Town -) Arusha!? Stone Town to some other island that has a ferry running? Fly to South Acrica? Visit Livingston, Zambia?! You get the point.
Can't hang out in sun too long here, it's intense. Showing up for a swim a few times is a much better long term plan. See some dive schools, must be boring as $$7k during the slow season. Seriously, beaches can get boring if you're not a serious sun fan.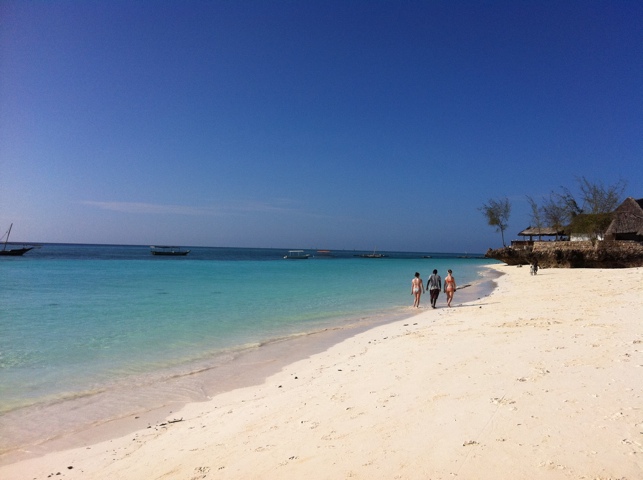 There is this massive crew of ladies who net mini sardines, interesting to watch, sorta. The beach is usually entertaining many local kids doing whatever kids do. Also beach boys who typically aren't from around here who try and sell you snorkeling tours or a marriage proposal if you're a lady. They really are quite a nuisance.
Interesting times when nothing is going on and you realize just hoe different ways of life are. Can see why people from these islands want to get off though, they want to explore. On the topic of exploring, should really get this adventure going again, one direction or another.
Went to eat at a spot but too hot, you see a lot of people wandering around like popeye when he's upset. So red that tomorrow will have plenty of blisters to pop or something of similarily unpleasant nature.
A good routine around here for R&R is sleep to 9:30am, eat wander and swim, sleep to 3 and repeat. The evening is cooler and easily spent hanging out at a restaurant, bar or hotel. Pass out at 11 and repeat.
If one was looking for several places around the world to pass some time each year, Zanzibar could be a good contender. Has everything and more different than similar to most other beaches out there in the awesome class, if that exists!?
Tips hat,