Make Your Cat Happy With The Yaheetech Cat Tree
A cat tree is the one product for your cat that can make you happy as well. Seeing a cat tree is always interesting; you can see your cat playing around on it, and you can also customize it if you want to. Not to mention that this item offers a lot of value thanks to being affordable and long-lasting.
It is always a great idea to start looking for the best cat tree for your furry friend. In this article, I want to present to you two products from Yaheetech that can make your cat the happiest cat in the world. But before that, if you want to learn more about the important factors of choosing the best cat tree for your cat, this complete guide from Yaheetech can help you a lot.
Yaheetech Cat Tree 57 Inch
Let's start with Yaheetech Cat Tree 57 Inch, which has a multi-level structure, one hammock, two perches, two condos, a furball, and a scratching post. Basically, this product has everything that can make both the cat and cat-owner happy. Not to mention that the cat tree is coated in pet-friendly soft plush fabric that will make your cat fall in love.
The size of this item is surprisingly big enough to accommodate two to three medium or even large cats. Even the hammock is big enough for a large cat to sleep on it. The height is also perfect – not too tall and not too short.
From the picture, you can see the two interactive bungee cords with a jingly furball attached to each. Now even the most energetic cat will be able to play for hours on this cat tree. Also, you might not notice from the picture, but the base is really solid. The baseboard measured 7.8cm/3inch in diameter and can prevent wobbling. As you may already know, no pet owners want their pets to get hurt.
One more thing that I want to mention is the number of scratching posts that you'll get. In total, there are six sisal scratching posts and one scratching pad installed. All these features come in different heights, so if you have multiple cats of different sizes, they can choose whichever one they like.
Overall, the cat tree has a solid construction that can handle multiple cats. The material is environmentally friendly and can keep your cat safe. And, if you want something a bit taller, check out Yaheetech 62.2 inches Cat Tree.
This version pretty much comes with the same set of features and is made from the same soft material. Little kittens could need some time and practice to climb this, but they learn fast, so don't worry.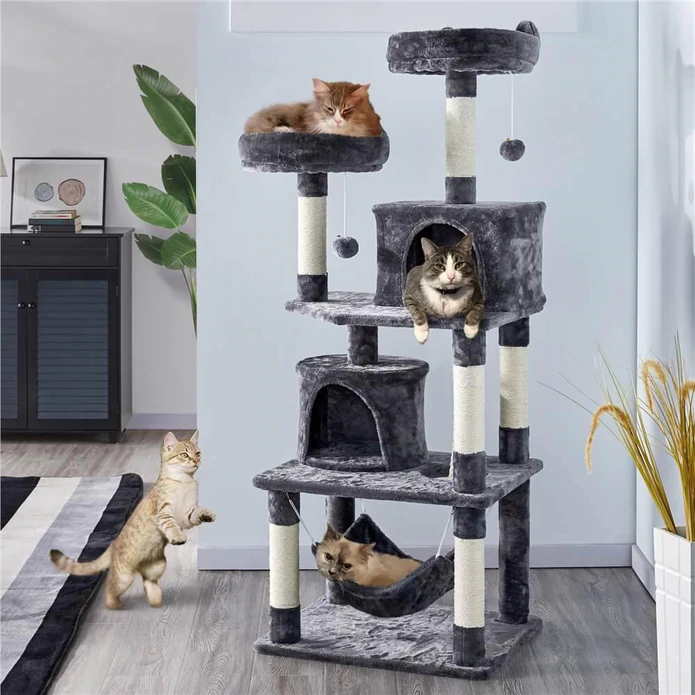 About Yaheetech
Here is some more information about Yaheetech. Yaheetech is a cross-border e-commerce company established in 2003 with more than 500 employees worldwide.
With our own 39 warehouses around the world, we provide a wide range of products with fast delivery to millions of customers in more than 10 countries, available on Amazon, Walmart, eBay, Wayfair, Wish, Cdiscount, ManoMano, OTTO, Rakuten, Real and more. We devote ourselves to making your life comfortable.