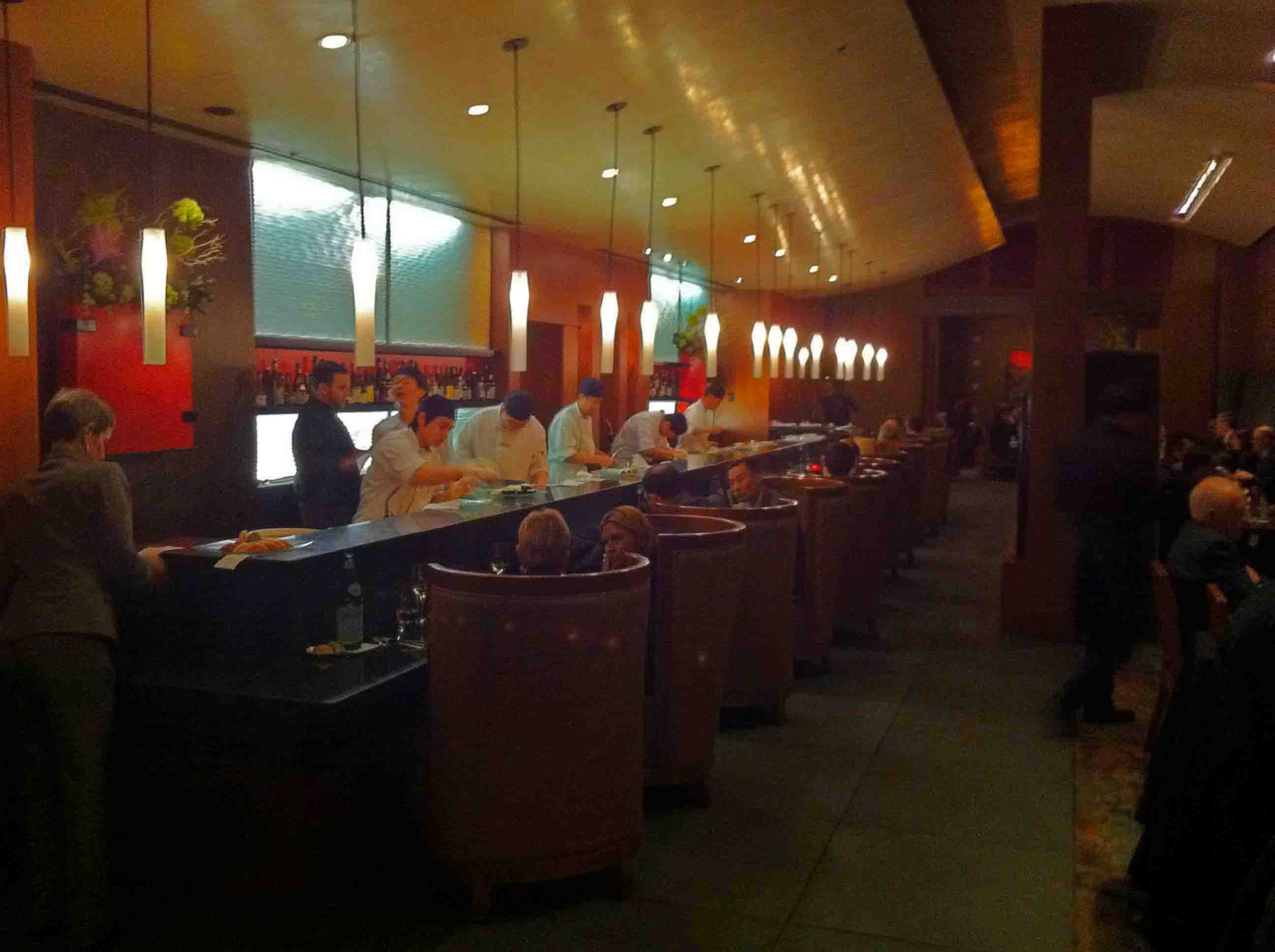 Greetings,
Christmas came early for SHABL last week with one of those culinary experiences that expands your palate and blows your mind. I was in Toronto all last week and was lucky enough to receive an invitation from Ki modern Japanese + bar. I brought little more with me than an open mind, good friend, camera and a big appetite. I had heard great things about this establishment but definitely didn't expect to end up having a three hour lunch paired with numerous samples of delicious sake. This was, without a doubt, the largest sushi session I'd ever had the pleasure of partaking in.

Not long after arriving we met a lovely lady named Teresa who would be serving us and a gregarious gent named Michael who is Ki Japanese's Head National Sake Sommelier. Besides a wide variety of tastes, he also introduced us of the whole process. I used to just look at sake as sake but now I know better and there is a whole science behind it that I'm starting to comprehend. Considering I love eating Japanese food more than anything else on this planet, I think this could be the start of something special but more on that later…

The atmosphere is very fun but formal as it is located right in the heart of the financial district. When we arrived at lunch the place was packed. I can't believe I'm this far in without telling you what we ate?! It all started with some Seaweed Salad with assorted greens + sesame-ponzu dressing and Miso Soup with tofu, scallions + wakame. I can't go into a sushi spot without having my Seaweed Salad, have you ever tried it? I implore you to give it a go, it's healthy and addicting.

Next we strolled straight into grilled Beef Striploin Tataki with spicy sesame dressing + milk garlic chips, maple-tamari Binnaga with pine nuts + wasabi crème fraiche and Hamachi + Jalapeño with fresh sliced ginger + yuzu shoyu. These items were paired with Nakao Shuzo "Seikyo Takehara" Junmai from Hiroshima. This was my favorite sake of them all and I noted its potential danger as a bottle could quickly vanish. Seikyo translates into "mirror of truth" as the brewery believes its passion is reflected in the final product. Typically, I never order cold plates but this opened my eyes, the Beef Striploin Tataki was phenomenal.

Next we tasted the Tempura Butterfish Maki with Alaskan king crab, salmon, butterfish, avocado, cucumber + tobiko with a tempura crust, Ki Beef Maki with teriyaki-glazed Canadian AAA striploin, sweet potato tempura + asparagus, Ki Spider Roll with soft shell crab, asparagus, cucumber, avocado, tobiko + spicy mayo and Spicy Tuna with bigeye tuna, scallions + spicy sesame sauce. This wonderful mix of flavors was paired with Nanbu Bijin "Southern Beauty" Junmai Ginjo from Iwate. I'm not going to even try and say which I preferred over the other, it would be asinine. That said, I will mention not to neglect beef just because you're at a Japanese restaurant, an error I was guilty of in the past.

Following this we moved into some nigiri. We enjoyed Mutsu (Butterfish / Escolar) Nigiri, Unagi (Fresh Water Eel) Nigiri and Aji (Japanese Horse Mackeral) Nigiri. This was the first time I had ever tried eel and it was great. I'm not sure I'm ready to push spicy tuna out of the way but if it's something I'll most certainly be indulging in again. The Japanese Horse Mackeral was also a nice change and something I had never tasted before.

This is when you think the meal ended but oh no. Next we began experimenting with some hot plates. Typically I usually stick to the salads, sashimi and maki so most of these dishes were new to me. I now realize how much I've been missing out on. We had grilled Short Ribs marinated with asian pear-soya + sesame seeds, saikyo-marinated Black Cod with rapini, salmon roe + orange reduction and seared Fresh Scallops with mushrooms, leeks + edamame purée. This was paired with Yuki no Bosha "Cabin in the Snow" Junmai Yamahai from Akita. Are you full yet? Surprisingly we weren't and if I was to pick one dish from this collection, I'd opt for the scallops.

Finally we tried some sake-braised Pork Belly + Green Onion glazed with teriyaki and served with chili ponzu sauce and Pancetta wrapped Unagi stuffed with grilled onion and pickled daikon, served with chili ponzu sauce. This was paired with Hakkaisan "Eight Peaks Mountain" Honjozo from Niigata (served warm). The only item of food left from this entire meal was one small portion of pork belly. It was as though we had been flying down a highway without a care in the world and suddenly we hit a food wall at full force sans seat-belts. We looked at each other and unanimously knew we were done.

The experience speaks for itself, yes? Besides filling every square inch of my stomach, I also realized something. No matter how often you go to eat somewhere or no matter how often you have a certain style of cuisine… Don't stop experimenting until you've tried everything and anything you might just like. I tried countless dishes that I'd never of even imagined ordering that I quite liked. I expanded my palate and now have a basic understanding of sake and the different styles and grades available out there.

I also can't believe that I'll quite likely be ordering eel next time I'm out for Japanese. For whatever reason, eel always scared me and now I'm finding myself drawn to it. This is all in keeping with the motto of this blog, "you'll never know unless you go"… In closing I'd like to thank Michael, Teresa and Ki modern Japanese for a truly inspired culinary experience that left me feeling as though Christmas had come early.
Tips hat,