Greetings,
So I'm leaving for Israel tomorrow at 4am, aka a 6am flight. This and that happened and I had to go to the bank. There we ran into these gents who were raving about stars and $3 gin and tonics at this place called Swan's. We decided to roll there as my friend who had engagements previously suddenly was a free man, indeed. Long story short if you care to read, we end up at Logan's Pub and let me tell you, it's an interesting and accepting place on this planet…
So as we're strolling to Swan's, we see the gents leaving with great haste, we tip hats and continue on our way. Turns out this deal was bust and had been cancelled months ago, horrific. The bar maid asks if we'd like a drink, and say no thank you. Never go somewhere thinking of something , find out it doesn't exist and stay. Make haste and pick up  the pace to a more run down local further from the waterfront.
We roll into Logan's Pub and it's an unassuming spot you enter with low expectations. They have this L shape institution and interesting people working behind the bar. Outside it's not long before there is something to catch your attention as it's a scene in itself if you choose the right seat. We had these spots right on the road and it was like we were on the sidewalk but still in the bar, awesome.
This place is known for good concerts, free foosball, Sunday night "Hootenany", Acoustic nights and good food. Apart from that it was one of those divesque (sic)  locations that hits you by surprise as it's unassuming but very accommodating. I have that flight to catch, my friend has a wedding to attend and the other has a professional exam tomorrow so we decided to abandon ship early and retire to a good meal and a few chasers.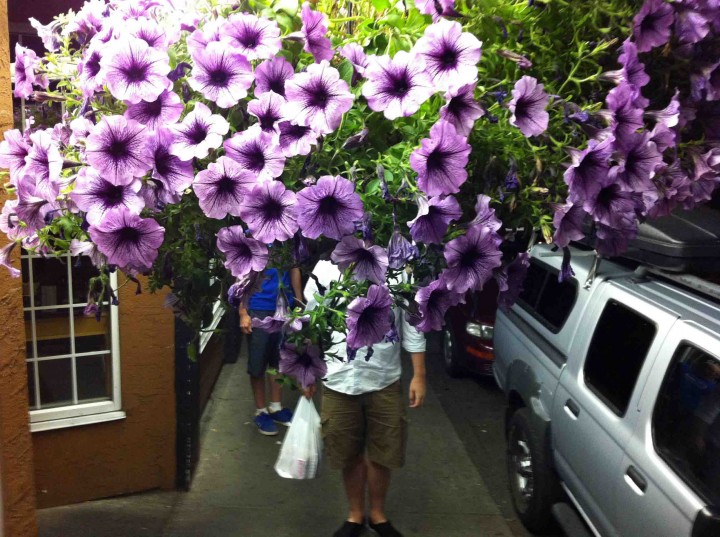 If you're in the area, this is an interesting place to get a drink and if you need some liquor to get things going quicker at home, it's next door to a "cold beer and wine store" with a pizza joint across the street and some dude who loves walking around rocking out to an electric guitar that he often plays one hand as he strolls the street like a charged character you may once meet. It's also a great place to attend, leave early and end a bloggery with an incredibly long run-on sentence or two… Oh yeah, check out the dudes flexibility standing next to the guitar hero.
I'll probably be back at some point, seriously.
Tips hat,
Mental Note: That incident in the store across the street and well received ridiculous questions to strangers on the way home.