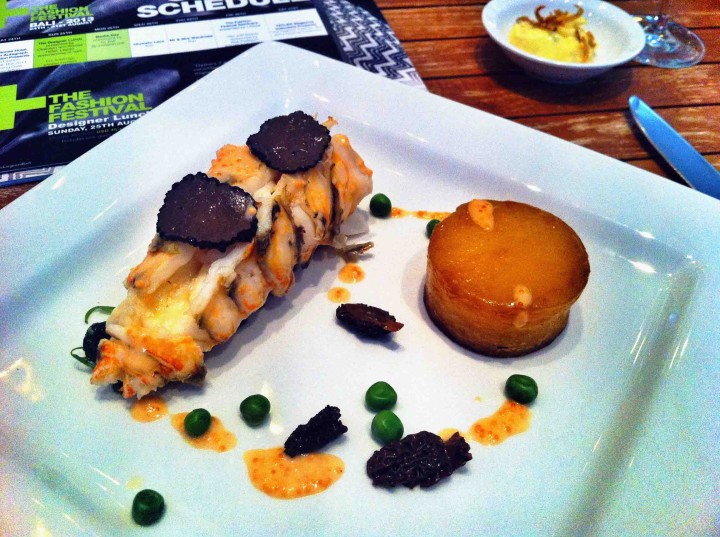 Greetings,
I'm a bit behind the 8ball here and the entire trip I took from Ottawa -> Singapore -> Bali is starting to catch up to me in the whole lack of sleep arena. Woke up yesterday feeling fatigued but luckily it was a lazy Sunday of sorts. The day was spent lounging around the hotel and spending inordinate amounts of time in my room catching up on other affairs while fighting travel fatigue. That said, there was a media lunch for The Fashion Festival which was quite enjoyable, more on that now…
The lunch was held at The Stones Hotel and it was a great opportunity to further network with other individuals related to media or on the design side. The meal was delicious and of course I opted for the lobster. Not long afterward it was time for me to get into some serious work that I've started to let slip since this trip has taken place. Totally unrelated, when you get sick or feel slightly under the weather overseas you can stock up and clean out an entire pharmacy for next to nothing. I bought everything I need and more for $3.50, huh?
In Canada such said items would have cost me who knows what. Naturally if you get a serious illness it's a different story or is it? I do remember the worst accident of my life which happened overseas in a small town called Hoi An, Vietnam. It's not known for being a medical hub or anything of the sorts but I did receive first class care which was comparable to or better than what I would have received back home. Enough of this though and back to Bali, yes?
Later that evening we decided to hit the streets in search of supper and it didn't take us long to find  what we were looking for. We strolled through some side streets in pursuit of a small local warung and were pleasantly surprised. I opted for a vegetarian stir-fry of sorts as myself and a friend had gone nuts on a street vendor selling street meat a few blocks earlier. The meal was delicious and flavorful with a pricetag of under $3, unreal.
I hate to say this but being back in Bali is messing me up a bit. I'm wondering why I spent so much time in Central America and on that small Caribbean Island… Don't get me wrong they are wonderful places but they aren't Bali. This place has everything needed to satisfy a gent like myself and more. I'm rambling and must depart as there is an activity that I'm most looking forward to about to transpire; I'll make a video so stay tuned…
In closing, thanks to again to The Stones Hotel in Legian, Bali & The Fashion Festival for their hospitality.
Tips hat,