Greetings from Victoria,
This is being written from a friend's abode in the downtown core of Victoria. Should you be flying in, I recommend you bus or get picked up as it's quite the trek and can imagine the cab would be rather costly. The weather in Anchorage turned out to be quite nice the day I left, making me wish I had more time to go out and explore but such is life. Glad to be back in Victoria, it's a rather slow and beautiful city where one can be at peace doing whatever they so please.
A car service brought me to the airport where shortly after I saw a barber shop for all gents who like barber shops. It was a small hole in the wall at the Anchorage airport and seemed like a great place to get a shave while marveling at the countless fish and the kind attached to this gents walls. If you've never had a shave at a barber, I implore you to start living and go get one immediately.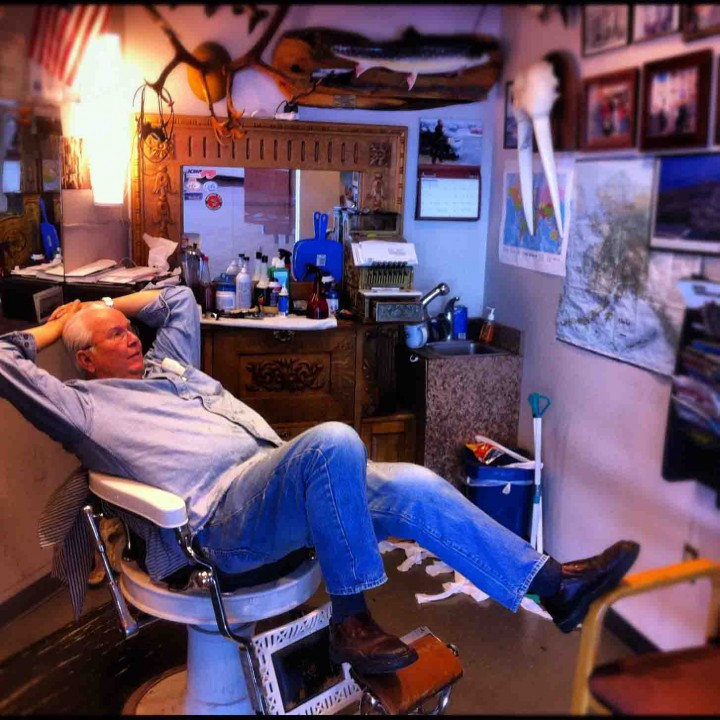 Upon arrival at the airport it was time to get a seafood fix with the time before the plane. There is a Humpy's in Terminal B and I headed there for a pint and a platter of sorts. I started questioning the bartender about how long it takes for the Alaskan King Crab to be ready as I'm a fan of "Deadliest Catch". At that moment a gent next to me says his friend Tom will be part of the Seabrooke this season and to look out for him. Then we discussed the job itself and both agreed they are crazy and it most certainly is one of the most intense jobs out there.
To make a long story short, gorged on a halibut burger which was out of this world and made my way to Seattle. If you're flying into Seattle at night from the north, it's a pretty cool view. It's like you fly directly over the downtown core and it's quite the sight. Seattle seems like an interesting place I'd like to get better acquainted with one of these times. Also has quite the tech scene, indeed. Sometimes like last night, you get lucky and have three seats to yourself. For some reason or another, if you're over 5″6 aka not short, it's still impossible to ever get "comfy".
From Seattle there was a casual hour and a half layover that I spent eating low grade Japanese food before taking the 30 minute flight to Victoria, British Columbia, Canada. Upon arrival was met by a friend where we proceeded to cruise downtown, get settled and hit up some nightlife before retiring in the retirement capital of Canada. I can see why this place is so hot for the retiree scene as it has a rather temperate climate year round and you can golf 365 days a year, not bad for a Canadian winter eh? That said, assuming it's often a "grey old day" and for mental health, not sure what's better… Cool and grey or COLD and blue? I'm guessing the latter…
I'm here for a few days, hopefully doing very little until I roll through to Vancouver before returning and heading to Israel. Taking lots of flights does not wear you out if mentally you know you're just going to be waiting around and carted around the globe like classy cattle. What definitely does take a toll on you is when you're changing timezones and your sleeping patterns get cut in half. Having them change is no big deal but when your body still wants to wake up at 8am EST and you've been going to bed at midnight PST, you'll run into problems after a few days.
Call me crazy but I think it would cool to rent an apartment in Homer, Alaska for a few months one summer. Work on websites and when you're not doing that, fish and eat as much halibut as your body can take in the halibut fishing capital of the world. Have you ever had a nice halibut steak or burger? I recommend you avoid the batter as it's like covering gold nuggets with copper, it makes no sense.
Tips hat,
P.S: If you like fish, have a fresh halibut burger sometime – it will blow your mind.
Search du Jour!?: "night train in Thailand"