Greetings,
Today we're going to discuss a trip to cottage country I recently enjoyed in the Kawartha Lakes region of Ontario, Canada. The Kawartha Lakes are a band of lakes in central Ontario with many of them being in and around Peterborough County. There are countless lakes in the area and small quaint towns to go along with it. We stayed in Bobcaygeon near Lock 32 on the Trent Severn Waterway and had a simply splendid time…
The whole area feels slow, peaceful and still which I do believe is a large part of the appeal. When you leave Ottawa you get a sense of leaving a big city, after several hours of endless countryside scattered with pristine lakes you start to really get a feel for what most of Canada is like, rural and ridiculously beautiful. Bobcaygeon where we were based out of was a small place but it still had a lot of history, things to do and a foreign yet familiar feel to it.
Bobcaygeon was incorporated as a village in 1876, hosts lock 32 along the Trent Severn Waterway which connects the great lakes to Georgian Bay and became known as a "hub of the Kawarthas". It appears the real development of the town was based around the lumbermill owned by the Boyd family. Naturally I just wanted to fish but when my friend left on Sunday, my parents rolled up for two nights and they loved all the small unique little shops lining the main street as much as strolling around the locks and enjoying the calmness.
It was nice having everything you need in the town while still being no more than a few steps to unspoiled wilderness wherever you turn. Don't be surprised to see some deer in the area or even hang out with a heron named Harry who is pictured above for a while. That blue heron who looked rather feral when I met him hanged with me fishing for a good half hour one morning, you best believe I fed him a few perch. There are also countless other birds in almost every direction and don't be shocked seeing fish feeding at the surface.
The lakes and river ways are filled with fish. As you know from my last update about "Sturgeon Lake Bass Fishing", I didn't catch anything noteworthy but that doesn't mean that I didn't catch ridiculous amounts of fish. It was the type of place that if you threw your line with a worm and didn't get a bite instantly, you could just change spots and sure enough your bobber would quickly get pulled below the surface. Boating seemed incredibly popular and on a Saturday, Sturgeon Lake was bustling with action from both tours and recreational boaters alike.
As far as accommodations are concerned, there are plenty of small establishments in and around town. Ontario Tourism linked me with MacArthur's Resort which was just a two minute drive from downtown Bobcaygeon, on the lake and I liked it. They have weekly cottage rentals and all the facilities you could ask for. It was also quite social as there was a large shared common area and I loved that everything worked. When you own or rent a private cottage to yourself you get added privacy and usually a few problems. When you're somewhere that is fully serviced it's like being at the cottage but also on holiday as most of the day to day "chores" associated with such are taken care of.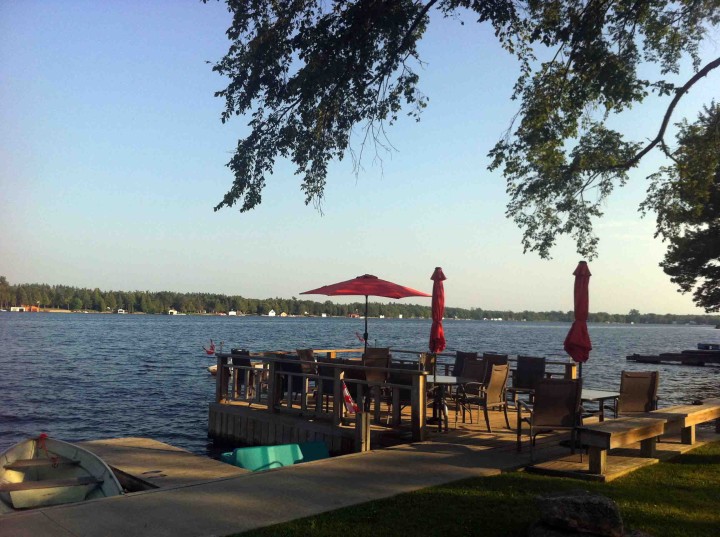 The city itself had some decent dining options and the potential for some interesting nightlife. Just for the Halibut is the place everyone recommends and from what I saw, the most happening place in town. That said, I eat there twice and not once was it what I'd considered better than average. Nothing wrong with the food just nothing I can go off about saying I loved; that said "flips" had one of the best burgers of his life there.
Now, if you stroll to Lock 32 Pub and snag the Lock 32 combo special while in the mood for a heavy meal, you can't go wrong. It's the photo shown above and basically it's two half racks of ribs, wings, jumbo shrimp, onion rings and we got a side salad for good measure. If you're looking for a good breakfast try out MacDoo's and if you want a drink at night, you'll probably end up at "Bolt 72". If you're lucky, you'll see the near extinct "man in a sleeveless turtleneck" getting shot down by ladies who want nothing to do with him, you really had to be there I guess.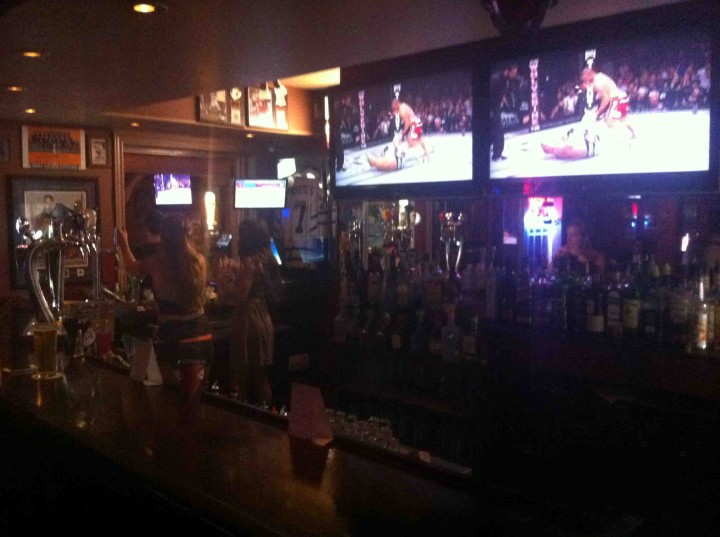 End of the day though, you're in Cottage country Ontario and nothing beats a BBQ, yes?
Considering it's roughly two hours from Toronto, you get much of that crowd coming up to enjoy their cottages or summer homes as many of the private residences are so elaborate, they simply can't be described as cottages. If you're driving from Ottawa, I suggest giving yourself time on the way back and making a quick stop in Perth which is about an hour from the outskirts of Ottawa. It's another beautiful little town and a great place to grab a bite or a pint on the way back to Ottawa.
In closing, I'd like to thank Ontario Tourism & MacArthur's Resort for their hospitality; I had a great time and hope to visit again.
Tips hat,