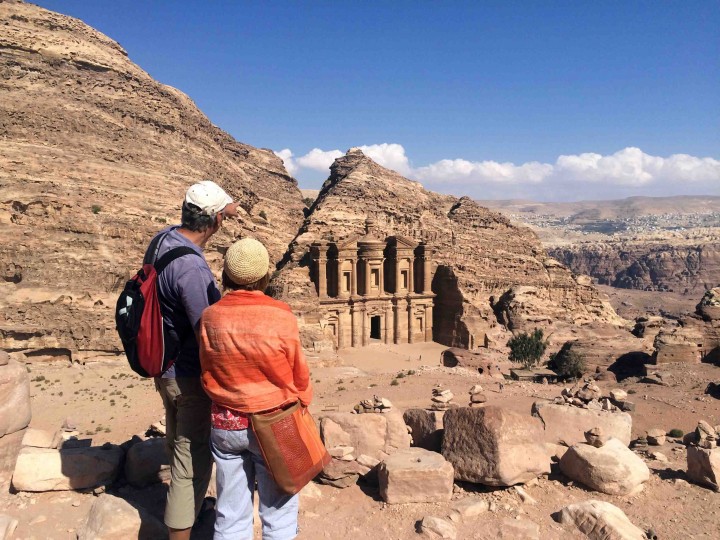 Greetings,
Let's talk about hiking to the monastery in Petra, Jordan. Petra is a spot known to most so it really needs no introduction. It's literally a place you could easily spend several days to a week if you wanted to see it all.
That said, most of us don't have that kind of time and besides the Treasury, the Monastery is the main event in my mind. This was my second time visiting Petra so if you'd like to see lots of photos from the first time, simply click here. Today, let's discuss hiking to the Monastery in Petra.
Things to know when hiking to the monastery
Before we get too deep into it, let's just talk a bit about how big Petra is, it's quite massive really. Just to get to the Treasury you're looking at a 2km walk or so from the entrance gates. Bring some water, remember to bring some water. From there it's easily another kilometre or so until you get to the base of the Monastery. From the base it's hundreds of steps upwards until you finally arrive. If you're not up for the hike, you can always take a camel to the base and then a donkey up. I'd never do it but I also plan on using my legs until they literally give out.
The Monastery is something most people should see if they go to Petra. If you don't, it's like going to one of the most memorable meals of your life for your eyes and simply skipping dessert. Either way, once you start climbing it will take you a good 45 minutes or more. This of course is all depending on how fit you are. Also, if you're a single gent who doesn't look scary, you'll make new friends. The Bedouin ladies along the way will ask you to stop for a tea and chat.
Naturally you must oblige if you're a true gentleman.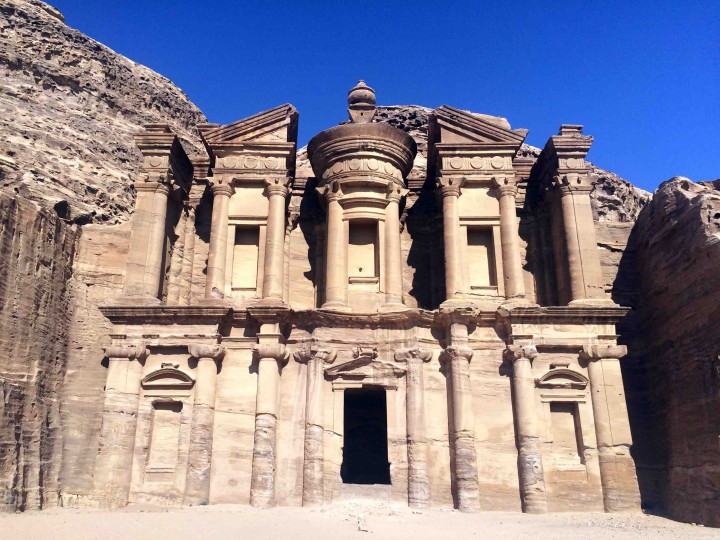 I don't drink caffeine really but always make an exception when I'm in Jordan because I simply love the way the Bedouin people do it. You'd never catch me sipping on tea in Amman but when in Petra, Wadi Rum or the Dana Biosphere Reserve… It's on. Suffice to say I stopped along the way and had three glasses which helped put some pep into my step for the rest of the way up.I also think it's part of the experience just sitting there as other tourists walk by making small talk and learning about what their lives are like and sharing some insights to them on what yours is like.
Once you get to the top, you'll see a cafe / restaurant of sorts which is the perfect place to kick back and enjoys a drink while simply staring at the monastery in awe. When finishing the final steps, you'll notice the Monastery on the right. Having seen both the Treasury and the Monastery twice now, I have to say that I'm not totally sure which one is more impressive. Sure the Treasury is spectacular and gets most of the attention but the Monastery is just as beautiful in my opinion and its location definitely adds to the mystique about it.
Anyways, when you're up there there are also two view points which you shouldn't miss. One is directly behind the restaurant / cafe and offers a great view of neighboring valleys and the Monastery itself; definitely do that one. There is another one to the left of the first one if you're looking at the Monastery and it has a sign that says "best views". I won't say it's the best but it's definitely different and worth the extra few minutes and steps to reach. When I got there it seemed to be near empty and I just sat there staring into the canyon enjoying a cool breeze.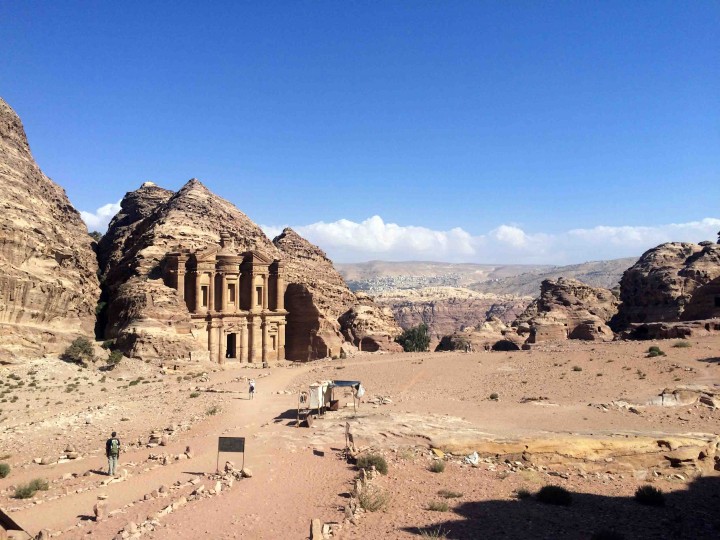 I didn't know about the second view-point my first time so I'm glad I got the opportunity to go back and finally see what it's all about. On the way down I stopped for more tea and light conversation with some of the ladies, naturally Long story short, if you're going to Petra … Be sure to visit the Monastery, you'll be glad you did. We took the back route into Petra from Feynan Ecolodge; check the zig-zagging road through the mountains. If you're going to Petra and thinking of visiting the Dana Biosphere Reserve; go to the reserve first and come in through the back; it's a cool experience.
Tips hat,