Getting Acquainted With Jerusalem aka The Holy City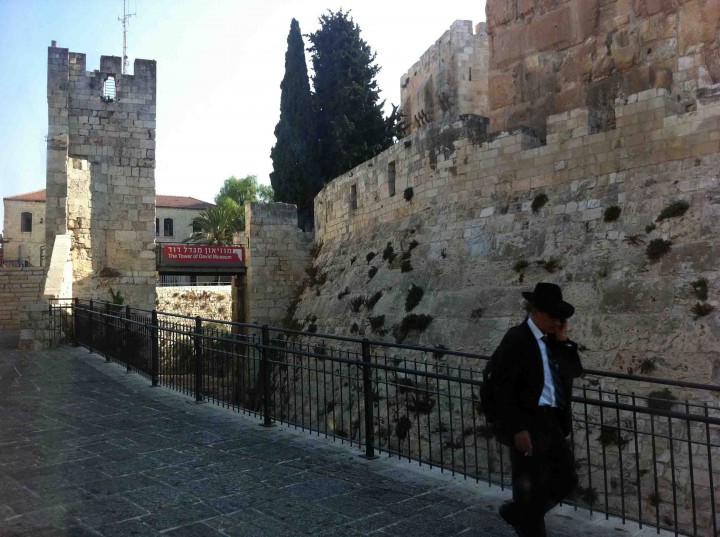 Greetings,
I'm writing this from my hotel room in Jerusalem after what could only be described as a most informative and moving day in the Holy City. Jerusalem is a city built on top of a city that was built on top of yet another city etc… It's been occupied and conquered by countless empires that have all left their mark on this most significant spot. Today we spent time exploring Mount of Olives, Mahane Yehuda Market, City of David and finally catching the audio-visual night spectacle at the Tower of David before dinner at Agada aka the "Herzl House". If you like old cities, you're going to love this place. Let's get right into it, shall we?

We arrived in Jerusalem early afternoon and immediately made our way to Mount of Olives which gets its name because it used to be covered in olive trees. This is a very significant site and has been used as a Jewish cemetery for over 3,000 years and contains an estimated 150,000 graves. From the top it offers spectacular views of Jerusalem and is just a sight in itself. We spent some time there then made our way to the Mahane Yehuda Market before the City of David which occupied the majority of our time today.

The Mahane Yehuda Market was quite busy with falafel, shawarma and juice stands lining the alleys and everything else you'd expect from a market. First we went for lunch and I tried Kibbeh, quite liked it! While marching about the market I discovered halva which in this case was made with ground sesame seeds and then seasoned in a wide variety of flavors. It's a popular dessert that I sampled and quite enjoyed, remember this is coming from someone who as you know has no time for desserts. Next it was off to the City of David.
The City of David is what could be considered the "Ancient City" and is the oldest settlement of Jerusalem. It also hosts an incredibly significant archaeological dig as it is recognized as the Jerusalem that is referenced in the bible. We took a tour of the archaeological dig before focusing on Hezekiah's Tunnel which was commissioned to be built by Hezekiah of Judah to fend off the forthcoming siege by the Assyrians. Before we dig deeper into this issue, know that it's a popular belief that David chose this location to build his palace for several possible reasons. One of those reasons that most can agree on is due to it's proximity to the Gihon Spring aka the water supply.

Should the water supply be compromised by an attacking army, a surrender of the city would be imminent. That's why the tunnel routed the water from the Gihon Spring to the Pool of Siloam aka into the city itself via an elaborate aqueduct. This tunnel is truly a work of art and weaves and winds its way underground for 513 meters on an ever so slight slant. It was dug from both sides and took several months of hard labor. We had the opportunity to trek through the tunnel and it just seems to go on forever. Please remember that it was built with the technology available 2700 years ago and you start to realize just what a feat it was.

If you're an able bodied individual who doesn't mind getting a little wet and dirty, I suggest you trek Hezekiah's Tunnel if you get the opportunity. It's like an eco-adventure and a history lesson all wrapped in one. You can really see the chisel marks as you trek through the tunnel with water that ranges from ankle to near waist deep. It's only really deep for a few meters before returning to a more tolerable level. I've seen a lot of sights in my travels and done a lot of hikes but this one combined physical and mental stimulation in a most sublime way. When you're in there you'll probably find yourself wondering just how they did they do this!?!

After the trek we took a new tunnel which has just recently been opened to the public to return back to where we began aka the entrance to the City of David. This tunnel starts from near the Pool of Siloam and connects to the old sewer system and cuts beneath the city. From there we made our way into the Old City and crossed through the Jewish quarter on our way to the Tower of David audio-visual night show. I'll note that the Old Cities walls were built in the 1500's which for Jerusalem is actually still quite new. Just think about that for a moment, 400-500 year old walls that are actually considered to be a quite a recent addition…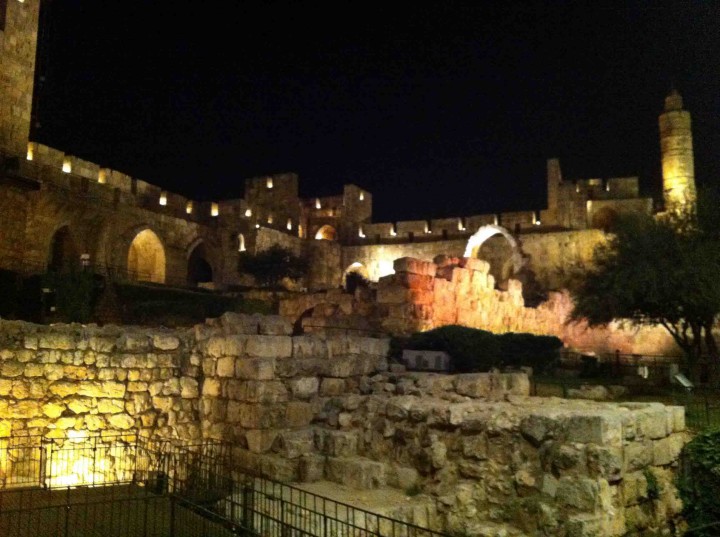 When you walk into the Tower of David at night, you'll notice how it looks quite majestic. Once the light show starts it will blow your mind and naturally, cameras are not permitted. It's basically this elaborate show that depicts the history of Jerusalem as it passed through time. Part of what makes Jerusalem so unique is that each era was quite different from the last and what is left is a mix of cultures you won't find anywhere else in the world. I won't spoil it for you but the whole time I was thinking, if only my parents could see this, they'd absolutely love it like the guy behind me who kept saying "this is incredible" with great vigor and zeal.

Once the show was done we made our way to Agada Restaurant located on Mamilla Avenue. Something interesting about Agada is that it's where Theodor Herzl aka the great-grandfather of Zionism stayed during his visit to Israel and is known sa the "Herzl House". We were lucky enough to eat in the main event hall and were literally served a feast that was fit for a king. Below is my room at the Leonardo Plaza where I find myself writing this far too late to be considered a civilized hour. I find it quite comfortable and love its proximity to Mamilla Avenue which seems to be quite happening.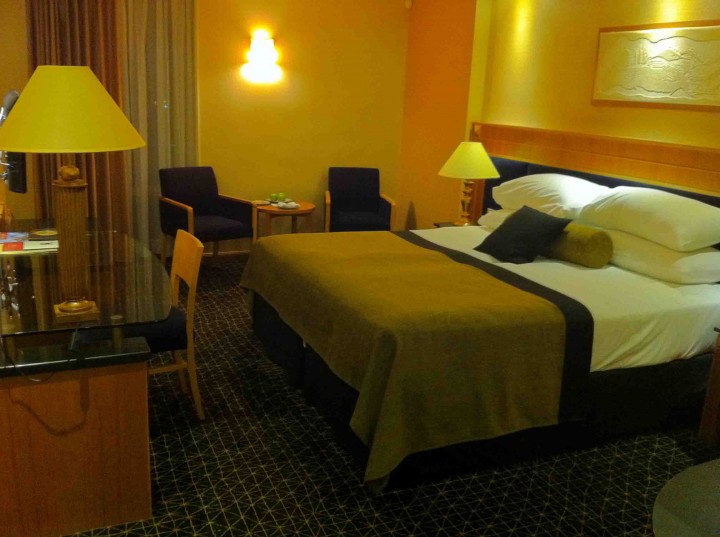 I can't believe how much I've seen and learned today and realize this is just the tip of the ice-berg of what is Jerusalem…
Tips hat,
P.S: Catching an overnight flight to New York City tomorrow night and most certainly not ready to leave…