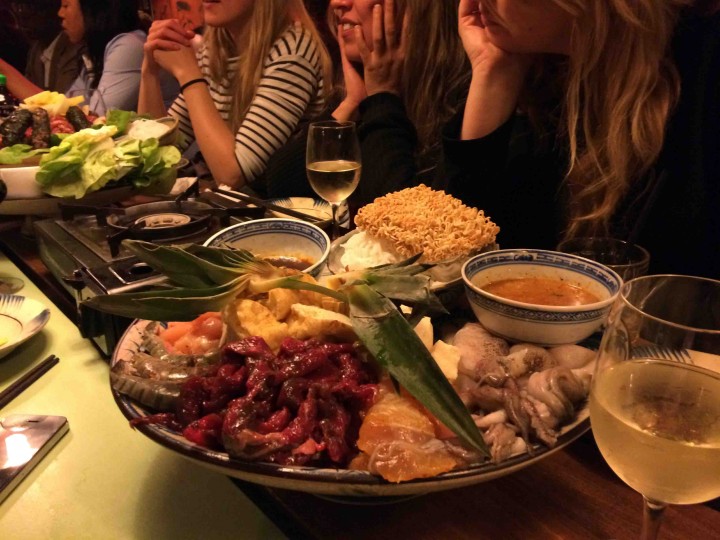 Good day,
I'm writing this from my office aka bed at Motel One in Berlin, Germany. This city is an undeniably hip spot which I had the pleasure of cruising through in the most egregious summer of 2010. Life is moving so fast right now, I think my mind is still in Malta; that or I lost it in Leipzig? I'm not sure but I do know that last night I went on a Gastro Rally with the one and only Lollie Barr from BerlinAgenten. To simply say it was a wonderful evening would be an understatement…
We met up with a lady named Julia from Visit Berlin and made our way to meet Lollie who would be our tour guide. She's a gregarious Australian lady who came here 5 years ago to write a guide called "48 hours in Berlin" and never left. She's since turned her 48 hours into more than 48 months and it's fair to say that Berlin is just that kind of place. Seems like there are countless creative souls wandering the streets who are happily stuck in this spot. The tour brought us to a few places as well as gave us an idea of what it was like living in Berlin.
The first place we went to was called W-Der Imbiss and they had delicious pizzas with all sorts of terrific toppings. My favorite was the one heavily loaded with avocado and sun-dried tomatoes. I just overdid it on a breakfast buffet but simply typing that combo makes me hungry again. I should have known better than to have 4-5 slices as the next stop simply blew my mind, waist-line and nearly broke my belt. We hit up District Mot and it turned into steamboat city.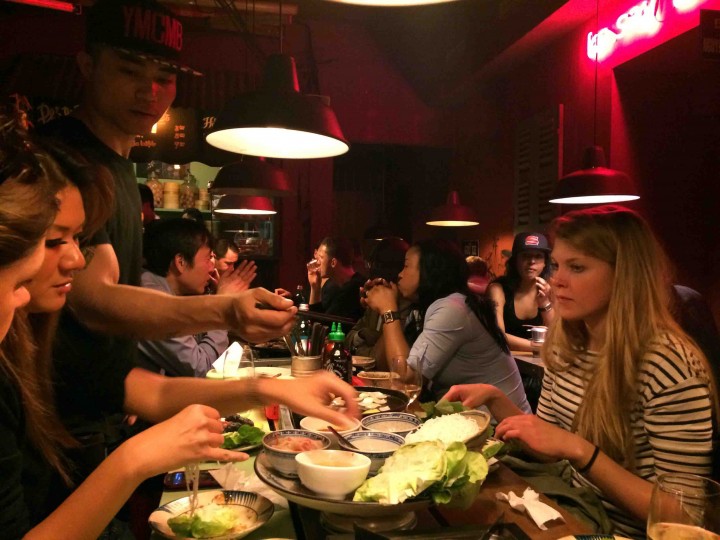 Steamboats are basically where you get a large pot filled with boiling broth and you add your ingredients as you please, at your leisure. They really held nothing back and I was having pleasant flashbacks to my time in SE Asia, particularly my recent jaunts which usually bring me to Singapore. Steamboats and that whole style of cuisine is without a doubt my favorite on this planet. We all eat like there was no tomorrow and this captain most certainly went down with the ship.
Next it was off to Mani Restaurant where we ended our sophisticated soiree. We enjoyed some dessert,  wine and and a most delicious rhubarb-vodka night cap. This restaurant wasn't only classy but it was also edgy which is always a great mix in my mind. Mani is also a hotel and in the front lobby they have a most amusing poster which sort of sums up the place. I kind of like to think I'm the guy in the top hat but let's be real, I'm the guy coming from underneath that table and  at the end of the day… Who cares as long as you're happily at the party, yes?
I had only breezed through Berlin last time and now I'm really realizing that this place sorta has it all. The cheaper you live, the richer your options and Berlin is affordable while affording you the opportunity to mingle with other bright minds; what's not to like? I'm not sure how much longer I'll be in Berlin but do know that I need to come back at the end of the month for a few days before catching a flight south. Seriously people, Berlin has something for everyone and at a price point that is easy on your pocket.
I'd continue but I need a break; off to get a Kit-Kat.
If you do come to Berlin, look into the Gastro Rally from BerlinAgenten; especially if Lollie is the lady in charge. Big thanks to Visit Berlin for their hospitality; loving your fine city and eager to get to know it more. Berlin also seems like a great city for someone who has no need to remember the days of the week; enough characters floating around with loose job descriptions to make any night a big one.
Tips hat,