Greetings,
I've spent the last few nights in Galway, Ireland and this small city has really grown on me. Had I not been in a backlog of adventures from my delirious tour through Dublin, I'd of updated sooner but such is life, yes? I've spent most of my time in Galway City which is a lovely spot in the west of Ireland where the next stop across the Atlantic is well, Boston. This city also known as the City of Tribes is filled with character from the past and characters roaming the streets in the present day. It's also known as one of the most liberal spots in Ireland, FYI.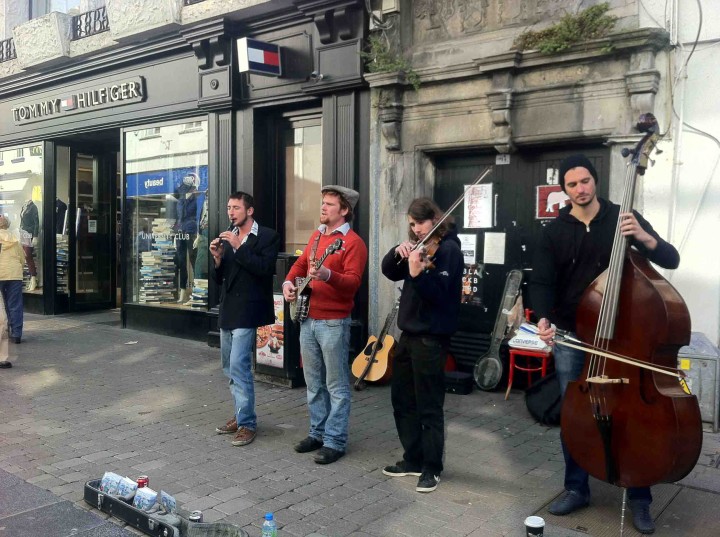 When I first arrived I immediately took a liking to the feel it has. I was out in Dublin and some local lads suggested I come for a visit, glad I did. I even looked into an apartment but realized that I'd get stuck here which is never bad unless you're on a mission to see the world. The pubs here are class and I can only imagine this spot when the sun is shining mid summer but what I got will have to do it and it was a great time. In my short but packed time here I've discovered a few things I want to share with you…
There are countless pubs and they are all good. I could list a few but I'd rather let you discover them for yourself. Remember the pub is just the stage, right?  If you're staying in the main drag where all the action happens, take the bridge outta town for a more local experience. There are countless places to eat as well and I'll mention the Charcoal Grill as you can't beat it for taste and value when you're looking for a late night feed after a pleasurable pub experience. There is lots to see and do but I did very little except catch up on work, rest (sorta) and enjoy the the city as I saw it through late night strolls.
I spent my days working away and evenings wandering around the city meeting interesting people and walking into near every pub I passed. This is also a university town with two larger ones and some smaller ones so lots of interesting people of all ages. Below is a set of photos I took. There were some sunny days but for the most part grey and my photos reflect that. There is also a local brew called the "Galway Hooker" which is a delicious 5.5%. If you want a half pint you order it around here as a blouse as in it's for the ladies…
I think you get the idea and photos below should help; there are also numerous great golf courses and supposedly solid fishing.
Tips hat,
P.S: If you go into Tij Coilit (sp?) and stand right of the taps, look up for the SHABL Singapore bill…