Hello friends!
I've been out of commission the last few days with the worst case of food poisoning I've ever had in the last 3.5 years of travel. Yes it was that crazy and I'll spare you the details unless you're some twisted weirdo which I'm sure at least 7.529% of you are. If that's the case  and you want details,  don't send me an email. The bright side is I'm feeling good again and it's a spectacularly sunny day here on the Osa Peninsula in Costa Rica.  Enough of that though and back to the topic at hand which is Drake Bay.
Below is a group of photos as seen on instagram from my trip to Drake Bay, Costa Rica over Thanksgiving. I loved Drake Bay but it wasn't somewhere I could hang out too long unless I had a satellite phone. The reason is the internet wasn't up to snuff as it's basically this small refuge in the middle of unrelenting jungle and well, I'm hopelessly addicted to the internet. I'm so addicted that I just started a group called "Travel Addicts" on Google+, if you're on the network and hooked on travel, do yourself a favor and join the support group of the hopeless and proud.
While you're at it, come hang out with me on Instagram, yes?
I was only in Drake Bay for 3 nights and sadly it was "grey old days" for most of the stay. That said I did get some sunshine and manage to make a video of yours truly kayak surfing. It was good times but I was super stressed out as I was also borrowing Aguila De Osa's fishing rod and trolling. Therefor I couldn't get too loco because if I tipped or caught a big fish I might lose the rod and I'd have to go back feeling like a chump. Seriously though, kayak surfing is pretty cool.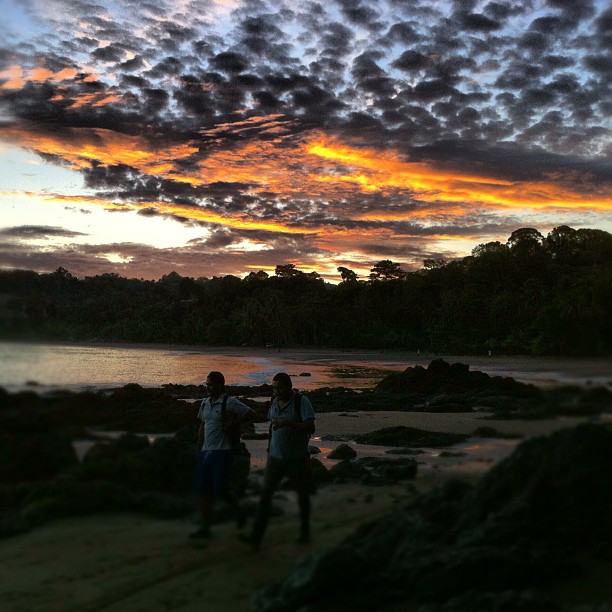 Suffice to say, Drake Bay is good timse and stay tuned for more updates.
Tips hat,
P.S: Fresh yellowfin tuna sashimi is arguably my favorite dish of all time.