Dome Suite and Spa at Hotel Cafe Royal

Good morning!
I'm writing this in a particularly cheery mood as my most pleasant stay at Hotel Cafe Royal comes to a close. The fine people at Booking.com asked me to find the most epic accommodation I could think of in Great Britain and naturally, I found myself here in the heart of Piccadilly Circus. To say this hotel has made me a happy man would be anunderstatement and the location simply can't be beat. Today, let's discuss the Dome Suite aka "Party Suite" and Akasha Luxury Spa here at Hotel Cafe Royal…
Yesterday I met up with some friends and afterwards strolled the streets in a pleasant mood back to the hotel. There I met up with a gregarious gent who was kind enough to give me a tour of the exclusive Dome Suite here at Hotel Cafe Royal. This is one of their top suites and called the dome because well, the whole room is a massive circle. The room itself is lovely but it's all about that rooftop patio over top of Piccadilly Circus…
The patio offers incredible views of Piccadilly Circus as well as Regent Street and on a clear day you can see Big Ben and The Shard; indeed. It also has an incredible bathroom with a massive green marble bathtub; the only green marble in the hotel with everything else being white marble. It's typically rented out for parties or the like and I'm sure if those walls could talk there would be some most surreal stories told. What's interesting is that it also has a party lights function and guests can bring their own DJ equipment etc… It's built for a party and the perfect place for one.
After visiting the suite I reconnected with some other friends before retiring to my room for what I thought would be an early night. This morning I finally made my way to the Akasha Luxury Spa on the lower level of the hotel. I strolled into the spa at about 7am and as I assumed, had the entire place to myself; what a cool experience. I'm a gent who loves to socialize but nothing beats an empty golf course or spa in my opinion.
There is a great pool with lots of private enclaves to lounge in surrounding it. That's not the best part in my opinion though, it's the steam room; oh what a steam room. I like a steam room that is so hot it literally burns your face as you enter and after five minutes or so you're ready for a cold shower to do it all over again. This could be the best steam room I've ever been in and it also had lots of seating as well as this wide bed like bench to really get comfortable; which I did.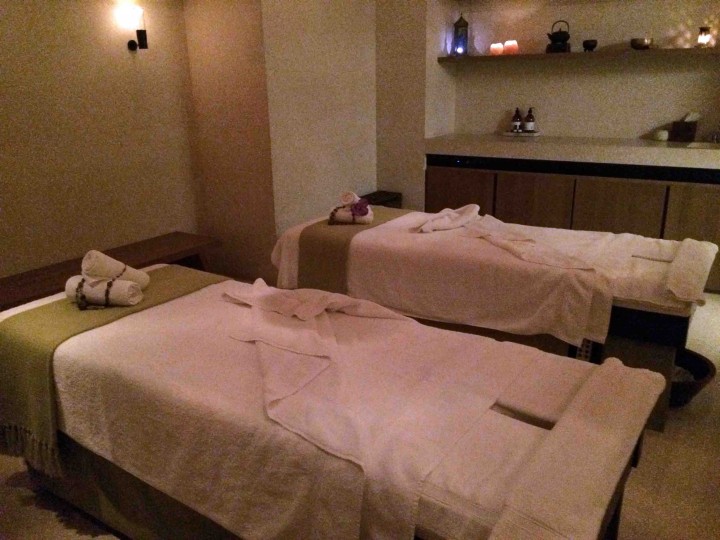 I'd better wrap this up as I'm traveling today and have lots to do.
Huge thanks to Booking.com for hosting this campaign and iambassador for managing it. That said, rest assured all opinions are mine as they always have been and always will be. The goal of the campaign was for me to find the most epic accommodation possible in which to experience London and I believe I succeeded.
Tips hat,
P.S: Pardon the photo quality from the spa; only so much an iphone can do in low light.