DIY Projects That Can Change The Look Of Your Home In Less Than 48 Hours
It can be hard to keep on top of your home's décor, especially if you have a busy life, it can be hard to find the time to do home improvement projects. But what if we told you, not every home improvement job needs to take days of time?
Well, we've collected three incredibly easy home improvement tasks, which can be done start to finish in less than 48 hours, meaning in just a short weekend, you can fundamentally change the look and feel of your home.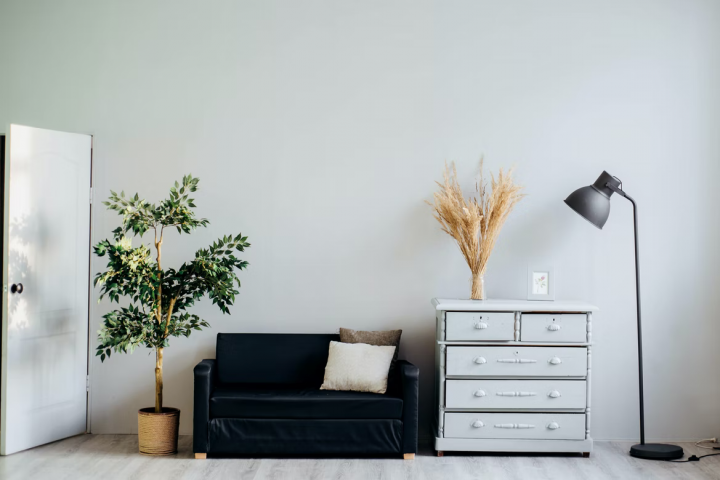 Create A Focal Point By Wallpapering A Feature Wall
In just a few quick hours, you can give any room in your home a new, eye catching look by creating a feature wall, which will serve as a focal point for that room's décor. Applying wallpaper to your feature wall will help draw your guest's attention toward your feature wall and away from less finished aspects of your décor.
For this project, you'll need: a measuring tape, some wallpaper, some wallpaper paste and some wallpapering tools. All of which you should be able to find at your local hardware store.
First off, measure the wall you'll be making your feature wall, so that you know how much wallpaper you need. Once you have your measurements, head to the hardware store, grab some wallpaper and the other bits you'll need. From there, just apply the paste directly onto the wall and then add the wallpaper.
With just a few hours of hard work, you have added a feature wall to your home and completely altered the look of the room it's in!
Replace Curtains With Blinds For A More Modern Look
If your home's old curtains are starting to dampen the stylish look of your home, it may be time to replace your dusty old curtains with a nice set of modern blinds, like roller blinds. Roller blinds will add some fresh life back to your home, help inject a splash of colour and will keep looking fresh for a lot longer than curtains would.
For this task, all you'll need is: a measuring tape, a power drill and a screwdriver.
Firstly, you'll want to measure the size of your window, so that you know what size blind you need, then you should find a made to measure retailer like DotcomBlinds that can produce your roller blinds and deliver them the next day. When you receive your roller blinds, you just need to follow the manufacturer provided instructions with the supplied fittings.
This task is incredibly easy to do in 48 hours, especially if you can get your blinds delivered the day after ordering, this will freshen up any room and provide a lovely modern look to your home.
Repaint Cupboards To Give A Room A New Look
Tired old cupboards and wardrobes can completely ruin the look of any room in your home, it doesn't matter how well you decorate, if you have dull cupboards covering your walls. Luckily though, with a few coats of fresh paint or wood stain, you can revitalise your home's cupboards and make your home feel new and fresh, without breaking the bank.
For this task, you'll need: appropriate paint or wood varnish, paint brush and a screwdriver.
To start off, use your screwdriver to remove the doors from the cupboards, once you have removed the doors, simply get your paint/varnish/stain and apply a few coats to the door following the instructions on the tin. Once you're happy with the paint and everything is dry, just re-attach the doors to the cupboards and your home will look as good as new.
From start to finish, this project will take a few hours at most (most of that will be waiting for the paint to dry), making this an excellent home improvement project for a bank holiday or lazy weekend.