Discovering Subotica & Palic Lake, Serbia
Greetings,
I've just finished a great day exploring a city that I knew nothing about until earlier this morning. The name of the city is Subotica which is the most northern city in Serbia and the fifth largest. It's a trilingual place where Serbian, Hungarian and Croatian are all spoken and it was one of if not the largest city in the area until the late 19th century. Today it's a bit sleepier but quite beautiful and a stones throw away is Palic Lake which is a splendid spot to spend some time on a sunny summers day.
The group left Novi Sad this morning and most of the team I'm traveling with went kayaking but myself and my new friend Mark made our way north for about an hour and fifteen minutes or so until we reached Subotica. Something interesting is that it doesn't have a huge cathedral in the centre of town but instead the Town Hall which is just as large if not larger. In front they have a nice park and some interesting fountains; it was a weekday but still quite a lively spot.
We went for a small tour of the town taking photos and filming video. We made our way to the Modern Art Gallery which is quite the structure… It's an incredible work of art and supposedly the architect went bankrupt not long afterwards. Not that long ago, a gent purchased the building and touched it up to resemble what it was originally and they have a great courtyard and cafe / restaurant behind it. We stopped there for some coffee and such before heading to the synagogue.
The synagogue in Subotica is unreal and another work of architectural art. Sadly, most of the Jewish population was wiped out near the end of World War II and the building has been left unused since. There is still a small community in the area but they practice in a smaller synagogue nearby. Following that we made our way into City Hall. We did a quick tour inside and marveled at the stained glass windows and craftsmanship before making our way out to Palic Lake which I quite enjoyed.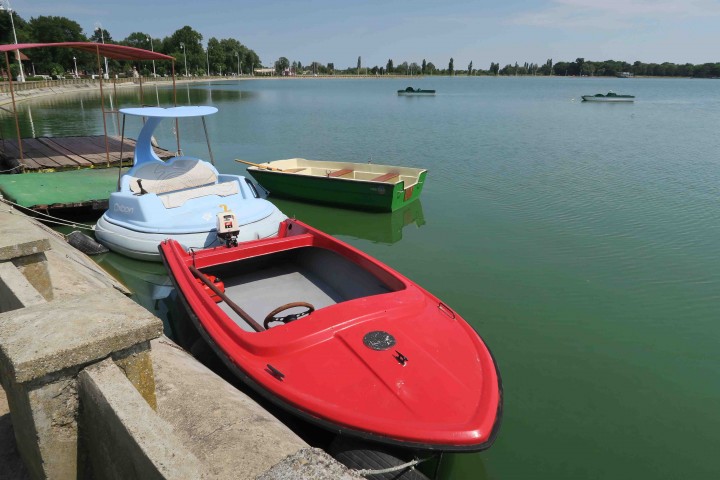 Palic Lake used to have a natural spring and be used as a large spa; the days have since passed but there are still some spas and wellness centres one can visit. You can rent paddle boats and these cool quad cycles of sorts; should I return I'd like to try one.  They also have these other small boats with 4hp motors; they seemed like good fun with the right company. The lake was quite calm and alongside it there was this awesome cafe playing chilled out and funky electronic music that served cold drinks. It was ta patio on the shore and the restaurant / cafe itself was on a boat.
We stayed there for a while after doing some exploring before heading back into town. There we had some lunch before making the trek back. The city itself isn't that large with just over 100,000 people in the last consensus but somewhere I most certainly could have spent more time. If you're traveling through Serbia I suggest you make a stop there for an evening or so and enjoy the chilled out vibe. It's also quite beautiful so if one had a full day, would be fun to photograph in blue light.
Now I'm in Belgrade and later tonight myself and some friends are going on a tour of the nightlife. I've been to Belgrade before and gone out several times but never to a large club so I'm quite interested to see what it's all about. That said, I'm also going on a great hike tomorrow so the fun will be had with that in the back of my mind; yes?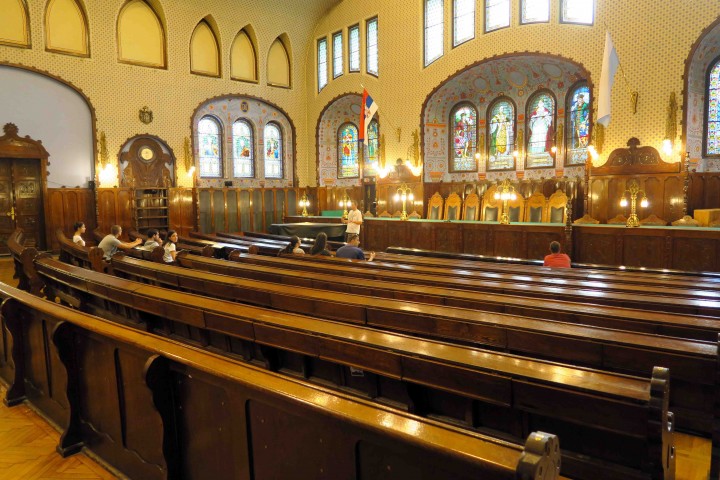 In closing, the #MySerbia trip was created and managed by iambassador in association with the Serbian Tourism Board. That said, obviously all thoughts are my own as they always have been and always will be. For more images and insights from Serbia, visit Serbia.Travel for a stream of what's happening on social media across most popular networks.
Tips hat,