Discovering North Wales
Greetings,
I'm writing this in high spirits from the historical town of Ruthin in North Wales. Today was cool and a real travel day starting off with an early cab ride to Euston Station in London. There I caught a train heading towards Glasgow where I got off at Crewe and took another until I reached Chester. Chester is a popular destination on the border of Wales and shortly after arriving at the station, I was in Wales and so the adventure began…
I met up with my guide for the week, a gregarious gent named John from Boutique Tours; he's a nice guy who knows his stuff so I'm looking forward to learning lots about Wales from him . The first order of business was heading to Hawarden Farm for lunch as it's known for having great locally sourced food. We both had the club sandwich that turned out to be a brilliant choice. It was massive and even came with real bacon, the kind dreams are made of and some cranberry sauce to top it all off.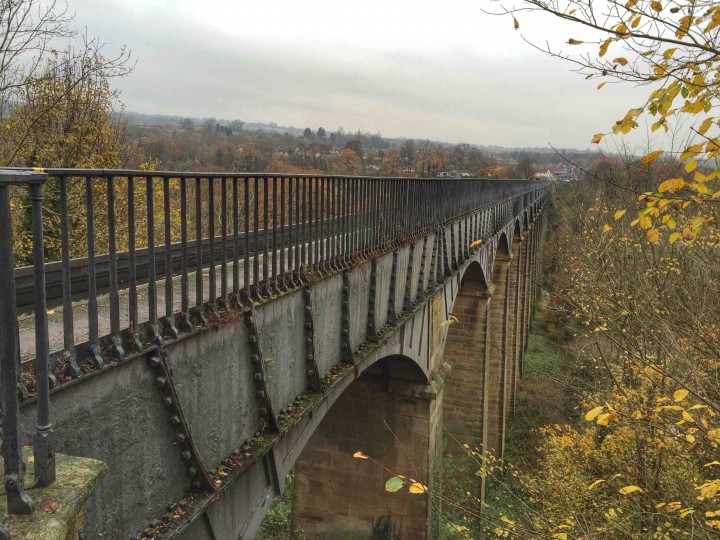 Following that we drove to the Pontcysyllte Aqueduct which also happens to be a Unesco site and for good reason. It really is an engineering feat built between 1795 and 1805 at the start of the Industrial Revolution and spans 1000 feet between two valleys. It's approximately 123 feet off the ground and is known locally as the stream in the sky. It's quite the sight consisting of 18 arches and to this day has supposedly never leaked. It also has an interesting mix to hold it all together which came from the chief engineer's mother and includes ox blood; seriously.
A popular thing to do is take cruises through the canal which crosses the aqueduct; you can also walk across it like I did. Following that we drove the Panorama and it does offer some great views but on this particular day most of the mountains were covered in midst which added to the experience but not so great for photos to share with you, sadly. Along the way you can visit the Castell Dinas Bran but we were getting short on time before sunset and decided to skip the hike. Supposedly it takes an hour or so round trip to visit and seems like a worthwhile experience time permitting.
From there we made our way to the lovely little town of Llangollen in Denbighshire which sounds totally different in Welsh than it's spelled. I really tried to work on my Welsh pronunciation today but let's just say it's not that simple and I most certainly have a long way to go. Suffice to say, this little town of 3500 odd people is quite quaint. On the bridge you have some great views and I even saw some kayakers enjoying themselves. I asked one to take the rapids and I recorded it on my GoPro; stay tuned for that in the coming weeks.
The town is also host to the Plas Newydd House which was home to these two notorious ladies back in the day. It's a cool place with all sorts of sculptured hedges. I really liked Llangollen and could have easily spent an entire afternoon their wandering around, taking photos and peaking my head into different pubs to try the odd pint or two. Each July they host the Llangollen International Musical Eisteddfod which brings in roughly 120,000 visitors; sounds like a good time to this gent.
As the sun started to surrender for the evening we made our way to Ruthin along the Horseshoe Pass and stopped at the ruins of Valle Crucis Abbey. The place was founded by Cistercian monks in 1201 and is still in great shape all considering; of course it's simply a shell of its former self but some large arches are left which give you an idea of what it was like during its prime. Wales is home to ~640 castle sites so if you like ruins, stone buildings and rolling landscapes; you'll love it here just like I am.
We drove to Ruthin over the Horseshoe Pass before taking the old route which was used in medieval times. At one point it has signs to Worlds End which is called that because this whole area was insanely hostile for most of its history. It's called that because most people who went that way simply never came back so it was the world's end for them; makes sense, yes? It's called Horseshoe Pass because if you look at it the pass is actually a huge horseshoe in the Berwyn Mountains.
Once back on the road it wasn't long until we finally made it to Ruthin and checked into the Ruthin Castle Hotel where I'm writing this from now. This is one of the more unique accommodations that I've ever had the pleasure of staying in and is built from the stones of the original Ruthin Castle which is now in ruins. It definitely has a castle feel to the place and also hosts medieval banquets in the like. They also have a cool spa with steam room, sauna and all sorts of wooden tubs of various temperatures; I just returned and if you're staying here I highly recommend it.
I'd continue but I feel as though this gives you an idea of what to expect; I will note that I had pan-fried pigeon as a starter tonight and it tasted like liver.  It was that or the Welsh rarebit, should have gone with the second option. Tomorrow I'm off to further explore Wales and will be reporting back again in the evening so do stay tuned for more information and photos from the North of Wales. Oh, one last thing… I saw a few golf courses today and they look brilliant and ever so green, I'll need to get a round in at some point in the future for sure.
This post is from a campaign that was created by Visit Britain in partnership with iambassador. That said, obviously all thoughts are my own as they always have been and always will be.
Tips hat,
P.S: Thanks to reader "The Welsh Wizard" for sending me this video.