Good day,
I'm sitting here sufficiently satisfied after devouring a fresh spanner crab caught at sea off the Sunshine Coast a few hours ago. I had an early start to the day with my alarm going off at 4am to join the crew of Mooloolaba Fish N Crab Deep Sea Charters for a day out at a sea. It was a great day that started with a surreal sunrise over the harbor and ended with myself and crew of friendly fisherman having lots of laughs and catching lots of fish.
The charter left at about 5:30am or so and by 7:30 we had lines in the water. This was quite the sea worthy vessel and it had everything needed for a day of serious fishing out at sea. What was cool was that the crew was as into it as the rest of us and they didn't stop working from start to finish. About half way out we dropped some crab traps and we pulled them in on the way; with decent success I might add.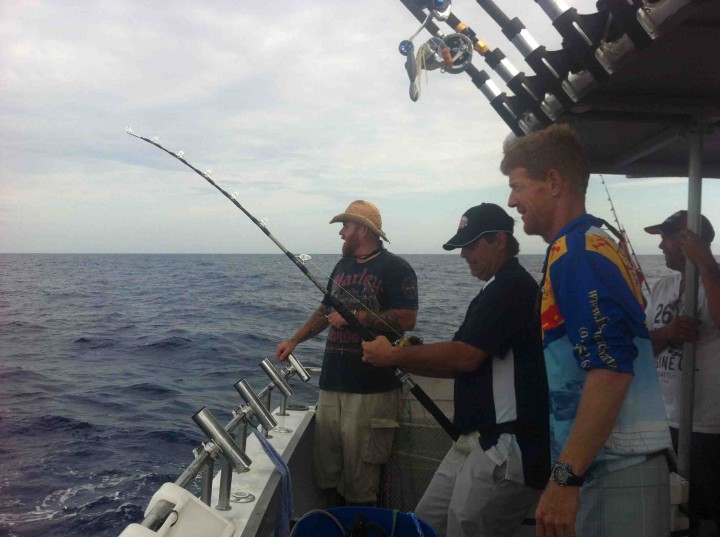 We hit up numerous spots which are known to have some fish and I have to say it was a rather fruitful day. Fishing is like a safari, you never know what you're going to get as all you can do is show up and the old saying "you never know unless you go" holds quite true. Everyone except for one lad landed a keeper and a a few lucky fishermen even pulled in double digits; the catch was plentiful.
We went out about 29 miles at our furthest point which took roughly two hours. It was one of those places where you can't see land anywhere and you trust the captain knows where it is as you have no clue. We caught a large variety of fish whose name elude me but you'll see most of them in the video I'm going to release in the not too distant future. Most of the time it was bottom fishing but we did have a wahoo on the line and I landed a tuna.
The boat was called the Crusader I and could host a maximum of 25 anglers at once; we had about 15 or so today. I can't say enough good things about the crew as they were busy helping people the entire time. On the way out there was coffee and snacks, a little while later lunch and on the way back we pulled the crab traps and boiled them on-board.
Besides the tuna, I also caught a banana fish which was a keeper but I decided to give my tags to a lad who caught nothing. I did however make sure I got one of the spanner crabs which if I didn't already mention, was delicious. The boat left at 5:30am and returned at roughly 2:30pm in the afternoon. There were also dolphins swimming with the boat a few times which is always cool.
I have to say that I was quite pleased with the fishing action of the Sunshine Coast of Queensland, Australia but fishing aside, it was a cool experience. Lots of fish were pulled in but a few gents had what appeared to be real monsters who either buried themselves under a rock in the reef or got off the line like big fish often do. I'd be keen to try my luck deep sea fishing off the Sunshine Coast again anytime.
In closing, I'd like to thanks Tourism and Events Queensland for their hospitality as well as the fine crew at Mooloolada Fish & Crab Deep Sea Charters for a memorable day at sea. These fishing trips are always an early start but when you're ~30 miles out to sea at 7:45am in the morning with a line in the water you realize it was all worth it!
Tips hat,
P.S: This song seemed to be a favorite on board today & vlog coming soon.