Greetings,
First let me say that I'm really starting to LOVE Fort Lauderdale, Florida. This is my second time here in the last month and really starting to get a feel for the place, it has everything.  Today I had the pleasure of going deep sea fishing with Reel Work and we caught roughly 20 black & yellow fin tuna, yes 20! The Lady Pamela II was busying pulling in a 600lbs thresher shark, yes they released it. This is not a joke, I saw a photo and a gent said he'd send it to me, let's see if that transpires…
I took a water taxi to get to the Hyatt Regency Pier Sixty-Six Marina and it was pleasant, if you're in the area suggest you experience it. Don't count on it being overly punctual though, think of it more as a tour of the area. Anyways, back to fishing… We left the harbor at about 1pm and within 5 minutes we caught our first fish, this set the tone for the rest of the day.
Literally it was non stop hits, several times it was three fish on the line at once. Most of the fish we pulled in were a few pounds and three of them were roughly 7-10 pounds. Those little guys put up quite a fight and we were all over the moon considering the skipper told us that it was slow lately and the morning group only caught a total of two small ones. We were catching so many fish that all the other charters were coming near us as the captains chat on the radio. The skipper said that the others were getting skunked. That's fishing for ya, anything can happen and you'll never know unless you go!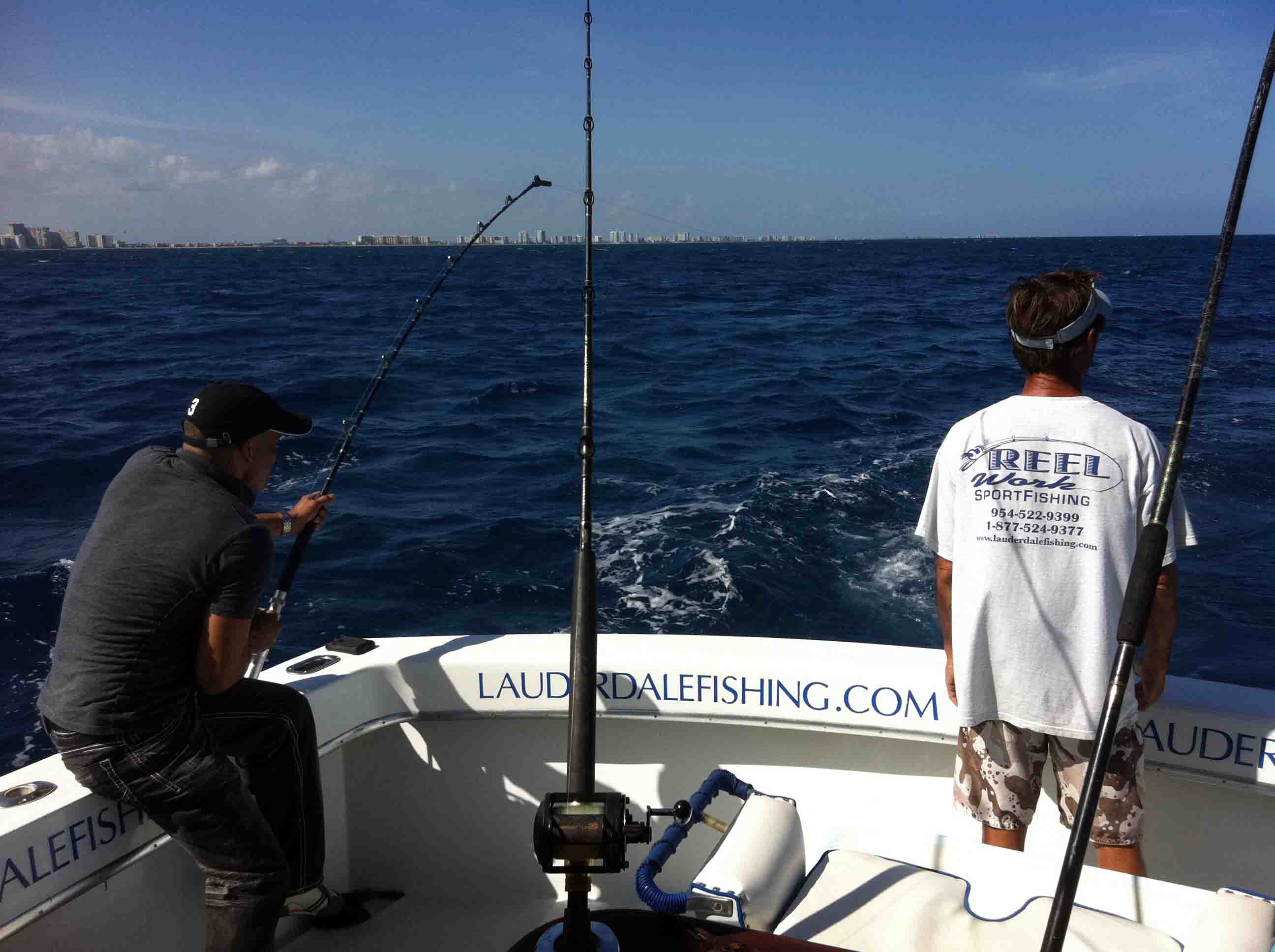 After all was said in done, I had large chunks of sashimi in my hand that are now in the fridge at the Pelican Grand. I'd like to thank my new friend Jose for giving me a lift back to my hotel and get this, I'm having one of my favorite meals prepared tonight for $5+tax at a seafront restaurant… How you ask? Considering I'm on South African time, woke up at 1 or 2 am and went for breakfast at 7. When I arrived they were just opening and began chatting with the chef who had on a killer pair of Air Jordan sandals.
Suffice to say I went back to that restaurant which was recommended by the bell hop as soon as I returned to the hotel. As fate would have it, he was still in the kitchen and said he'd make it. Verified with the owner and it's all good. If you're ever worried about moving somewhere because you don't know people, don't be. The plan is to have one of the large steaks prepared into ahi tuna on a bed of rice with vegetables. The other large steak I will eat straight sashimi style without any soya or wasabi for breakfast tomorrow because I'm just "that kinda guy".
Oh how I almost forgot to tell you something… When myself and Jose were walking to his car, we saw three tarpon that were easily over 200lbs, have never seen a fish that large before until we saw two groupers that dwarfed them! Swimming around them like crazed lunatics were a school of 5-10 large jack fish. They all hang out in the marina underneath the "chopping block" that everyone uses when they return after a fishing trip.
What an awesome day, huge thanks to the Greater Fort Lauderdale Tourism Board and I have all the footage for an egregious video but it's a Friday night so I'll publish it sometime later, probably this summer when I'm home visiting family aka super boring time for "blog adventures". I'd continue but my mouth is already watering at the thought of that ahi tuna, hmm ahi tuna!
Tips hat,
P.S: Your eyes are NOT deceiving you, I actually am biting into that fish in the picture…