Vancouver is world class and the day trips from Vancouver are not to be missed. When someone starts talking about British Columbia, it's more than likely that the word Vancouver falls in the same sentence. Vancouver is the most well-known aspect of BC, but it's certainly not the only thing to see here. BC is a big place; it's home to outdoor adventures, friendly locals, untouched nature, and of course, legal weed. 
The best way to experience all of these things and more is to book a flight to Vancouver and go from there. Once you figure out where to stay in Vancouver, you can easily make it your base. From there you can explore the popular sights and sounds surrounding the city. There are dozens of day trips within easy reach of the Vancouver city limits. Check out the most popular day trips from Vancouver here. 
Favorite Day Trip from Vancouver: Victoria
Most non-Canadians assume that Vancouver is BC's capital. Heck, even some Canadians might think this. Well, it's not; the capital of the western-most province is actually Victoria. Victoria lies off the coast on Vancouver Island, a journey that takes about 90 minutes by ferry.
Many travelers choose to explore Victoria through an organized tour, especially if they're doing it as a day trip. It's also possible to do it on your own, but a guided tour gives you the chance to see as much of Victoria as possible. This typically includes a trip to Butchart Gardens and plenty of time to meander around downtime. Anyone wanting to go all out can sign up for a helicopter or seaplane tour over the city. 
If you're going to make the trek and you have time, spend the night. if you don't, visiting Victoria makes for a full day trip from Vancouver. It will be a long day but worth it.
Day Trip 2: Harrison Hot Springs
Located just 120 kilometers from downtown Vancouver, experiencing Harrison Hot Springs is a must. The lake here is perfect for kayaking and boating, or you can just spend the day in getting pruny in the soothing water of the hot springs.
When it's time to get away from the water, be sure to walk around the charming town. HHS is filled with antique shops, historic sites, and quaint restaurants and cafes serving locally-sourced food and coffee. You can take the self-guided Circle Farm Tour to experience it all.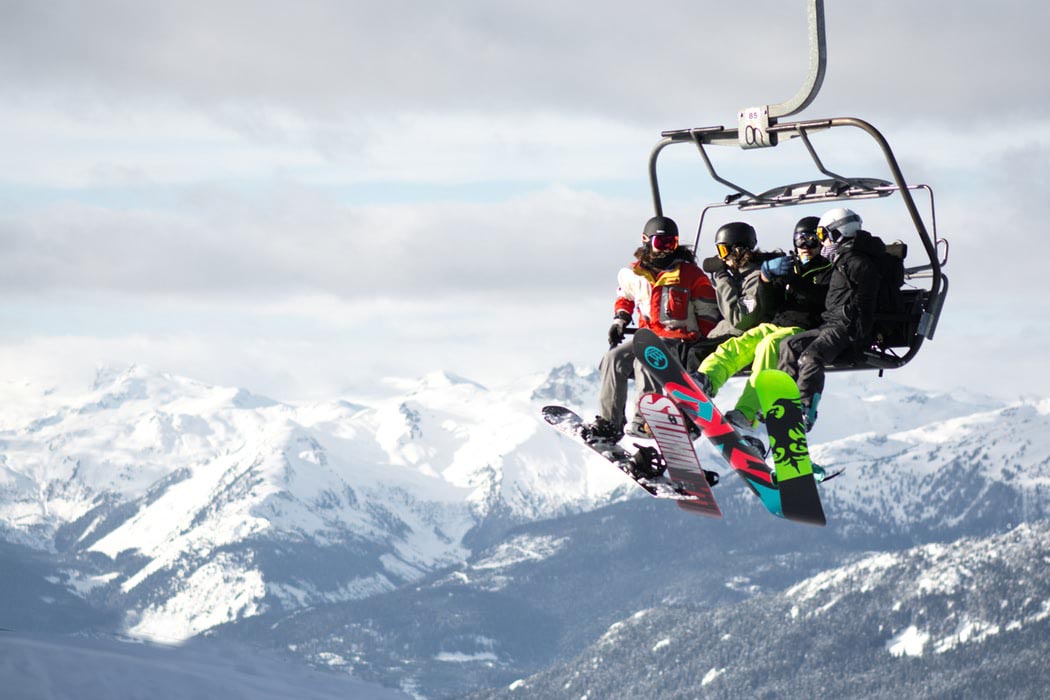 Day Trip 3: Whistler is a great weekend getaway
Whistler is by far the most popular day trip from Vancouver. Part of this is because Whistler is just 2 hours from Vancouver, but it's mainly because Whistler is beyond stunning. In order to get there, you'll drive along the Sea to Sky Highway – the name speaks for itself. This highway is nothing but blue sky and sea the whole way.
When the weather is right, Whistler is the perfect place for hiking and snow sports. Even if you're not into outdoor sports, you can still have a good time in Whistler. Spend a few hours meandering around Whistler Village, then take a gondola ride through mountain peaks.
Day Trip 4: Langley
Wine lovers from around the world flock to the small town of Langley. It's just a 45-minute drive from Vancouver. You might want to hire a driver if you plan on taking advantage of the wineries and breweries of Langley City. You probably won't be able to see all of the alcohol establishments in just a day – there are 7 wineries and 2 breweries – but try to see as many as you can.
Day Trip 5: Bowen Island
If you've got the time to take a trip out to Bowen Island during your time in Vancouver, by all means, do it. By ferry, Bowen is a quick 20-minute trip from the west side of the city. The slogan that goes along with the island is Within Reach, Beyond Comparison, which will make complete sense to you after spending 30 seconds here.
Bowen is home to some of the prettiest beaches and bays in all of BC. In the summer months, Bowen is the perfect place to get away from the city's hectic vibes. Travelers and locals come here to get in touch with nature through hiking, kayaking, swimming, mountain biking, and more.
Day Trip 6: Squamish
Squamish is an outdoor adventurer's dream destination. It's home to tons of adrenaline-inducing activities, like kiteboarding, rock climbing, mountain biking, hiking, and cross country skiing when the weather is right. The most well-known aspect of Squamish is the Sea to Sky Gondola, which is the perfect photo op of Howe Sound. 
Day Trip 7: Sunshine Coast
Similar to Bowen, Sunshine Coast is another perfect summertime getaway spot. Plus, it's just a quick trip from the heart of Vancouver city. You'll take a ferry from the same water terminal you would for visiting Bowen – Horseshoe Bay – and boat through Howe Sound.
Spend the day chilling on the beach, exploring the outdoors, and taking in the set of the popular Candian TV show, The Beachcombers. Spending time in the main city of Sunshine Coast, Sechelt is the perfect way to get away from the craziness of Vancouver. 
Day Trip 8: Vancouver Island
We've already covered the main attraction of Vancouver Island (Victoria), but it's not the only thing to do here. You can take two separate day trips to the island and have completely different experiences with each one. If you choose to forego Victoria, rent a bike and explore the nature around VI.
Viator is a really popular VI tour company that includes a farm-to-table lunch as well as a wine tasting. This tour isn't for the faint of heart, though; it involves about 55 kilometers of cycling from start to finish. But if you consider yourself in decent shape and you can handle a few sips of wine during the cycling tour, by all means, go for it.
Day Trip 9: Bellingham
Bellingham is a bit of a drive from Vancouver, but it is well worth the hour and a half you'll spend in the car to get there. The main draw of driving to Bellingham is that you can say you spent time in two different countries. That's right, Bellingham is just across the border in the United States, so don't forget your passport.
Bellingham is located on Washington's coast, and it's the perfect place for Canadians to do some shopping. Bellis Fair Mall has tons of shops that aren't found in Canada. If you're not so keen on the idea of shopping, spend some time at the town's Whatcom Falls Park or the Fairhaven Historic District.
Day Trip 10: Bridal Falls
Getting to Bridal Falls takes about two hours by car from Vancouver, so try to leave early in the morning if you plan on doing this all in one day. This small town is located right next to Bridal Veil Falls Provincial Park, which is a straight shot east along the Trans-Canada Highway. 
The main attraction within the park is the Bridal Veil waterfall. It gets its name from the veil-like effect it has as it cascades towards Earth. Aside from seeing the waterfall, you can spend the day hiking, picnicking, and getting in touch with BC's abundant nature. 
Final thoughts on best day trips from Vancouver
To conclude, these are some recommended day trips from Vancouver. This is not an exhaustive list, there are countless more day trips one could take. Vancouver has such a rich surrounding area that that the possibilities are literally endless.