Conwy Castle in North Wales is Incredible!
Greetings,
I'm writing this with a big smile on my face because today I got to visit Conwy Castle which is in the medieval town of Conwy in North Wales on what could best best described as a picture perfect day. I wore a jacket most of the time simply because I had brought it with me; it was true sweater weather in mid-November and the sun was shining oh so bright.
The castle and the town walls are a UNESCO World Heritage Site and for good reason. It's also home to the best preserved castle walls in all of Wales and yes, I walked the length of them. Conwy being a important tourist attraction is also one of many interesting facts about Wales.
The day started off with a full Welsh Breakfast before meeting my new friendly guide named Alwyn from Celticos Guided Tours and we hit the streets. The first order of business was to walk the town walls which are actually in quite incredible shape all considering. Conwy was built by King Edward and part of it is from the remains of a Welsh castle across the river which had been destroyed by the Welsh themselves when they realized they were going to lose the area.  If you're going to visit Conwy Castle, you'd be missing out not to walk the walls as they offer great views of the town and surrounding area.
The townn walls have all sorts of towers and when you're in the town it doesn't really feel that large but after walking the walls and looking around you realize that Conwy is quite sizable. Something that makes Conwy interesting is that it's the first of its kind in the area to be built near a river instead of high on a hill. You see, high on the hill is optimal for security but a real nightmare when it comes to supplies. King Edward realized that his castles were strong enough so he didn't have to build them so high on the hills and having it near the river bed gave him easy access to supplies and let him control the river itself.
After walking the walls we strolled the streets and right near the harbor is a very small home. It's so small in fact that it has the title of being Great Britain's smallest house. It's so small that if it were not painted bright red you'd assume it just part of the house beside it. If my memory serves correctly it's roughly 6 feet by ~10 feet or something of that nature. Interestingly enough though it's right in the harbor so it most certainly has that going for it location wise.
Now it was time for the main event which simply amazed me. I absolutely love castles and was always the type of kid who built forts growing up. Do you know the difference between a castle and a fortress? It's rather simple really, anything that you hangout in for defense could be classified as a fort but in order to be a castle it has to be suitable to host royalty. You know, kept up to snuff and fully stocked so that if the master comes home it's like he never left; the old expression "living like a king" didn't come from nowhere.
Moving on… We made our way to Conwy Castle and it's in great shape really. It has these large looming towers and sadly is hollowed out on the inside like most castles. That said, you can still get an idea of what it was like as well as a chance to walk up to the tops of the towers and stroll along the outer walls. When inside you realize that King Edward was a smart man because whether this castle was built on the hill or by the river bed, nobody was getting in. That said, the castle has to hold because that was the main defense; the surrounding hills were loaded with Welsh who weren't so pleased about his presence.
I spent a good deal of time in the castle and since it was such a clear day I could see for miles and miles in every which direction. I'm believe I wrote this above but I'll write it again, I feel ever so lucky to get to see Conwy Castle on an absolutely beautiful day and without a doubt this has quickly risen to one of my favorite UNESCO Sites. I say one of the top as I honestly can't remember all of them off the top of my head but there are a few other gems just like Conwy.
Next up we took a side trip to Snowdonia National Park and visited the Pensychnant conservation centre and nature reserve. In side this nature reserve there is one particular vVictorian house that stole the show. It's now taken over by a trust as the owners simply can't afford the upkeep. The area here is so beautiful and since Conwy is a gateway to Snowdonia, some industrialists back in the day would move here after they made their fortunes for the clean air and laid back way of life.
I know it's in another era but I love those old Victorian houses and often imagine what it was like to live in one. You see, it's easy to look at something and just see it like a layman but life is in the details The ceilings aren't just 12-15 feet high but they are decorated immaculately and the list goes on and on. It's easy to imagine what life was like for the lucky few who lived in these miniature castles but enough dreaming and back to reality, yes?
Following that we went to Bodnant Welsh Food Center where you can sample some of the very best Welsh foods. They offer cooking classes, have a restaurant and a five star bed and breakfast. I sampled lots of things from fine wines to cheeses and had the lamb cawl for lunch. A cawl is basically a cross between a stew and a soup if that makes sense; it was my first cawl and hopefully not the last. I can't stress enough that there are so many sheep around these parts that it will make your head spin so if you like eating lamb or were ever curious about tasting it; this could be the place to do it.
I'd continue but this is turning into a novel. I'm at the Royal Oak Hotel in Betws-y-Coed which isn't far from Bodnant and known as the official gateway to Snowdownia National Park. Tomorrow I've got another big day so I'm going to finish this off, eat some more lamb and have an early night in order to be ready to do it all over again. I have to stress that the weather was simply exceptional today and I hope it holds. One thing is sure, Great Britain is without a doubt one of the most beautiful places on this planet when the weather is just right.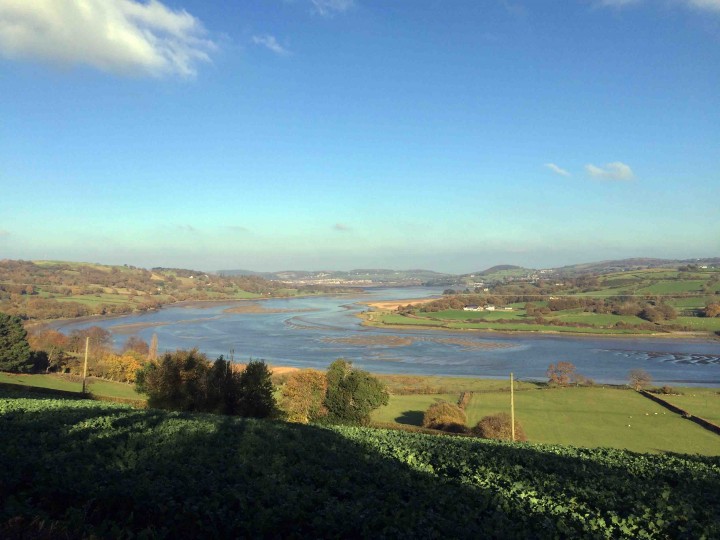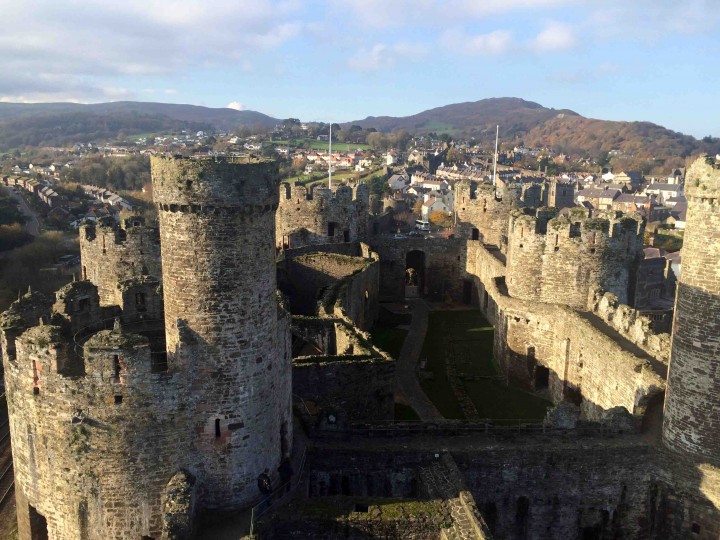 Tips hat,