Greetings,
I'd like to take a minute to talk about a place I recently visited and thoroughly enjoyed, a place I think you'd enjoy as well. The place is called the Downtown Container Park which is on Fremont Street in Las Vegas, Nevada. The Fremont Street Experience is something which draws large crowds and if you're there or in the area, do stop by the Container Park.
The Container Park is little more than what the name suggests; it's a bunch of shipping containers turned into a trendy spot which hosts a fire breathing mantis out front, boutique stores, cool bars and restaurants. Let's discuss the fire breathing mantis for a moment, yes? I just thought it was this cool looking art until I saw fire coming out of it and was taken back. On top of it, it usual blows fire to the beats of different songs, an attraction in itself.
The Container Park is suitable for all ages with a big playground in the middle and an outdoor movie theatre where people can relax. When I visited it was more of a children's theme but I've only ever been there once so who knows what else it plays. The food is very eclectic and you can get anything from vegan deliciousness at Simply Pure to wholesome BBQ at Big Ern's BBQ. It also has a good looking Mexican joint and a few other spots but those are the three that really caught my attention.
I figured I'd have some healthy vegan food appetizers before going into the mains which would naturally be some BBQ. I drank several smoothies at Simply Pure and even had their kale salad, which was out of this world by the way. Afterwards I made my way to Big Ern's for some BBQ. I was thinking of going with a brisket, ribs and potato salad but there was a 30 minute wait at Ern's spot so I opted to leave. That said, I did pick up two packs of jersey at Jojos Jerky which is one of the many funky shops.
The Container Park attracted a random group of people from those with families to gents enjoying pints waiting for their BBQ. It's a hidden gem if you ask me because if you didn't know what was in there, you'd probably look no further than the big sign reading Container Park above the entrance. Perhaps if the fire breathing mantis was up to its antics you'd pay closer attention but with so much going on in Las Vegas it's easy to miss great spots even when they are right in front of you.
Not sure when I'll be back in Las Vegas but if I am and in the area, wouldn't hesitate to revisit the Container Park. On that note, The Park Vegas is also amazing and on the strip. If you're in the area, I highly recommend you check it out as well. something for everyone and you'll be glad you did.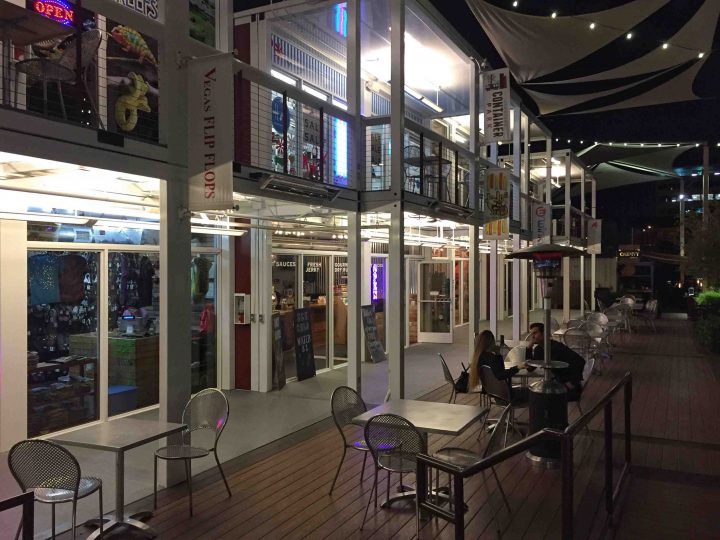 This post was brought to you as a result of the Nevada blog trip, created and managed by iambassador in partnership with Expedia and TravelNevada.  As always, Stop Having a Boring Life maintains full editorial control of the content published on this site.