Good day,
I'm writing this so stuffed from the Social House Platter at The Copper Pig in Prince George that I can barely function. Don't for a moment think I'm distressed as the word stressed is not in the equation, I am simply beyond satisfied. We're going to discuss in this update a solid round of golf at Aspen Grove Golf Course in Prince George, British Columbia. The course was one of those small off the beaten path spots I just love to find…
We arrived at the course around 9:30am and it was one of those days blessed with perfect weather. Blue skies and a solid temperature that isn't too warm or too cold aka perfect for lounging around or some light leisure activities like golf. Considering it was a Tuesday morning, the course was quite quiet aka the way I like it. For some reason they had us teeing off on the 10th hole and it's quite picturesque, I just wish I didn't send my drive into the drink…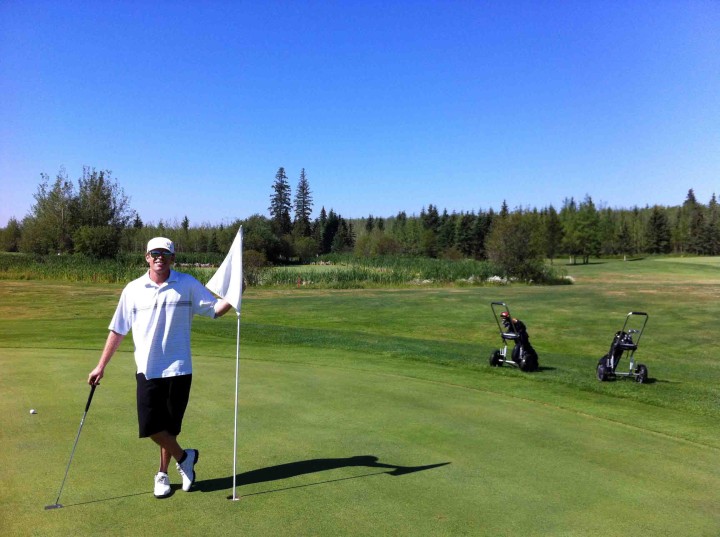 The course is a mix between tight holes with all sorts of trouble and other ones which look like they were just thrown inside a farmer's field. There was enough hazards to give you trouble but as a whole the course was quite fair. It had a mix of water, trees, tight windows where your ball had to whiz through and greens that were surprisingly speedy and smooth. If you're going there, I recommend you bring your own clubs as the rentals were definitely the weakest link in the chain.
I quite enjoy courses like this because they're really unique and laid back. You could tell it was developed by whoever founded it and their personality was driven into the very holes they created. It's not in PGA condition but it's in good nick and as a result, if you drive your ball on the fairway, easy street. Drive it into the rough and you'll be quite penalized. When golf started, everything wasn't pristine and for that reason, I have a strong affinity for courses that are good times but by no means "perfect", so to speak.
The round was played rather quickly and I wish I could say I played well but that would be a lie. It was one of those rounds that had moments of brilliance mixed with blatant unforced errors, whoops. We finished up and made our way for a tour around town that I'll be incorporating into another post. Not long after that I met up with Heather from Ginger Nomads for a drink; we met last year at about the same time here and it was good to see her again mixed with deja vu at local pub Nancy O's. After that it was off to The Copper Big BBQ.
Turns out The Copper Big BBQ is a one of a kind spot owned by a gregarious local gent. It's situated on historic George Street in the downtown core of Prince George. The food was phenomenal, myself and Aidan from Tourism PG ordered the Social House Platter. This platter is built for two but could feed four and has a half rack of ribs, half a chicken, pulled pork, coleslaw, delicious potato salad and chips. It could have more but my mind is in a meat coma.
This wraps up my time in Prince George. Tomorrow I'm sadly catching a flight to Calgary before returning home. I'm glad to have had the opportunity to revisit and be sure to stay tuned for some more content from the area as quite a bit was jammed into my short stay. I'm not sure if I'll make it back here but quite glad I had the opportunity to visit considering I'm from Ottawa which by no means is around the corner.

In closing, I'd like to thank Tourism Prince George for making this trip possible, I had an awesome time.