A Summer's Day in Edinburgh, Scotland
Greetings,
I'm writing this from Edinburgh on what could best be described as a near perfect summer's day here in Scotland. One of those days where the sky is blue and it's littered with clouds of different shapes and sizes but none of them even hint at rain; one of those days. I arrived here in the morning and by 11 am I was on the streets wandering around, taking photos, looking for something to eat and realizing that Fringe Festival was going on; it's quite the scene.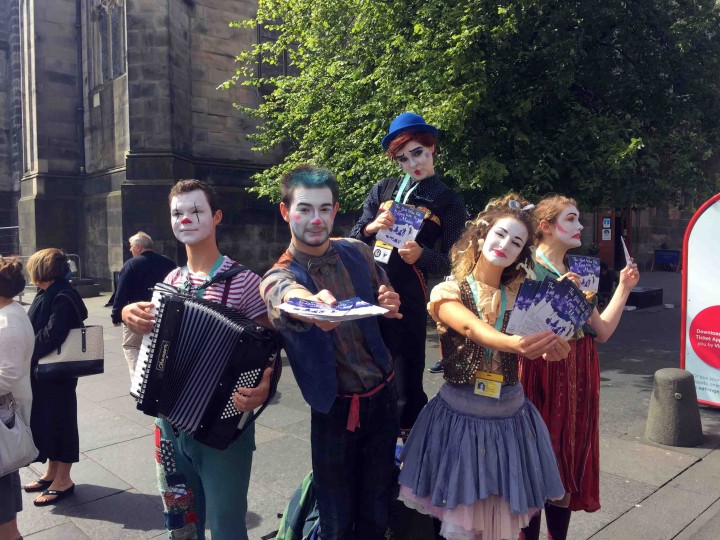 The Edinburgh Fringe Festival is the world's largest arts festival and consists of countless shows consisting of as many different styles. I also believe it's a place where up and coming shows have a chance to get noticed and get their big break. Suffice to say the capital city of Scotland was considerably more electric today than the last time I visited a year or so ago in the fall. Fringe has been an annual festival since 1947 and attracts artists from around the world and presents a rare opportunity to be around incredible levels of creative energy.
At noon I met up with a gregarious gent named Andrew from Mercat Tours and I began to learn a little more about this fine city's history. It's easy to explore a city and marvel at the awe inspiring architecture but still know nothing about the place. Andrew really filled me in on the history of Edinburgh, how for the longest time it was only ever really half the Royal Mile and about how at one time roughly 80,000 people lived within the city walls in buildings that went as high as 14 storeys. It was hard going in those days and people often drank beer instead of water as clean drinking water was a luxury reserved for the more affluent members of society.
Next we began talking about the south bridge and how there are quarters underneath which at a time were used for shops. That said, there was a problem with the ceilings leaking so most merchants didn't stay there that long and after that they became used for a whole assortment of different uses. We took an underground tour and I'm not a real believer in paranormal but there was some odd stuff going on down there; Edinburgh's underground really is a different world and if you're curious about it, I highly recommend you look into taking a tour.
Ultimately, tours are always a great way to get acquainted with a city.
Following the educational and entertaining city tour I headed to the Edinburgh Gin Distillery and learned about gin. As it happens gin which wasn't called that at the time really originated from Holland but it wasn't long afterward that Scotland surpassed it in production. We learned bout the different types of ingredients which went into gin as well as the process of making it. Following that, we had sampled some and had a few laughs; good times.
Tomorrow I'm off to St. Andrews and very excited; Old Course here I come! I will note that if you're going to be somewhere for a brief period of time, location is everything and it's worth it to book accommodation that is right where you want to be. I was happy with where I was staying at Jurys Inn as it was literally between the Royal Mile and Waverley station which also happens to be where the airport express starts and finishes.

In closing, this campaign was created and managed by iambassador in association with Visit Britain. That said, obviously all thoughts are my own as they always have been and always will be. If you'd like to follow along in real-time, please search the hashtag #DestinationBritain on major social networks such as Instagram, Facebook and Twitter.