6 Tips For An Awesome Boating Experience In South Carolina
Heads up to those of you reading this who are now itching for a holiday to the beach. Whether you're simply frolicking on the shore or you're enjoying the waters on a boat, a trip to the beach is always one to look forward to. So, perhaps you're planning your next water adventure.
Give South Carolina a try, particularly when you're up to go boating. Boasting of warm temperatures with low humidity, it's the perfect balance to enjoy a sun and sand-filled day on a boat. Go ahead and start planning. A great boating experience doesn't happen overnight, so it always pays to be extra prepared.
Here in this article, you'll be escorted through the top tips you can apply to have an awesome boating experience in South Carolina, without running the nasty risk of a boating accident and all.
1. Go Fishing
When you're on a boat, make the most out of the experience by going fishing. It's one of the most-loved water activities to do in South Carolina. In fact, you don't need to go far offshore for you to possibly catch fish. Whether you're an expert fisher or this is one of the very first time you're immersing yourself in the experience, fishing in South Carolina is a no-fail in making your boating excursion more exciting.
What better dinner to have as the end of an amazing day by the beach than to have freshly-caught fish to grill.
2. Take A Sailing Course Or Brief Study
You don't need to go all out with a full-blown course for you to go boating in South Carolina. A quick, recreational course will do. If you don't have a boating license, many rental boats' fees come with a captain. So, that's one less thing for you to worry about.
But you can never go wrong with taking the extra step of researching and learning more about boating. You need only to know the basic chops. This is an added element of safety, so you'll know what to do in the event of an emergency.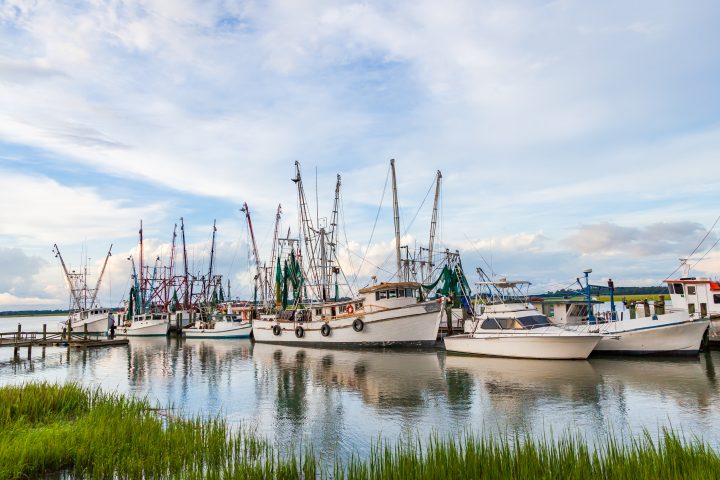 3. Go Camping
Who says you can't go camping after boating? You can give yourself that full nature and outdoor experience with a complete change of scenery when you finish off your boating day with a camping adventure.
You can anchor your boat in a campsite where you can then pitch your own tent. Or if you're renting quite a big boat complete with a room for you to sleep in, you can park it on a dock or by the seashore. Just imagine waking up the next day with the sun on your face and the reflection of the water bouncing off—it's the makings of what would be a beautiful day.
4. Check The Weather
Generally, the weather in South Carolina is great the whole year round, temperature-wise. However, the chance of rain is still possible. If you want to lower the risk of rain, always check the weather. That way, you can schedule your boating trip accordingly so as not to have bad weather rain on your parade.
5. Bring Out Life Jackets For Everyone
Having an awesome boating experience also entails everyone on your team staying safe. Once you head out to the open waters to go boating, it's important to bring safety gear with you and life jackets. Don't skimp on this.
There are many life jackets available these days, so you're sure to find one that fits every passenger on the boating adventure with you, kids included. This is also the reason why you have to be transparent with your boating team about the number of people in your travel group. This is to ensure that the right number of life jackets and other safety devices will be provided.
6. Go Snorkeling
You can go diving when you're on a boating adventure. But if diving isn't your thing or you don't have experience with it before, you can always opt to go snorkeling instead. Kids and adults alike will enjoy snorkeling. You don't just get to enjoy the sea from the boat, but you're also enjoying the marine life that South Carolina waters have to offer.
Conclusion
Now that you have a list of the best boating tips you can apply, that should leave you feeling even more convinced to choose South Carolina for your boating trip. The coastline is great, the weather is spectacular, the views are perfect, and the cuisine is just as delicious as well. When those tips are done and dusted, now comes the planning part. That way, you can be certain that your boating experience in South Carolina is going to be nothing short of amazing.